Missiles fired by N. Korea flew at relatively low altitude, military says
by
Yoo Kyong Chang Kim Gamel
May 9, 2019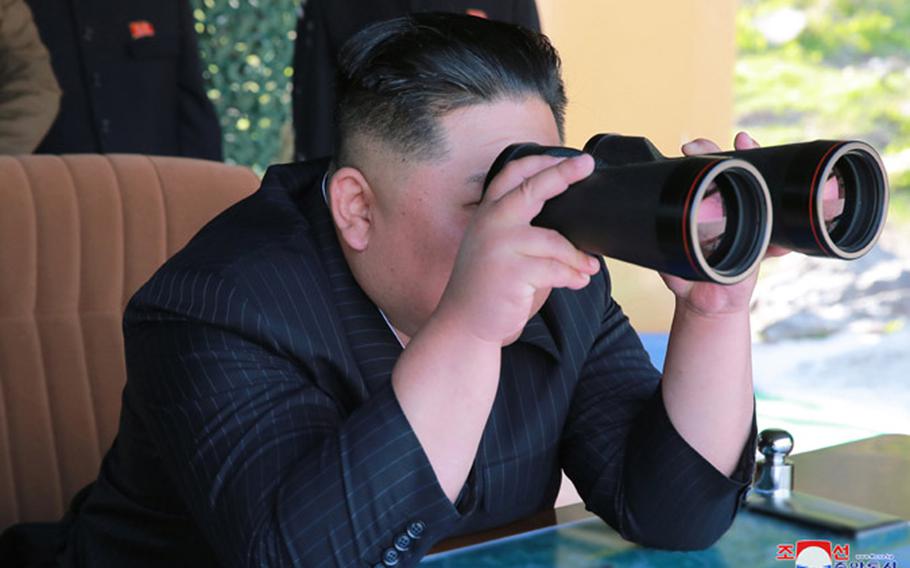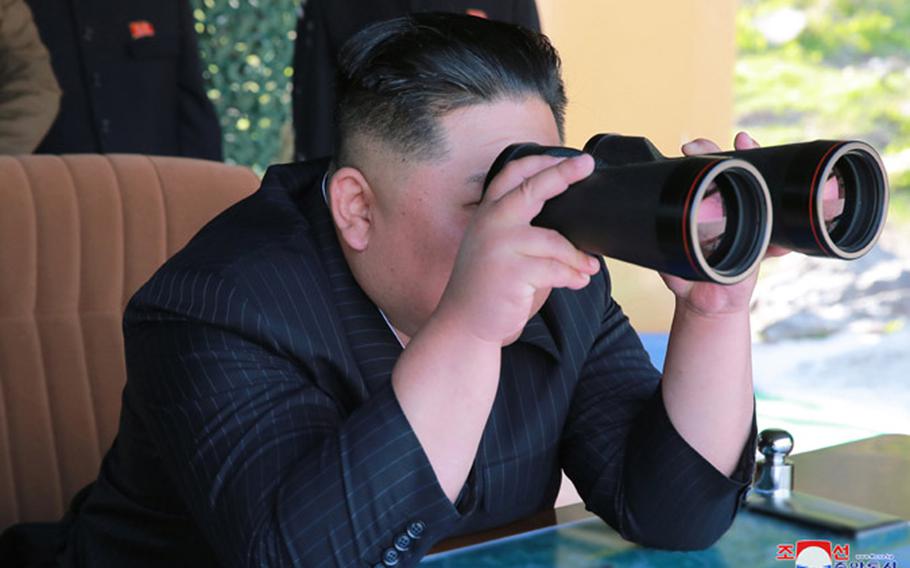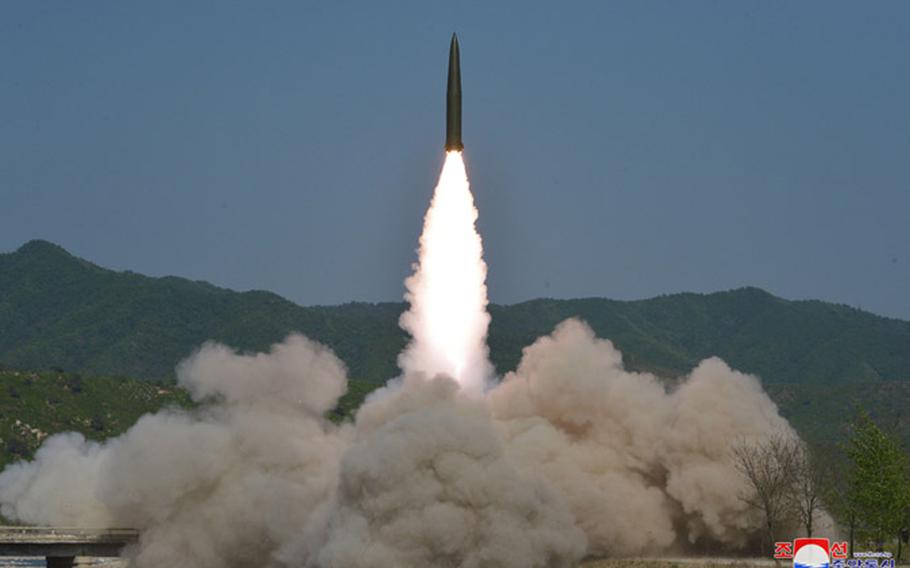 SEOUL, South Korea — The two missiles fired by North Korea flew at a relatively low altitude, South Korea's military said Friday, as diplomats struggled to prevent nuclear talks from unraveling.
North Korea, meanwhile, said Thursday's launch was a successful "strike drill of various long-range strike means" that was ordered by leader Kim Jong Un.
State-run media published photos showing Kim smiling widely as he watched the drill through binoculars. They also showed rocket artillery being fired and a truck-mounted missile shooting into the sky through heavy smoke.
The two short-range missiles fired from a northwestern area flew more than 260 miles and 167 miles, respectively, and had a peak altitude of between 25 and 31 miles, before splashing into the sea off the country's east coast, according to the Joint Chiefs of Staff in Seoul.
The relatively low apogee could allow the missiles to evade local U.S. and South Korea defense systems, experts said.
Military officials also declined to label the low-flying missiles as ballistic, which are banned by U.N. Security Council resolutions aimed at punishing the North for its nuclear weapons program.
It was the second missile test in less than a week, dealing a blow to U.S. and South Korean efforts to get nuclear negotiations back on track more than two months after the second summit between Kim and President Donald Trump ended without agreement.
It came as the main U.S. envoy for North Korea, Stephen Biegun, was visiting Seoul. Biegun apparently canceled plans for press availability on Friday, although South Korea's Foreign Ministry quoted him as saying "the door for North Korea to return to negotiations remains open."
He made the remarks during a meeting with Foreign Minister Kang Kyung-wha, who expressed concern about the missile tests and stressed the need for serious dialogue to achieve denuclearization and a lasting peace, according to a statement.
Biegun also met with other senior South Korean officials to discuss the way forward, including Seoul's plans to deliver humanitarian aid to help alleviate the North's food shortages, which would need U.S. approval.
"The government's position remains unchanged that food aid is necessary from a humanitarian and brotherly perspective," Unification Ministry spokeswoman Lee Eugene said during a press briefing.
The launches ended a hiatus of nearly 18 months while stopping short of violating Kim's pledge to suspend nuclear and long-range missile tests, which he made last year when diplomacy was at a high point.
They also served as a reminder that the North continues to develop its weapons capabilities and maintains the ability to strike U.S. military bases and other targets in the South.
Trump noted the missiles were short-range but said his administration was "looking at it very seriously."
"Nobody's happy about it," he told reporters Thursday at the White House.
"The relationship continues, but we'll see what happens," he added. "I know they want to negotiate. They're talking about negotiating, but I don't think they're ready to negotiate."
The missiles fired Thursday weren't identified, but experts noted similarities to the one launched on Saturday, which was believed to be a version of Russia's Iskander missile.
Michael Elleman, director of non-proliferation and nuclear policy at the Washington, D.C.-based International Institute for Strategic Studies, said the Iskander flies on a flattened trajectory, never exceeding an altitude of 31 miles.
It also can make course corrections and reliably land close to its designated target, he said in a report published Wednesday on the website 38 North.
"Such accuracy allows Iskander to destroy targets dependably when armed with a conventional warhead, making it a very effective military weapon," he wrote.
The low altitude also "can exploit gaps in South Korean and American missile-defense coverage," Elleman said.
He explained that Patriot missile-defense interceptors are believed to have an engagement ceiling of 25 miles while the high-altitude system known as THAAD has an engagement floor of roughly 31 miles.
The North's state-run Korean Central News Agency didn't give details about the weapons involved and was devoid of the bellicose rhetoric used in past reports.
"The successful drill … showed the might of the units which were fully prepared to proficiently carry out any operations and combat," it said.
The North Korean leader "stressed the need to further increase the capability of the defense units" to maintain the strength needed to guarantee peace and security for the country, KCNA said.
Trump has frequently cited the moratorium as a reason to remain optimistic about efforts to persuade the North to give up its nuclear weapons.
But North Korea has expressed increasing frustration over the lack of progress since the Hanoi summit collapsed. Both sides said talks would continue after that, but there has been no public movement.
Trump and Kim agreed to a vague promise to work toward the "complete denuclearization of the Korean Peninsula," in their first summit on June 12 in Singapore.
But the adversaries have been unable to narrow the gap between Pyongyang's desire for sanctions relief and other rewards for disarmament steps already taken. Trump's administration insists punishing economic sanctions will remain in place until final, fully verified denuclearization is achieved.
gamel.kim@stripes.com Twitter: @kimgamel