Misawa residents stock up on supplies as they await electricity
---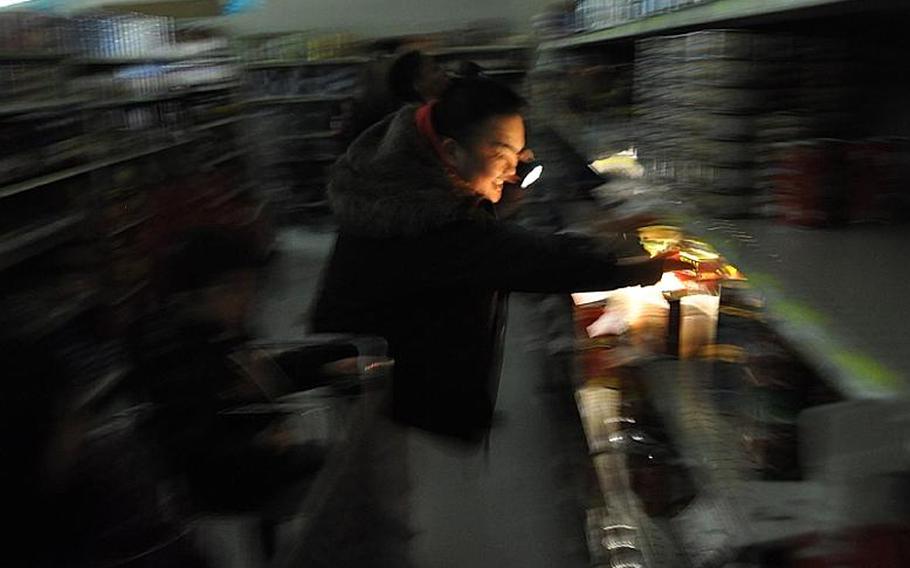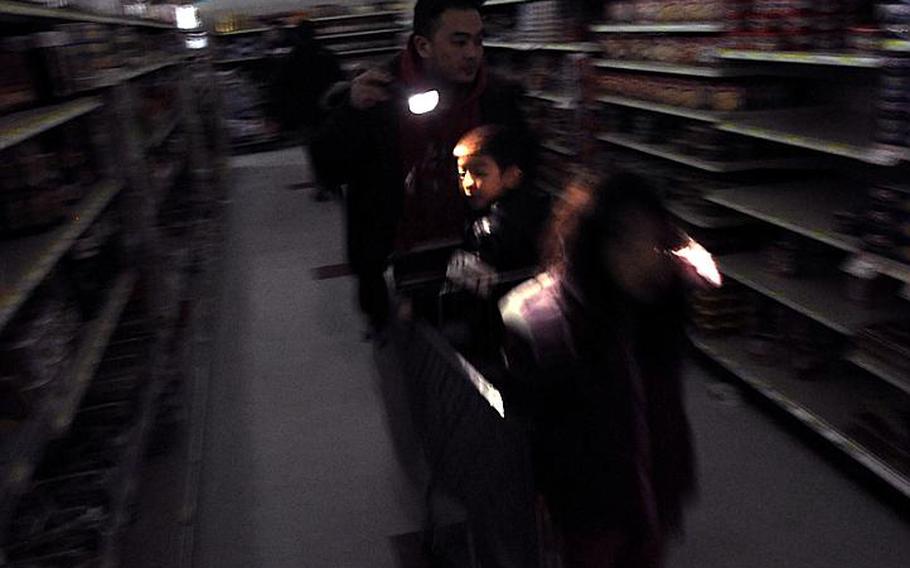 MISAWA AIR BASE, Japan — Residents of this northern Japan air base, most still without electricity or heat following thea massive earthquake that rocked Japan early Friday afternoon, scrambled Saturday to stock up on supplies before darkness fell again.
Staff Sgt. Jonathan Jiloca was one of hundreds of people who crowded the base commissary Saturday, emptying the shelves of batteries, water, canned food, barbecue charcoal, bread and other items.
Jiloca, with his son, Jonathan, 4, and daughter Nicole, 7, used a flashlight to sort through the food in the center aisles, where the dim lighting from the frozen goods section and cash registers couldn't quite reach.
"You just have to survive," he said. "It was scary ... the kids were terrorized," he said of the quake and its persistent aftershocks.
Across the base Saturday, the main topic of conversation was when the electricity would be restored. Misawa is two miles inland on the Pacific coast, and about 200 miles north of Sendai, near the earthquake epicenter.
Col. Michael Rothstein, 35th Fighter Wing commander, gave the only answer he could.
"I do not know when power will be restored," he said during a phone interview Saturday evening from the base command post.
Rothstein said his main priority was to "take care of our folks" by providing "heat, water, food and eventually, electricity."
He stressed that all of the base residential buildings had been inspected and were structurally sound, even given the series of aftershocks that continue to rattle the region. He's also put out the call for help, and said additional civil engineers were on the way to the base.
Essie Whitworth-Nurse, director of the Airman and Family Readiness Center, and her staff were busy Saturday helping community members receive "clear, concise and releasable information" on the situation.
Her team set up the Emergency Family Assistance Control Center in the base Mokuteki Community Center. She estimated that at least 1,000 people had attended three briefings and came for free phone calls home, critical given the communication black-out on most of the base.
Next door at the Potter Fitness Center, members of the 35th Force Support Squadron set up nearly 200 cots and sleeping bags.
Chief Master Sgt. Freddy Estacion said the goal was to provide warm shelter for as many of the families as possible. Hot showers were also available at the gym.
Daneen Kulbeth, waiting in the Mokuteki to call home, said she was impressed with the base response to the earthquake.
"I think it's great," she said. "The community is doing everything it can to help us."
She also stressed that while being without heat and electricity at home was annoying, it was nothing when compared to what happened in the devastated Japanese communities south of Misawa.
"You just gotta count your blessings," she said.
Rothstein echoed her sentiments.
"Airman and families and Misawa are safe; we are thankful. And while we're working through the challenges of being without power in most areas, we are doing OK."
---
---
---
---