Misawa residents pull clean-up duty at nearby fishing port
by
T.D. Flack
March 17, 2011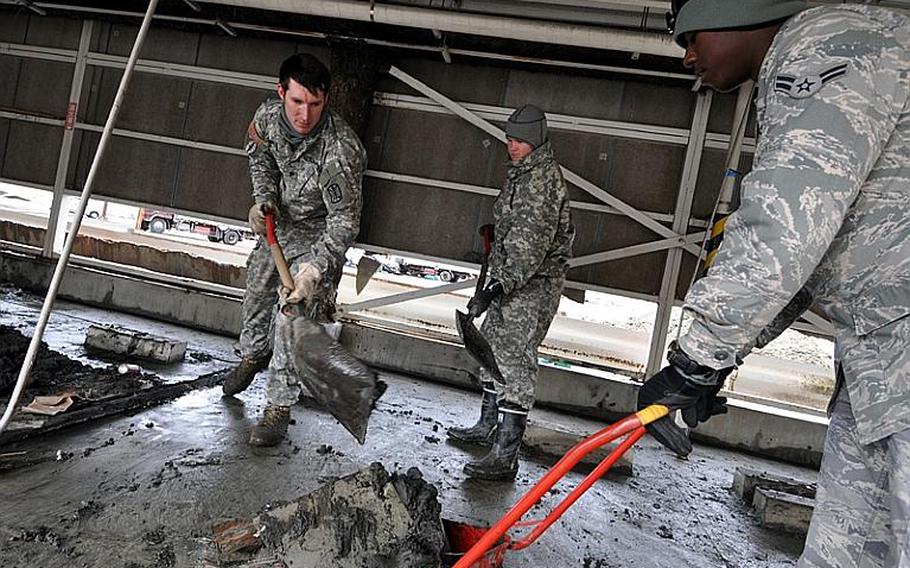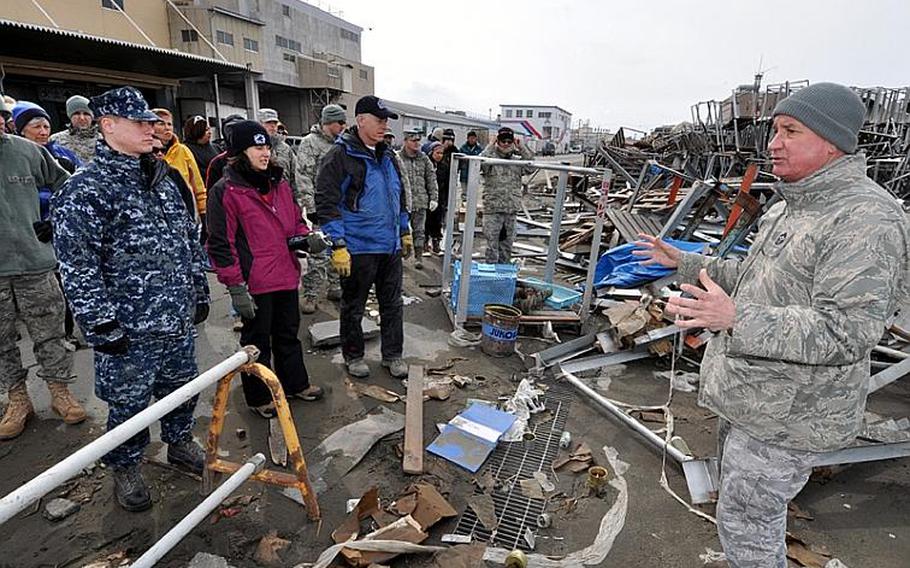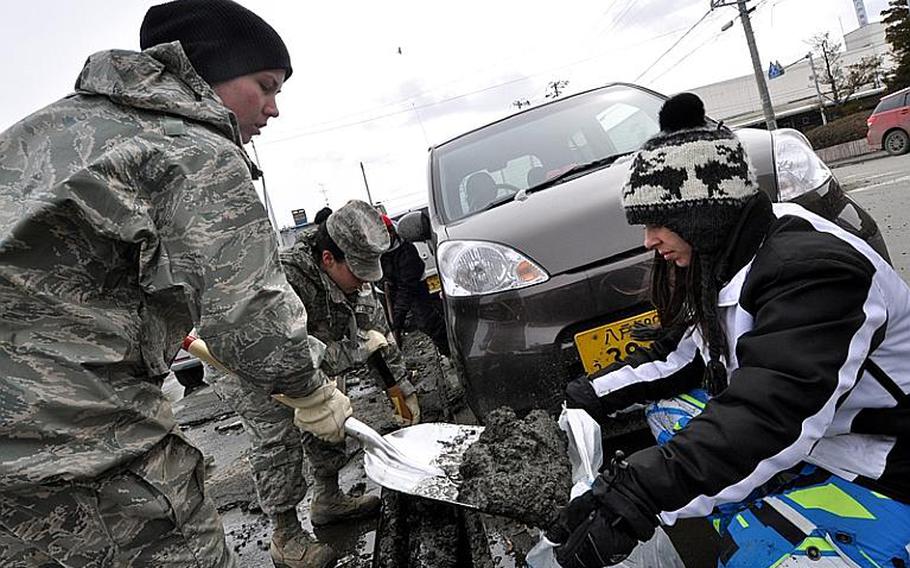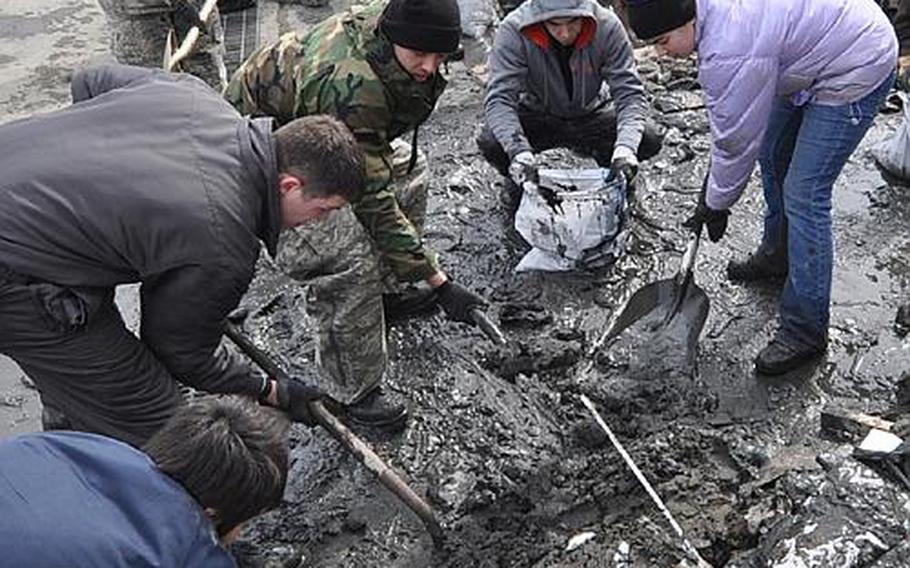 HACHINOHE, Japan — Army Sgt. 1st Class Brent Brell has spent two days ankle-deep in sludge, helping Japanese residents of Hachinohe clean up after a 9-foot tsunami hit the city following the March 11 earthquake.
"We live in Japan, it's our home, too," Brell said while taking a break Thursday from shoveling debris and sludge out of buildings along the fishing port, about a 45-minute drive from Misawa Air Base, where he's stationed. "We've got to help clean up our house."
A few hundred yards up the road, about 180 more Misawa Air Base volunteers filed out of base-provided buses and began tackling large stacks of metal frames and wooden pallets that had been swept through the area in a river of debris.
The volunteers are part of Operation Tomodachi, a U.S. Forces Japan effort to provide humanitarian assistance to a shell-shocked Japanese community still reeling from the worst recorded earthquake to hit the island nation. Death toll predictions have climbed to more than 10,000 and fears continued to grow over a possible catastrophe at nuclear plant in Fukushima, Japan.
Misawa Air Base was the hardest hit of any U.S. military installation in Japan, suffering a complete power blackout, communication problems and some minor structural damage. Immediate recovery efforts were launched, and the base was largely back to normal by midweek, with power and heating in the housing areas.
Base commander Col. Michael Rothstein said that with the base largely stabilized, his focus is now on providing off-base assistance. Hachinohe, Misawa's nearest large neighbor with 240,000 people, seemed like a natural place to start, according to volunteers. More than 100 homes there were destroyed, 250 evacuees remain in city shelters, and the port suffered severe damage, according to city officials.
Capt. Tyler Harris said he just drove to the port Wednesday looking to help. The first building he stopped at was the headquarters for the Hachinohe Fishing Industry. Harris said he and his troops began working, and later called friends to let them know they could use a lot more help. His friend, Capt. Jeff Schneider, arrived later in the afternoon with reinforcements.
Industry official Kazumasa Takeno said he was surprised when the first group of 17 Americans showed up ready to work Wednesday morning. But he was really floored when 60 more volunteers arrived a few hours later.
"It's incredible," he said, adding that their work will help his organization get back to work quicker.
Osamu Tazawa, chief of Hachinohe city's disaster prevention office, said during a phone interview Thursday that volunteers from the air base were greatly appreciated.
"It is such a great help from Americans who are very big and powerful," he said.
And the volunteers weren't all American.
Yayoi Ohsawa, a Japanese employee on Misawa, decided to spend her day off work helping translate for the American volunteers. She said a friend had "Facebooked the need for a lot more translators," so she threw on a pair of jeans and waterproof boots and showed up at the base community center to help.
Most volunteers said the same thing Wednesday: They wanted to do anything they could to help those who had a greater need.
"I want to help them get back on their feet as soon as they can," said Tech. Sgt. Gregory Bird.
Visit the Mokuteki Community Center to volunteer for clean-up efforts.
---
---
---
---