Misawa flexes airpower muscles a week after going on lockdown over coronavirus cases
by
Seth Robson
June 24, 2020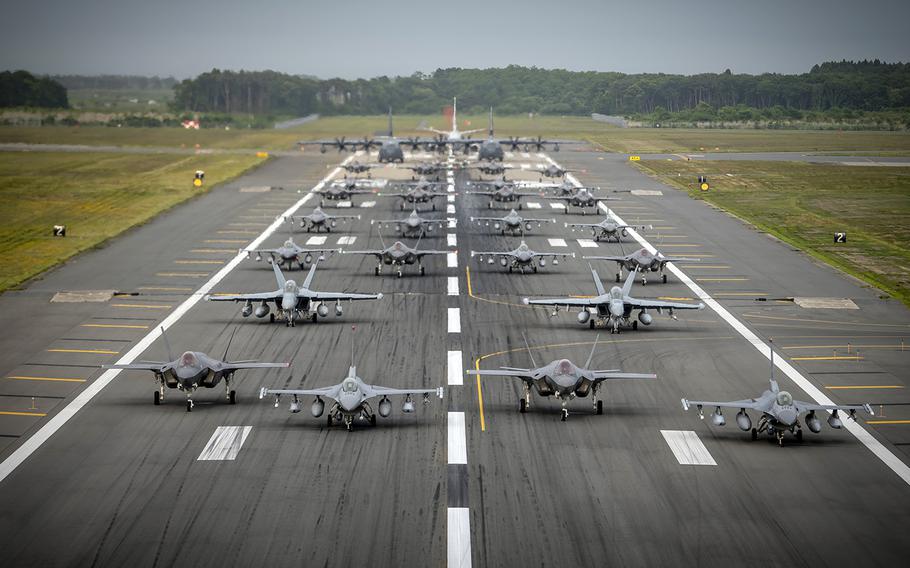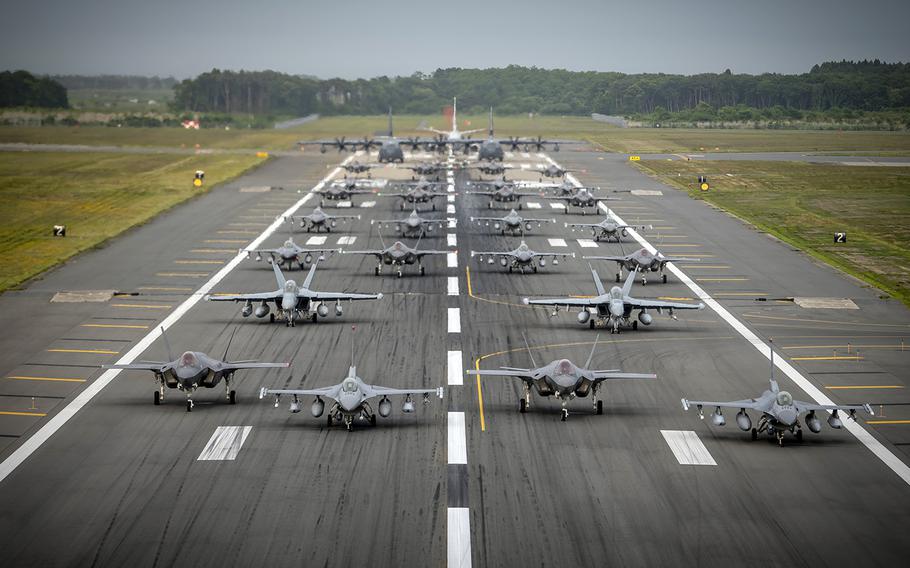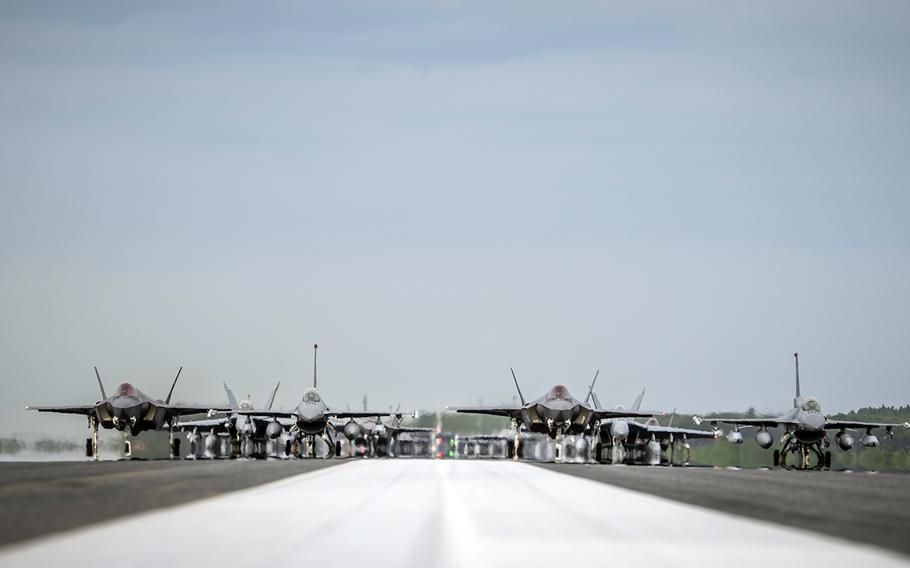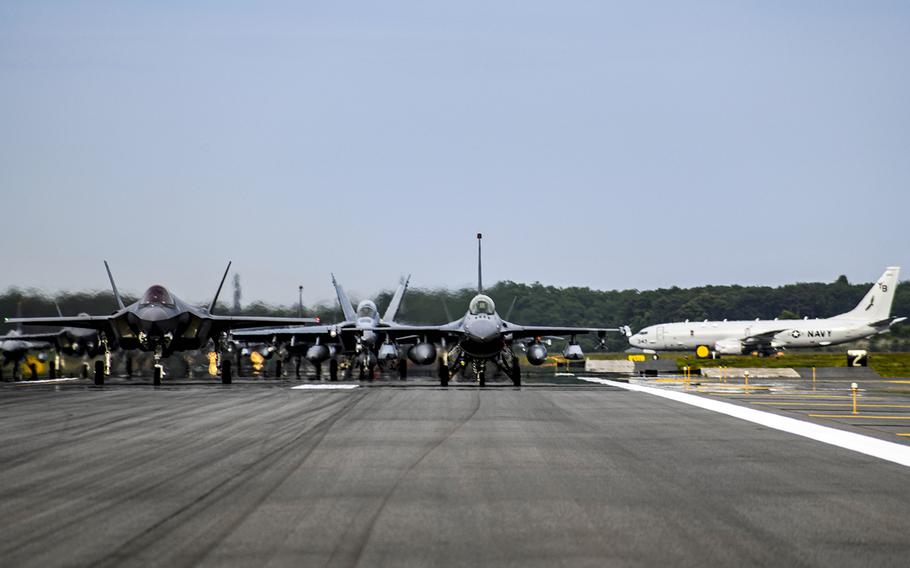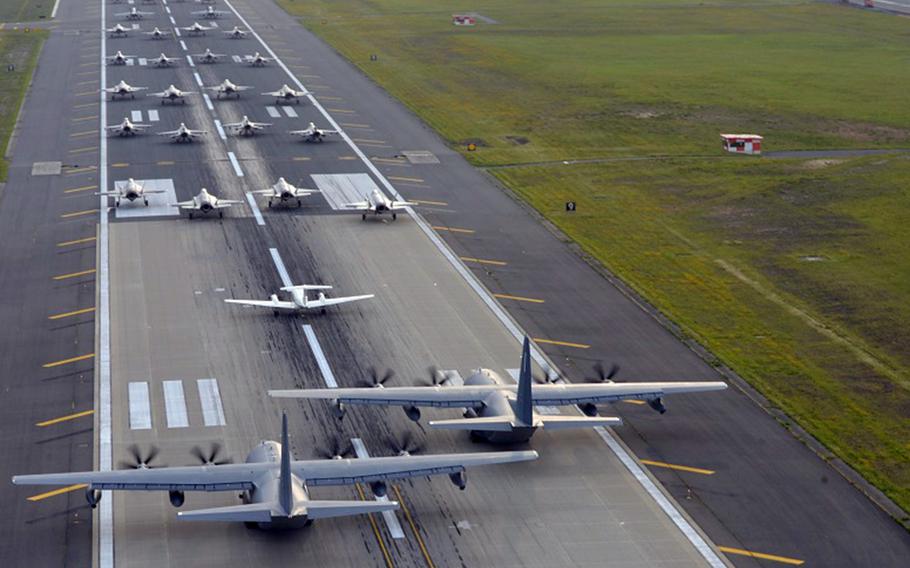 Stars and Stripes is making stories on the coronavirus pandemic available free of charge. See other free reports here. Sign up for our daily coronavirus newsletter here. Please support our journalism with a subscription.
TOKYO — Thirty-one U.S. and Japanese military aircraft combined Tuesday for the first-ever bilateral "elephant walk" at Misawa Air Base, a week after the installation reported its first coronavirus cases and ordered personnel to shelter in place.
The show or force included 12 Air Force F-16 Fighting Falcons, 12 Japan Air Self-Defense Force F-35A Lightning II stealth fighters, two Navy EA-18G Growlers, a Navy C-12 Huron, a Navy P-8 Poseidon, two Air Force MC-130J Commando IIs and a JASDF CH-47 Chinook, the base said in a statement that day.
"Seeing our forces and our partners and allies taxi to the runway in one formation, as one fighting force, really brought home my last two years of command," Col. Kristopher Struve, 35th Fighter Wing commander, said in the statement.
Two people tested positive after landing at Misawa on a U.S. government-chartered flight on June 15. Days earlier, officials confirmed that an undisclosed number of members of a transient aircrew, who also arrived on June 15, were infected.
In response, the base issued a 24-hour shelter-in-place order restricting everyone to their homes if not working a mission-essential job. The order was lifted June 18, but many restrictions remain in place.
"Misawa members who live on base are still restricted to Misawa Air Base, and members who live off base will travel to and from Misawa Air Base directly," base spokeswoman Capt. Lauren Linscott said in an email Wednesday.
Except for the MC-130Js, which came from Kadena Air Base, Okinawa, all aircraft involved in Tuesday's drill are assigned to Misawa.
"This demonstration took the work of many agencies and individuals across the base, and the 35th Fighter Wing is grateful to our partners for showcasing the amazing, combat-ready force available to our Indo-Pacific leaders if called upon during a crisis," Struve said in the statement.
The event echoed similar recent demonstrations at U.S. bases in Asia.
Last month, the 374th Airlift Wing at Yokota Air Base in western Tokyo conducted a "Samurai Surge," during which it paraded C-130J Super Hercules tactical airlifters, CV-22 Osprey tiltrotors and other aircraft at the home of U.S. Forces Japan.
A similar drill took place in mid-April at Andersen Air Force Base, Guam, where the aircraft carrier USS Theodore Roosevelt was sidelined by a coronavirus outbreak. It involved B-52 Stratofortress bombers, KC-135 Stratotankers, Navy MQ-4C and Air Force RQ-4 drones and a Navy MH-60S Knighthawk helicopter.
On Monday, U.S. Forces Japan commander Lt. Gen. Kevin Schneider praised the Yokota drill during a change-of-command ceremony for the 374th Airlift Wing, saying it answered those who may have questioned the wing's ability to operate during the coronavirus pandemic.
"It didn't go unnoticed," he said.
Like Misawa, Andersen and Yokota recently reported new coronavirus cases among individuals who came to those installations from elsewhere.
robson.seth@stripes.com Twitter: @SethRobson1