Misawa F-16s make emergency landing at Japanese airport
by
Seth Robson
April 16, 2015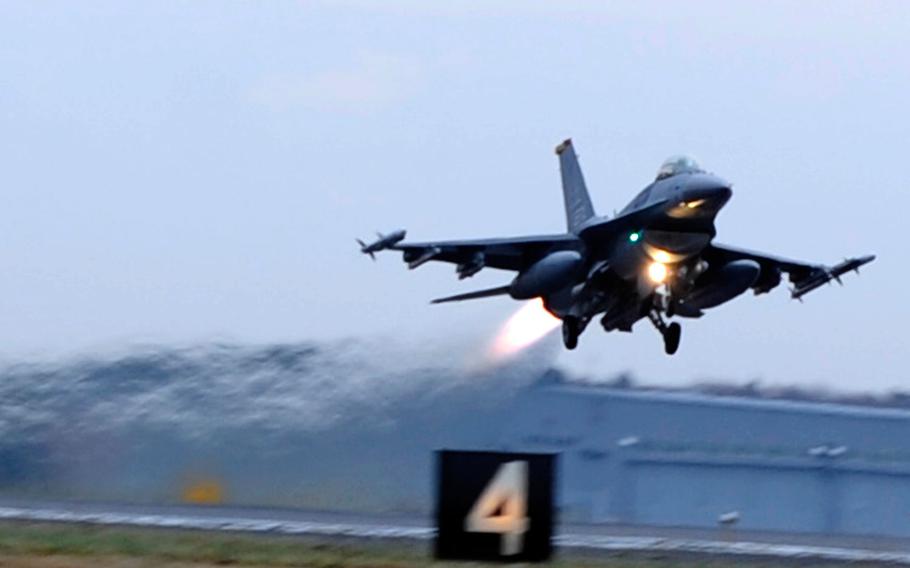 YOKOTA AIR BASE, Japan — Two U.S. Air Force F-16 fighter jets made an emergency landing at a Japanese airport Wednesday, according to officials from Misawa Air Base.
The planes landed at Aomori Airport just after 12.30 p.m. after oil started leaking from one of their engines, a 35th Fighter Wing news release said.
"An oil system malfunction required the pilot to jettison the aircraft's empty fuel tanks into the Sea of Japan," the news release said.
The Mainichi Shimbun newspaper reported that four commercial flights were delayed 30 minutes because of the emergency landing.
It was the third such incident in three weeks involving U.S. military aircraft in North Asia.
Two Marine Corps jets were forced to land on Taiwan on March 31 after one of the aircraft experienced a mechanical issue.
The F/A-18C aircraft were flying from Japan to Singapore to participate in a bilateral air exercise when one of the planes ran into trouble, forcing it to land at Tainan Airport, Taiwan.
A week later, two Kunsan Air Base jets made an emergency landing at a South Korean commercial airport after one experienced a sudden engine malfunction.
Misawa officials said the pilot involved in Wednesday's incident followed standard safety procedures to respond to problems with the aircraft's oil system.
A maintenance crew is traveling to Aomori to inspect the aircraft, and both F-16s will return to Misawa when the problem has been resolved. This incident is currently under investigation, officials said.
robson.seth@stripes.com Twitter: @SethRobson1
---
---
---
---