Milley declares Pacific top US military priority in first overseas trip as Joint Chiefs chairman
---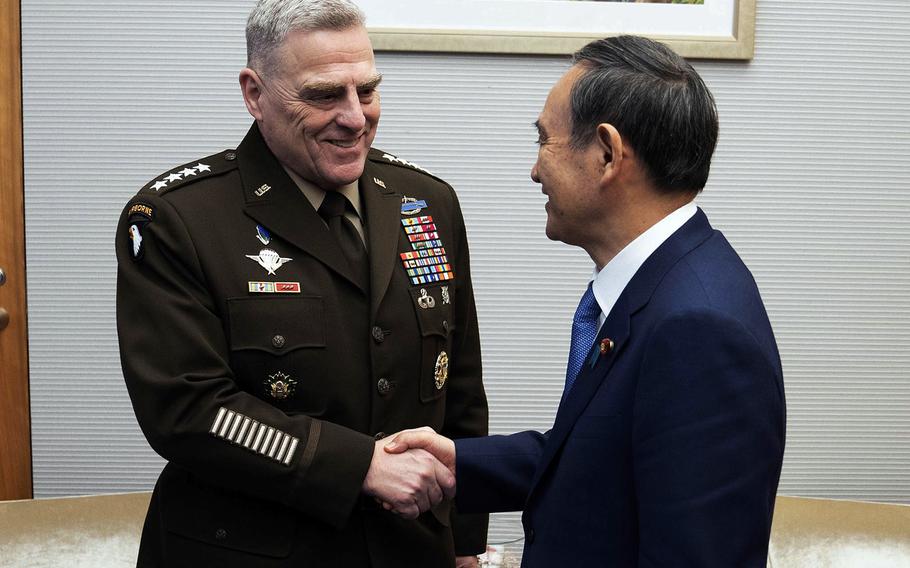 The Pacific is now the top priority for the U.S. military, Gen. Mark Milley said Thursday in Tokyo while on his first overseas trip since becoming chairman of the Joint Chiefs of Staff in September.
Milley was addressing a group of Japanese and American reporters after concluding a meeting with Japanese leaders, the Pentagon said in a statement.
The U.S. focus on the Pacific region is a result of the emerging great-power competition among America, China and Russia.
"It is the No. 1 regional priority for the United States military," he told reporters.
Milley's weeklong trip to Japan and South Korea comes amid renewed disagreements between the two U.S. allies, disputes arising from Japan's occupation of the Korean peninsula from 1905 to 1945.
South Korea has announced it is withdrawing from an intelligence-sharing agreement signed with Japan in 2016.
Milley told reporters Monday that the agreement — which could expire as early as next week — is key for regional stability and security.
Quarrels between Japan and South Korea only serve adversaries, he said.
"It is clearly in China's interests and North Korea's interests to separate South Korea from Japan and the United States," Milley said Monday. "It is in our interests to keep all three of us very closely aligned."
"We've got to get past some of these friction points in a way that is helpful to the alliance," he said.
The alliance needs to resolve such friction points by focusing on common values and security needs, he said.
Milley touted the size and scope of America's defense presence in the Pacific, with more than 300,000 service members and Defense Department civilians under the umbrella of the U.S. Indo-Pacific Command.
He spoke pointedly about China with reporters Thursday.
"We need to continue to engage with China," he said. "China is a strategic competitor to be sure, [but] it doesn't necessarily mean that China becomes an adversary in the military sense of the word, or an enemy.
"But having said that, it's important that the United States, Japan, South Korea, Australia, and other friends and allies in the region remain unified."
China's extraordinary economic growth over the past 20 years has resulted in the rapid expansion of its military capabilities, he said.
China's growing military might has emboldened the nation's sweeping claims of sovereignty over most of the South China Sea, which neighboring nations contest.
U.S. military troops stationed in Japan are essential in projecting power in the region, but restrictions on the available types of training in Japan is a challenge to maintaining readiness, Milley said.
He told reporters he had discussed this topic with Japanese counterparts during the visit.
"I would also say that constraints and restraints on military training [are] not unique to Japan," he said. "It exists in Korea; it exists in Germany; it exists in the continental United States. Things like environmental issues, issues with the neighboring communities and towns of various military bases."
olson.wyatt@stripes.com Twitter: @WyattWOlson
---
---
---
---