Military wraps up first round of departures from Japan
by
Charlie Reed
March 25, 2011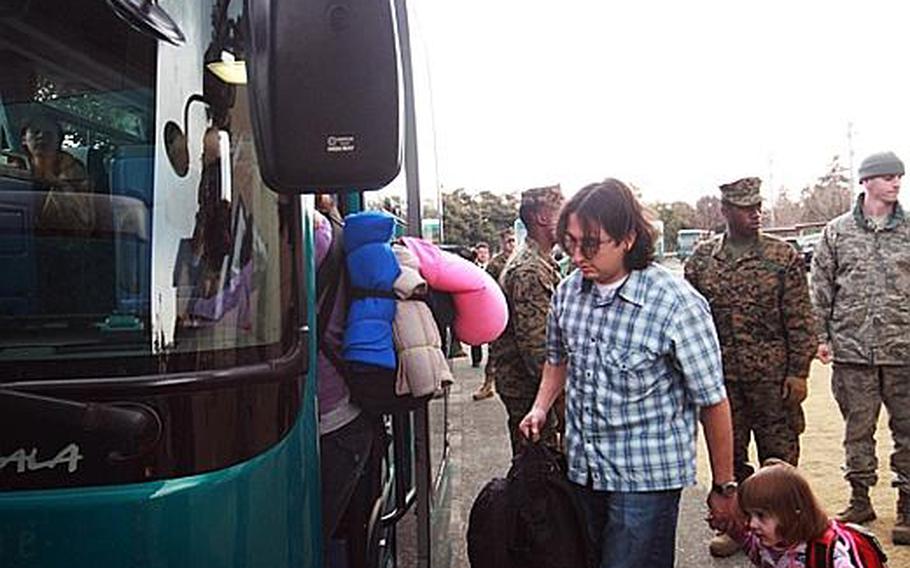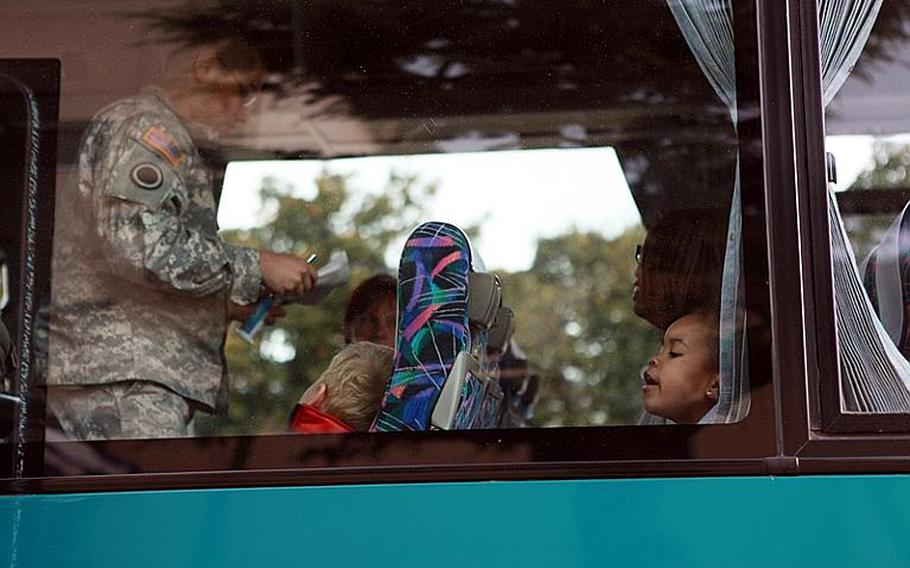 YOKOTA AIR BASE, Japan — Military-sponsored evacuation flights out of Japan for the 10,000 dependents en route to the U.S. were more than half-way completed by Friday, officials said.
Departures from Yokota — the main exit point for the military's "voluntary departure" program — as well as from Naval Air Facility Atsugi and Misawa Air Base, nearest the devastated northern Tohoku region, should have taken more than 7,000 people out of the disaster-plagued country by Saturday, according to figures provided by officials at five bases in mainland Japan.
Additional flights for the remaining U.S.-military sponsored dependents and personnel still waiting to leave Japan were expected in the coming days, U.S. Forces Japan spokesman Sgt. Maj. Stephen Valley told Stars and Stripes on Friday afternoon in an e-mail. Plans for those flights are still tentative and will fluctuate — up or down — depending on the demand, he said.
Yokosuka Naval Base was quiet by Friday, with thousands of its sailors deployed on a fleet of ships off the tsunami-ravaged northern coastline and 3,008 dependents signed up for departure flights having already left. Another 1,400 are still registered for departures, though officials say they do not expect all registrants to show up.
Hundreds of other family members had left Yokosuka after purchasing tickets for commercial flights prior to the military announcing its program on March 17.
About 2,000 from Naval Air Facility Atsugi, 1,350 from Misawa Air Base, 600 from Yokota Air Base and 300 from Camp Zama have left or will be gone by Saturday, with people from each of those bases departing from commercial airports through flights arranged by the U.S. military.
While some services at bases throughout Japan have been limited or canceled by the unfolding natural disaster and subsequent mass exodus from the military community, all schools in mainland Japan were all still open as of Friday.
Department of Defense Education Activity officials were determined to keep all schools open despite the ever-dwindling numbers of students and teachers in classrooms.
The absentee rate climbed from 32 percent to 36 percent among 8,508 students and hit 12.76 percent among 1,158 teachers, according to DODEA figures based on student-teacher populations at the 25 schools sites on mainland Japan. Additionally, many students have disenrolled to attend stateside schools, meaning they are no longer counted in absentee figures.
Closing schools remained an option of last resort, DODEA spokesman Charly Hoff told Stars and Stripes on Friday. School officials expected to have a better picture of the number teachers and students staying in Japan by Monday, Hoff said.
"The stress of waiting has been really hard," Kim Deverick, the wife of a school teacher based at Camp Zama, said as she waited for a flight out of Yokota with other Zama residents Friday around noon. "I thought we were going sooner," Deverick said. "When the order came down it seemed like it was going to be within the next 24-48 hours and it's a week later."
Deverick was taking her two children to Texas to wait out the crises in Japan. Her husband is staying at Zama – the headquarters base for U.S. Army Japan about 25 miles southwest of downtown Tokyo. A bittersweet goodbye with her husband was compounded by media reports, military information, Japanese government announcements and the endless supply of rumors circulating around Japan and the self-contained military community within the country.
Being at the end of the first wave of Americans who have left Japan had not settled well with Deverick.
"It's hard being towards the end," knowing others already got out, she said.
Deverick did not book commercial plane tickets after the military announced it would begin a voluntary evacuation last week, a move she now regrets after worrying for days about whether she and her kids would indeed be able to get out of Japan.
"In hindsight I wish I would have booked the ticket," she said.
Fellow Zama resident Amanda Green, who was also Texas-bound and waiting to leave Yokota on Friday, was a little more upbeat.
Green, whose husband is deployed to Afghanistan, praised the military for keeping the community informed and was short on criticism.
"It's pretty scary, but nothing prepares you for a natural disaster," Green said, acknowledging her own concerns of radiation exposure, rolling blackouts and other disaster-related issues while caring for children is what drove her out of the country.
"I'm really excited to go," Green said.
Stars and Stripes reporters Erik Slavin, Tim Flack and Grant Okubo contributed to this report.
---
---
---
---