Military steps in to resolve garbage pile-up at Seoul's Hannam Village
by
Ashley Rowland
September 18, 2010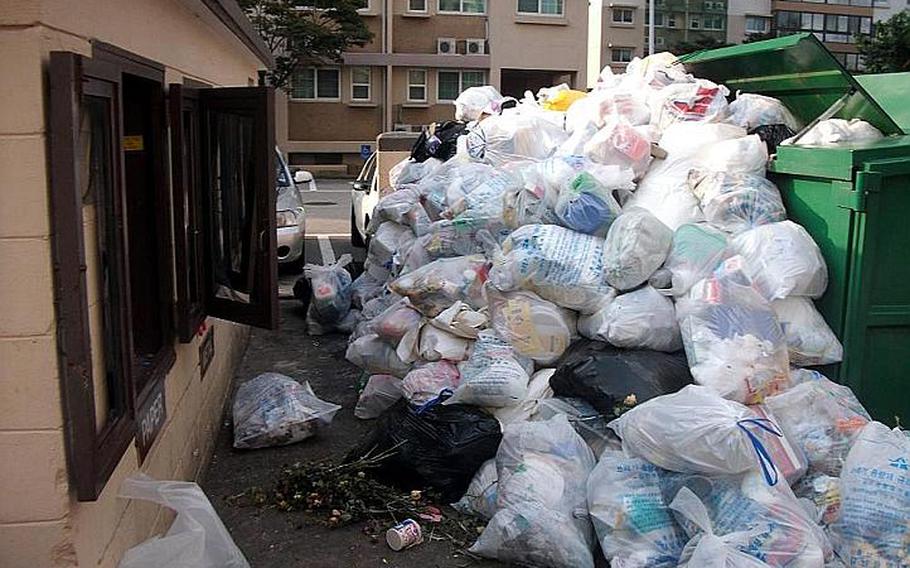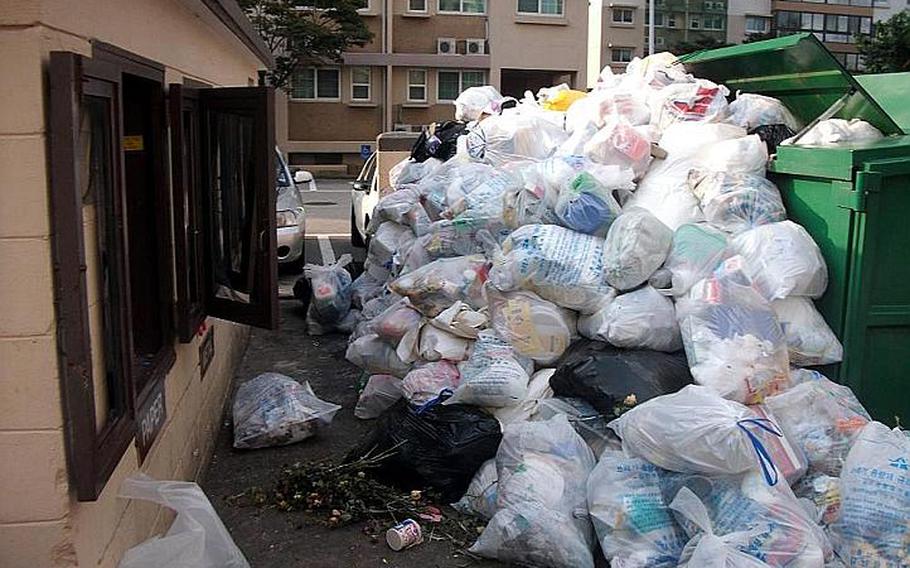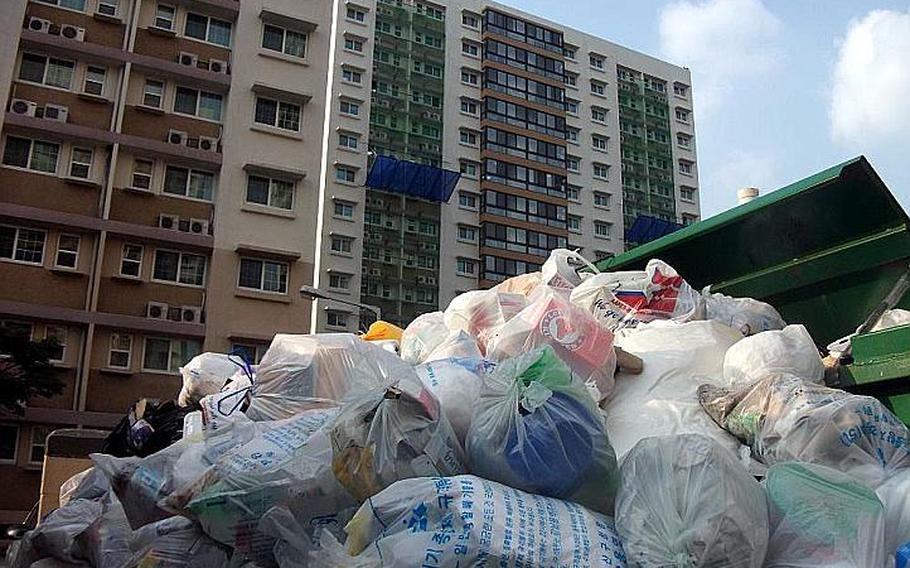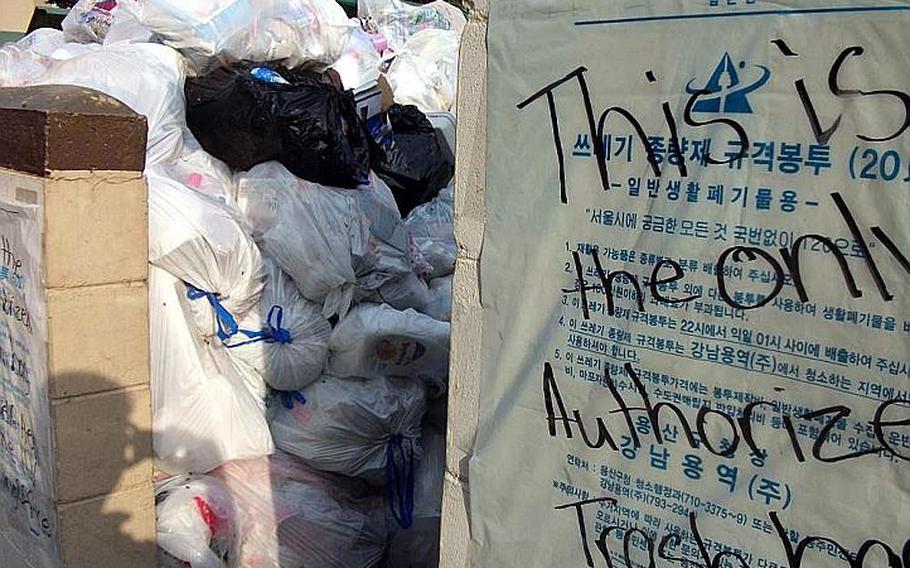 SEOUL — Mountains of uncollected trash at Hannam Village and residents who won't recycle pushed the military last week to pick up the garbage itself at the 512-unit housing complex in central Seoul, according to military officials.
South Korean garbage collectors began refusing about two weeks ago to pick up trash not placed in specially marked biodegradable bags mandated by law.
"They're just following established city code for waste," U.S. Army Garrison-Yongsan spokesman Dan Thompson said of the garbage collectors, who have continued to pick up properly bagged trash. "They're within their right to do that."
Now, area military officials are working to renegotiate the lease agreement for Hannam Village, which includes stipulations for trash pickup, so the trash will be sorted off site and residents won't have to recycle themselves, Thompson said.
Thursday morning, trash bins at Hannam Village were still almost empty, after Yongsan's Directorate of Public Works took the unusual step of clearing the bins itself earlier in the week.
But JoLinda Flemister, the resident liaison between Hannam and Yongsan Garrison officials, said the trash pile was so large and so old that she could see gases rising from the bins when trash was picked up earlier in the week — 13 days after the last pickup, by her count.
"I don't see how much more can be done," she said of having residents follow proper procedure. "The bags are handed to you for free and there are garbage disposal sites everywhere."
South Korean officials said last month that U.S. troops living off post across the country who do not recycle have been causing headaches for waste disposal and recycling departments. Authorities say they know servicemembers are to blame for some of the nation's unsorted garbage because they have identified trash bags and refuse as products sold at U.S. commissaries.
In Pyeongtaek, home to U.S. Army Garrison-Humphreys, the city sent a letter to the base officials last month asking for help.
In a statement provided by Yongsan, garrison commander Col. William Huber said many U.S. residents living in South Korea for the first time are unfamiliar with Seoul's stringent recycling codes.
Hannam Village residents are given the bags, which South Koreans buy for a small fee at convenience and grocery stores, for free. New residents are also given a two-page pamphlet telling them how to dispose of trash and separate recyclables.
Hannam Village is leased from the Korea National Housing Corporation and falls under local recycling codes, so trash must be sorted before disposal. In contrast, trash at U.S. Army Garrison-Yongsan does not have to be sorted, and is instead sent to an off-site recycling center — the same process officials hope to put in place at Hannam Village, Thompson said.
As of Friday, 336 units at Hannam Village were occupied. The remainder are in the final stages of renovation and should be available this fall, according to housing officials.
The maximum fine for violating Korean trash disposal laws is 1 million won, or about $861 at current exchange rates.
Flemister has taped the regulation garbage bags — with "This is the ONLY authorized trash bag" inscribed in black marker — on the sides of trash bins, and has tried to spread the news through word of mouth. So have a handful of other Hannam Village residents.
"They get cussed out, chewed on and they just want to give up," she said. "All for a few that just won't step up and do the right thing."
---
---
---
---