Military relief efforts begin on Mariana islands devastated by Super Typhoon Yutu
---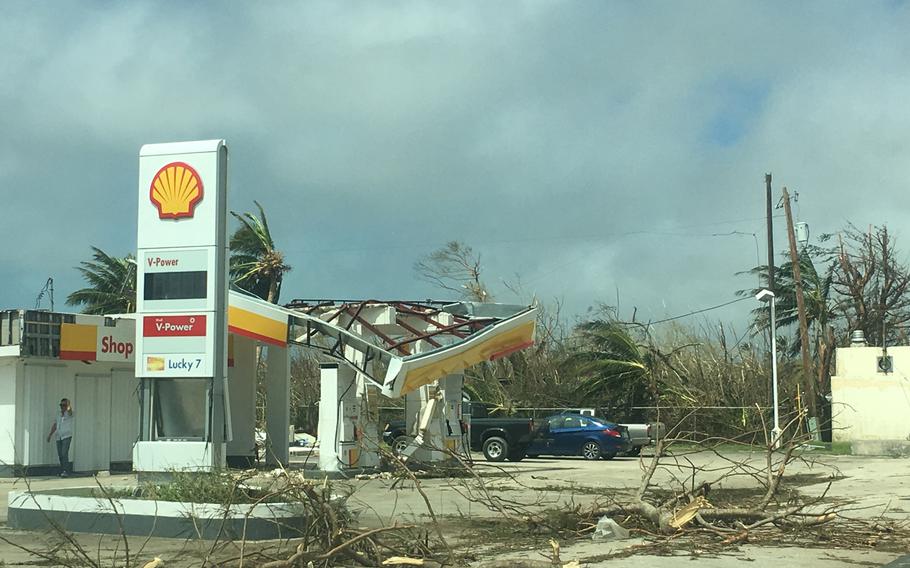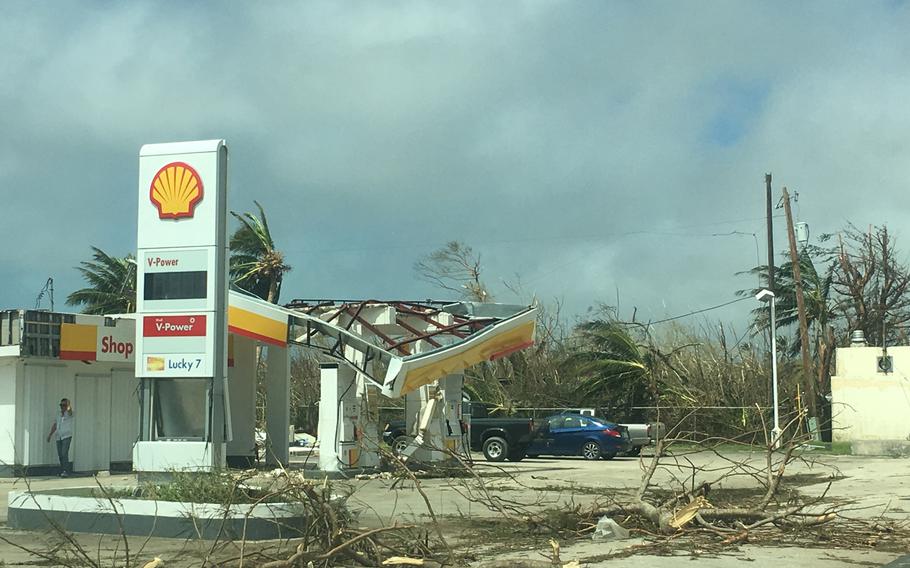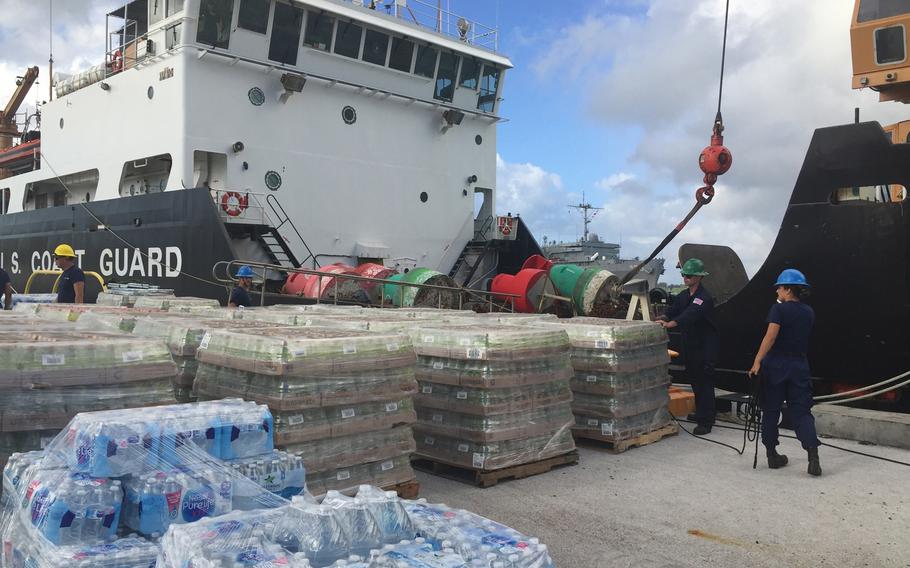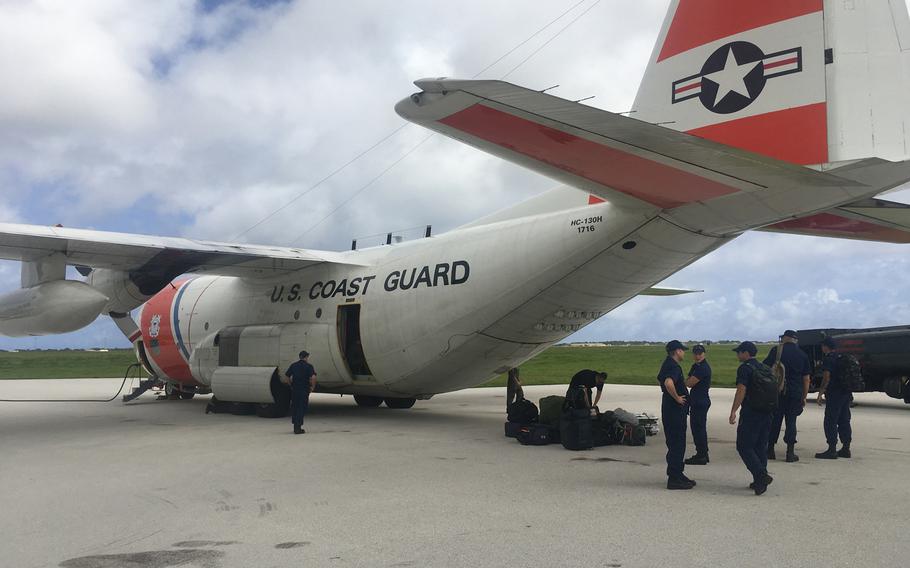 FORT SHAFTER, Hawaii – U.S. Coast Guard boats laden with supplies and personnel arrived at the islands of Saipan and Tinian on Friday in the wake of Super Typhoon Yutu, the most powerful storm to hit American soil in modern history.
Aircraft flying out of Andersen Air Force Base on Guam have been surveying damage, moving supplies and shuttling personnel with the Federal Emergency Management Agency, which is coordinating relief efforts.
FEMA personnel were still in the Northern Mariana Islands dealing with the aftermath of last month's Typhoon Mangkhut.
The category-5 Yutu, which passed over the two islands early Thursday, carried sustained winds of up to 180 mph, blowing roofs off hundreds of houses and leaving a tangle of downed trees and power lines. One death has been attributed to the storm.
Arriving from Guam, the Coast Guard cutter Sequoia delivered 20 pallets of canned foods, water and other supplies to Saipan, said Petty Officer 3rd Class Amanda Wyrick, a Coast Guard spokesperson. The goods were donated by Guam residents, she said.
Another of its cutters, the Kiska, delivered a load of supplies to Tinian, she said.
Wyrick also noted that while the storm grounded two boats off Saipan, they were not leaking fuel or other pollutants.
Crews with the Guam-based Helicopter Sea Combat Squadron 25 have been assisting with moving supplies and personnel, as well as surveying damage, said Navy Lt. Ian M. McConnaughey, a spokesman for Joint Region Marianas.
He said fixed-wing aircraft out of Andersen have also assisted in relief and surveying efforts.
"Right now, it's about the basics, the essentials – food, water, power," McConnaughey said. Because the Northern Mariana Islands lie in the so-called Typhoon Alley, many residents stock up on storm supplies each year.
"People are pretty prepared," he said. "But there's really no way you can prepare for something that is a Category 5 typhoon and getting hit on both sides of the eyewall right over your small island home."
Ralph Torres, governor of the Northern Mariana Islands, announced Saturday morning that his request for a Major Disaster Declaration had been approved by President Donald Trump.
"While joint preliminary damage assessments are on-going, initial surveys of the devastation from Super Typhoon Yutu are grim and far surpass the destruction seen after Typhoon Soudelor in 2015," Torres said in a statement posted on Facebook. "Tinian and the southern tip of Saipan were both hit directly by the eyewall of Super Typhoon Yutu causing damage and destruction to hundreds of homes with roofs scattered across the islands."
In a video released Friday, Rear Adm. Shoshana Chatfield, commander of Joint Region Marianas, promised the roughly 51,000 residents of Saipan and Tinian continued support from the armed forces.
"I know you must be fatigued, worried and so anxious as you see the damage and the aftermath," Chatfield said. "I want to assure that in the coming days and weeks of recovery, your military will work to support local civilian authorities as part of the FEMA-led recovery efforts. Please know that you are not alone."
A Coast Guard C-130 cargo plane arrived in Saipan from Tinian on Friday, bringing personnel and equipment to set up communications on the island for search-and-rescue operations.
The plane also brought personnel to help reopen Saipan's port, Lt. Cmdr. James Schock of U.S. Coast Guard Sector Guam said in a video interview posted on Facebook.
"We did a flyover and it looks like the port is in pretty good condition, but we still have a lot of work to do before we can open it back up," he said. "We're moving as fast as we can, but we have to make sure it's safe for commerce and safe for ships coming in."
Wyrick said the ports on Tinian and Saipan could possibly be reopened as early as Saturday.
Water stations have been set up on both islands until repairs can be made to electrical systems used to operate water wells.
As of Saturday morning, Tinian International Airport was closed due to damage and is estimated to reopen in about a week.
Most designated shelters on the islands underwent extensive damage and are unsafe for use by those who have been forced out of their homes because of storm damage, Torres said.
He said the local government is "working around the clock" to find alternate shelter sites.
"Neighbors, now is the time to assist one another," Torres said. "If at all possible and your home is safe for occupancy, please help your fellow neighbor and provide shelter until such time sites have been identified for the displaced community to move into."
olson.wyatt@stripes.com Twitter: @WyattWOlson
---
---
---
---