Military officials call for unity among Marines, Okinawans
By
Chiyomi Sumida Dave Ornauer sumida.chiyomi@stripes.com ornauer.dave@stripes.com
May 28, 2016
---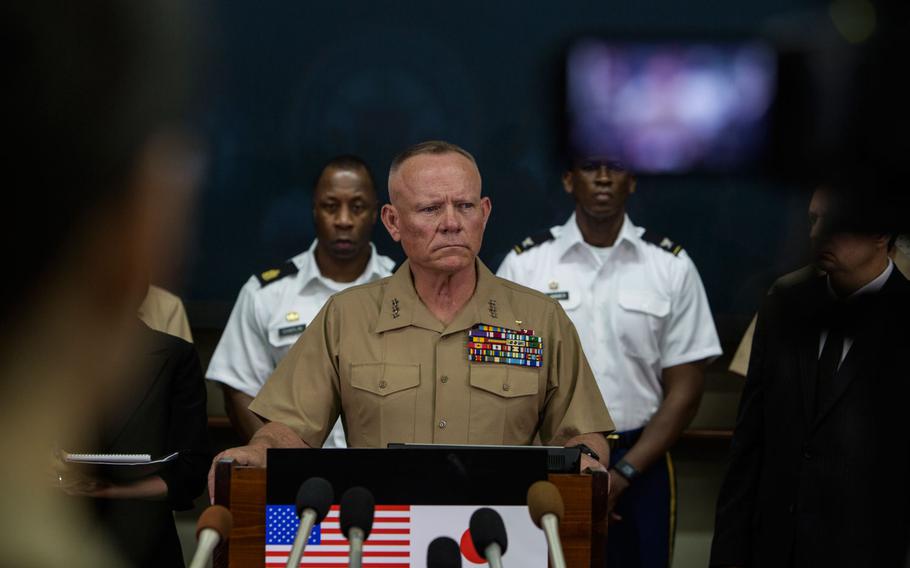 CAMP FOSTER, Okinawa – The senior U.S. military official on Okinawa urged servicemembers and residents Saturday to overcome their differences as they cope with the slaying of a 20-year-old woman that has been linked to a base contractor.
"We are at our best when we work together in crisis, in unified common cause, when we communicate openly and frankly," said Lt. Gen. Lawrence D. Nicholson, commanding officer of III Marine Expeditionary Force. "We will be at our best as we grieve together over this senseless and tragic act."
Command and senior enlisted from all services on Okinawa, as well as civilian leadership including the U.S. consular general Joel Ehrendreich, attended Nicholson's news conference at the Marine Corps Base headquarters on Camp Foster. It also sought to address the tightened curfew and liberty restrictions put in place Friday in the wake of the death of Rina Shimabukuro.
Her body was found in a wooded area after being missing for several weeks. Former Marine Kenneth Franklin Gadson, 32, a civilian contractor at Kadena Air Base, has been arrested in connection with the incident.
"There's only one way to look at it — a horrific crime in which we are all repulsed, angry and saddened, and we are all grieving together," a visibly emotional Nicholson said.
Gadson, who goes by the name of his Japanese wife, Shinzato, remains in Japanese custody in accordance with the status of forces agreement, Nicholson said.
"We have worked very closely with the [Japanese police] in supporting every aspect of this investigation and will continue to do so until it's complete," he said.
The slaying and recent rape of another woman have sparked protests on an island with a history of public outrage over crimes by members of the U.S. community. President Barack Obama found himself dealing with the backlash during his visit here last week for the G-7 economic summit.
In a meeting before the summit, Japanese Prime Minister Shinzo Abe told Obama that the killing was an "unforgivable crime" which shocked "not only the Okinawa people but also all the people of Japan."
Nicholson said the hour-earlier curfew and other restrictions "are out of respect and reflection."
"This is about honoring the victim, her family and sharing in this grief with the people of Okinawa," he said.
Some posts on social media have criticized the moves as punishing the masses for the actions of the few. Nicholson said he plans to converse with the U.S. military community to discuss the reasoning behind the changes.
"If the young Marine, soldier, airman — if he says because we're being punished, then we've failed," he said. "I would hope the young Marine, soldier, airman would say, 'Sir, we're doing it out of respect for our Okinawa hosts.' That would be the right answer."
The changes include the postponement of several festivals, celebrations and concerts on U.S. facilities, including the Futenma Flightline Fair, scheduled for June 11-12. Nicholson said the events will be rescheduled.
"We should not be out shooting fireworks, we should not be out having large celebrations and parties while the Okinawan people are in mourning," he said. "If we really believe we are part of the Okinawa community, then we, too, must be in mourning."
A Japan-wide curfew for U.S. servicemembers has been in effect since late 2012 following the rape of an Okinawa woman by two visiting Navy sailors, and other liberty restrictions were imposed on Okinawa. There were eased slightly in 2014.
Nicholson acknowledged that even the new restrictions might not have prevented the death of Shimabukuro but said he's trying to improve their effectiveness.
"We think they're effective if we're enforcing them," Nicholson said, adding that he plans to engage in dialogue with Okinawa Gov. Takeshi Onaga and others to see if other changes are needed. "We do hold a standard. We may not agree on every issue. There may be issues we differ on. But we must continue to talk.
"We are always looking for open communication and perhaps advice," he said. "Is there something we could be doing better?"
Nicholson said, "We have an obligation" to ensure that U.S. servicemembers new to Japan are prepared for life in a foreign country and "understand their responsibility."
ornauer.dave@stripes.com Twitter: @ornauer_stripessumida.chiyomi@stripes.com
---
---
---
---