Military curfew in South Korea ending in time for July 4 weekend
by
Ashley Rowland
June 29, 2010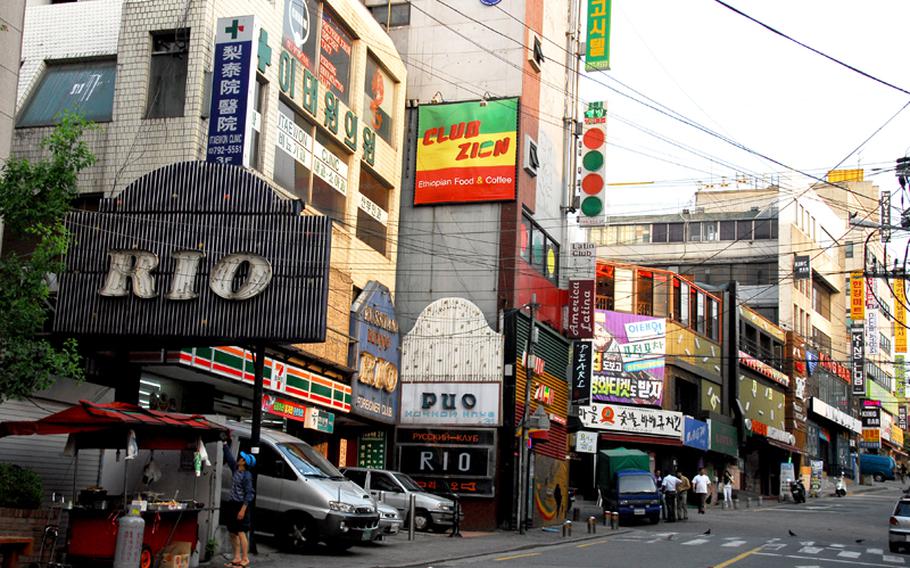 SEOUL — Saying "there is no reason to have a curfew," the commander of U.S. troops in South Korea will end an almost 9-year-old curfew on the peninsula Friday, the start of Fourth of July weekend.
"I believe that we can trust our servicemembers to do the right thing," U.S. Forces Korea commander Gen. Walter Sharp said in an interview Monday. "I personally believe in personal responsibility and making that the top thing that we do with our servicemembers, rather than trying to impose restrictions on them because of the acts of very, very few."
Local commanders will be allowed to impose temporary curfews but must get his approval to do so, Sharp said.
A nighttime off-limits ban will continue for Hongdae entertainment district in Seoul near several universities, although Sharp said a review to possibly rescind the ban is under way. The 9 p.m.-to-5 a.m. ban on Hongdae has been in place since 2007, after a servicemember raped a 67-year-old woman there.
Troops are required to be indoors from 3 a.m. to 5 a.m. on Saturdays, Sundays and U.S. holidays and from midnight to 5 a.m. on weekdays. Sharp relaxed the previous 1-5 a.m. weekend curfew in August 2008, two months after assuming command of USFK.
The South Korea curfew was put in place in the days after the Sept. 11, 2001, terrorist attacks, when U.S. bases worldwide set curfews. Even though most bases lifted their restrictions, commanders in South Korea never fully rescinded it, citing force-protection concerns in a country bordering a belligerent North Korea.
The curfew has long been a source of frustration for some troops, who say it limits how far they can travel outside their bases and encourages binge drinking in the hour or so before the curfew begins.
"It's probably the No. 1 question that I'm always asked when I talk to servicemembers across the peninsula," Command Sgt. Maj. Robert Winzenried said of troops' inquiries about whether the curfew would change.
He said the end of the curfew means troops will have time to travel to places other than the "villes," or bar districts on the outskirts of many U.S. bases.
Other troops and commanders, however, believe the curfew keeps troops from drinking too much and getting in trouble. Among them was previous USFK commander Gen. B.B. Bell, now retired, who considered changing the curfew for higher-ranking servicemembers in 2008 but decided against it because troops in South Korea had a "wartime mission" and "there comes a point where you're supposed to go to bed."
Sharp said he does not expect a rise in discipline problems after the curfew ends, despite an increase in sexual assaults and other crimes in the months after he initally eased the curfew. Because of those "acts of indiscipline," Sharp scheduled a training session on behavior standards in April 2009. At the time, his staff said he might consider expanding the curfew if problems persisted.
Winzenried said Monday that the initial uptick in misbehavior was an "anomaly," and levels of troop misconduct have generally remained steady.
Sharp said he has followed discipline rates closely, and commanders know to expect and prepare for an increase in misbehavior at certain times of the year, such as around exercises and when new troops arrive on the peninsula.
He said he plans to hold the "Stand Down for Standards" behavior training yearly, and does not believe he will have to reimpose a curfew "unless we saw something change very drastically."
Sharp said the lifting of the curfew is also meant to improve the quality of life in South Korea as more military families move here. Under a tour normalization policy announced a year-and-a-half ago, about half of the 28,500 troops in South Korea will eventually be able to bring their families with them.
"We are trying to make Korea much more like a normal tour," he said.
The number of command-sponsored families in South Korea has increased from 1,600 in 2008 to approximately 4,100 today, he said. Nearly 5,000 command-sponsored families will be stationed in South Korea by the end of the year, Sharp said.
Sharp said he is not considering a proposal from 2nd Infantry Division commander Maj. Gen. Michael Tucker to lower the drinking age to 19 and eliminate rules on blood alcohol levels.
Sharp said he was comfortable with lifting the curfew despite heightened tensions on the peninsula following North Korea's sinking of a South Korean ship on March 26.
"Troops always have to be prepared. They have to be prepared now, they have to be prepared after Friday," Sharp said. "That is part of the responsibility that servicemembers and commanders have, is to understand what conditions we are in now and at all times in the future."
---
---
---
---