Military brat finally receives his high school diploma 48 years after graduating
by
Charlie Reed
June 28, 2010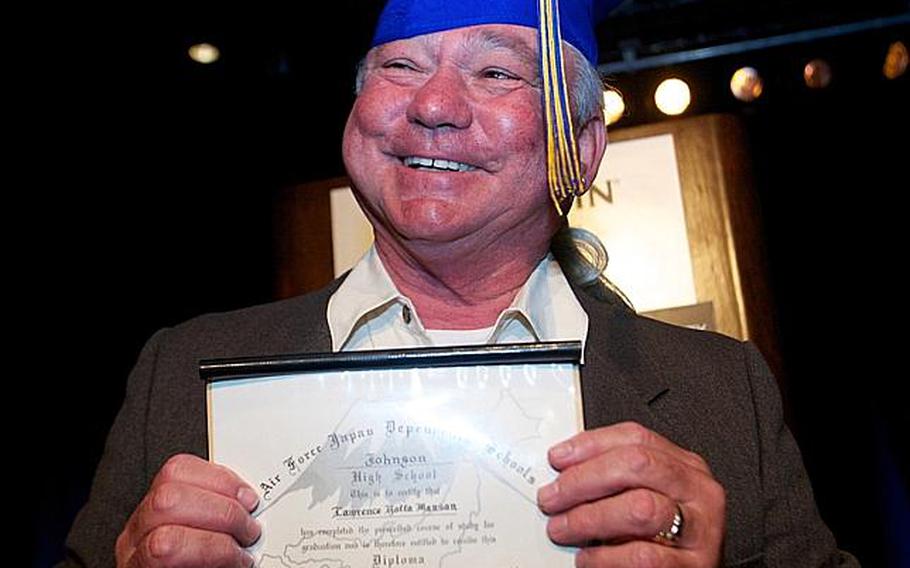 YOKOTA AIR BASE, Japan — Larry Manson keeps in touch with his high school classmates, although he had all but forgotten about the diploma he never received in 1962.
Until a few weeks ago.
Manson, a military brat who grew up overseas, was just six weeks away from graduation at the now-defunct Johnson Air Station in Tokyo when his mother was diagnosed with cancer and the family abruptly left Japan.
Though he wasn't there for commencement, Johnson High School issued a diploma for Manson, who played football and was an amateur radio operator during his two-and-a-half years at the school. The diploma never got to Manson and was filed away in a safe that was eventually transferred to Yokota Air Base when Johnson closed in the early 1970s. Manson, meanwhile, finished high school in Chula Vista, Calif., where he lived with his grandparents while his mother underwent treatment in Colorado.
The 66-year-old Manson has attended numerous Johnson High reunions over the years to see the classmates. It was through these connections that he finally was reunited with his diploma, which never saw the light of day until 2008.
That's when Yokota High School officials cracked open the safe — tucked away in a storage room for years — during a renovation project. Systems administrator Mark Skelton found the decades-old document and curiosity got the best of him.
"It was so intriguing," said Skelton. "I just wondered, 'Is this guy still around? What happened to him?'"
Skelton ultimately tracked down Mason through a website for the Johnson High School alumni association. "It was exciting," said Skelton. "It answered this mysterious question."
Manson, who went on to become an English professor and is now retired, was equally as excited and moreover, grateful.
"I was pretty darned surprised to hear they found my diploma after 48 years," Mason said.
In another fortuitous turn of events, Manson was given his diploma during a ceremony this weekend at a Department of Defense Education Activity conference in Los Angeles, just 70 miles from his home in Ventura.
"It's amazing how things fall into place," he said.
---
---
---
---