Military action is an option for dealing with N. Korea, Tillerson says
by
Kim Gamel
March 17, 2017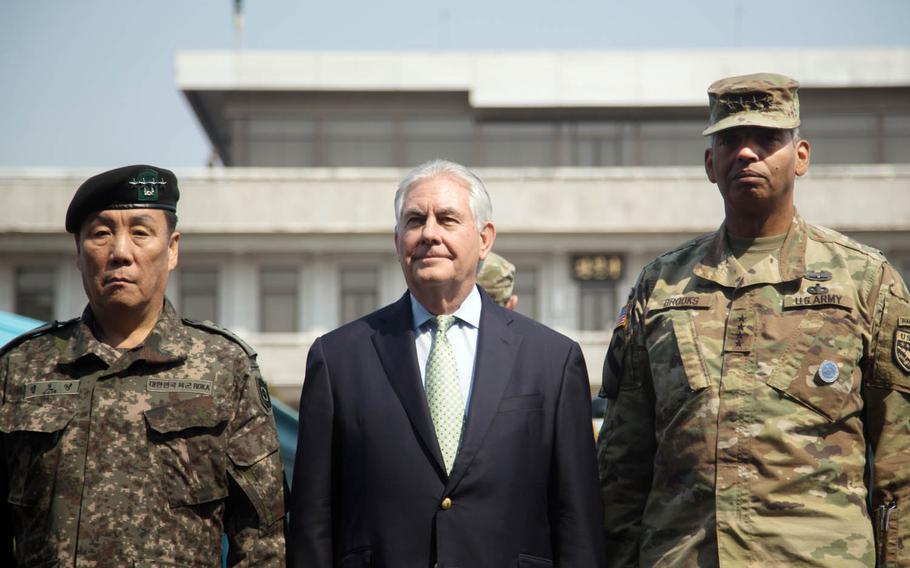 SEOUL, South Korea – U.S. Secretary of State Rex Tillerson said military action is one of several options on the table for dealing with North Korea but Washington hopes to avoid that.
Tillerson suggested the United States will adopt a tougher approach, saying the Obama administration's efforts had failed to stop Pyongyang from pursuing a nuclear weapons program.
"Let me be very clear, the policy of strategic patience has ended. We're exploring a new range of diplomatic security and economic measures," he said during a joint news conference after visiting the heavily militarized border that divides the peninsula. "All options are on the table."
He offered few details, but said military action had not been ruled out.
"Certainly we do not want … for things to get to military conflict," he said. But he added that "if they elevate the threat of their weapons program to a level that we believe requires action, then that option's on the table."
South Korea was the second stop on Tillerson's debut trip to Asia as secretary of state. He arrived earlier Friday from Japan and planned to travel to China on Saturday.
While Tillerson declared the Obama-era policy known as "strategic patience" dead, many of his comments reflected similar tenets. He said there would be no talks until North Korea abandons its nuclear weapons program, and he called for tighter sanctions and other economic measures to cut off Pyongyang's sources of foreign revenue.
"Conditions must change before there is any scope for talks to resume," Tillerson said at a joint news conference before going into talks with his South Korean counterpart Yun Byung-se.
Many experts have speculated that President Donald Trump would consider unconditional talks with North Korea after Trump suggested as much during his campaign. But the administration has signaled a harder line particularly as it has been challenged by two North Korean missile tests since Trump took office on Jan. 20.
Tensions have been rising since last year when the North conducted two nuclear tests and launched two dozen missiles into the sea, demonstrating faster-than-expected progress toward its goal of developing a nuclear-tipped missile that could target the U.S. mainland.
Most recently it fired four missiles into the sea near the coast of Japan earlier this month.
Tillerson's trip comes amid high tensions as the U.S. and South Korean militaries are conducting joint war games, which the allies insist are defensive in nature but North Korea considers a rehearsal for an invasion.
Tillerson said Washington does not want a military conflict but stressed that any action threatening South Korean or U.S. forces would be met with an "appropriate response."
The U.S. maintains about 28,500 servicemembers in South Korea, which remains technically at war with the North after the 1950-53 conflict ended in an armistice instead of a peace treaty.gamel.kim@stripes.com Twitter: @kimgamel