Michigan vet flies to Misawa on his own to help
by
T.D. Flack
April 11, 2011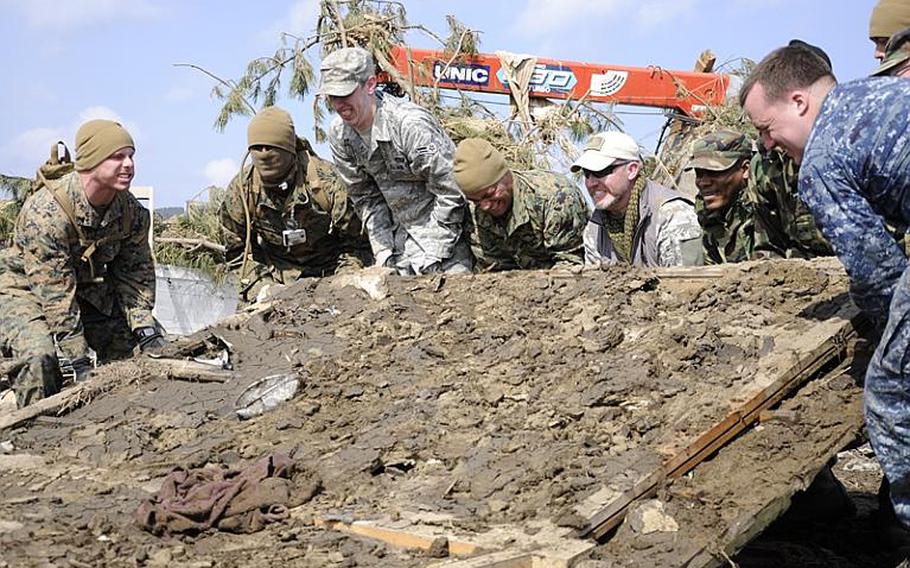 MISAWA AIR BASE, Japan — Matt Szymanski was sitting in his Michigan home watching in disbelief as the first images of the devastation in northern Japan were broadcast on the news.
"I wanted to donate money, but I didn't know where my money was going," the Army veteran said. "I looked down at my two hands, and I knew what I could do with them."
So Szymanski — medically retired with a kidney disease — withdrew from his master's degree classes and bought an open-ended ticket to Tokyo. Then, he told his family, his fiancé and her 15-year-old son.
The 35-year-old had never been to Japan, doesn't speak the language, had no contacts on the ground and no real plan other than to do his best upon arrival.
"Why?" they asked, Szymanski said.
His answer: "One man with two hands who can jump in line with others doing the same thing and create a chain of people" can make a difference, he said.
He made it to Tokyo and decided to fly to Misawa. As a retiree, he knew he could stay on the base, and it was the closest to the hard-hit coastal villages.
His first morning, March 26, he walked into the Mokuteki Community Center, looking for something to eat. He walked in the wrong door, and stumbled across Misawa Helps, the organization running the base's relief efforts to local Japanese communities.
"Call it fate, luck, whatever," Szymanski said.
Since then, he's joined the daily trips, working long shifts in tough conditions, lugging blocks of concrete, heavy beams and other debris.
"It's exhausting, but you feel a real sense of accomplishment every day you're out there," he said.
Meeting the Japanese people in places like Noda Village has been rewarding. He said he felt there was "a genuine appreciation," for the help.
The devastation at Noda is hard to comprehend, he said.
Szymanski said when they first arrived, and looked out over the debris field, a young airmen said, "I don't even know where to begin."
"I felt the same way," Szymanski said.
Szymanski said he thought about it for a moment and said, "Let's just start right here ... start at your feet and start moving stuff."
At the end of the day, he said, you could turn around, look back and see what you had accomplished.
Capt. Tyler Harris, who runs Misawa Helps, said Szymanski has played an important role in relief efforts, "both with his work and his leadership."
Since Szymanski was going out day after day, he ended up as a "team leader of sorts," Harris said, helping direct other volunteers and providing a continuity on the projects.
"He's been a stalwart out there," Harris said.
Szymanski said buying the tickets, paying for the room and other expenses hasn't been easy, and he's "far from rich." His family also told him that wanted him back home within a month.
Szymanski said community members who've heard his story have been extremely generous, with some inviting him to their homes for dinner.
John Chamberlain, owner of the My Place Bar in Misawa City, said he was inspired by Szymanski.
"He's an awesome guy," Chamberlain said. "What a great story."
Szymanski said Chamberlain provided him with about a week's worth of food to carry on the daily trips, which was greatly appreciated.
"I've done many things in the military, but this is one I'll never forget," Szymanski said. "I couldn't be happier that I was able to come here and just make a dent."