Mattis warns nuclear weapons threat from North Korea is accelerating
by
Kim Gamel
October 28, 2017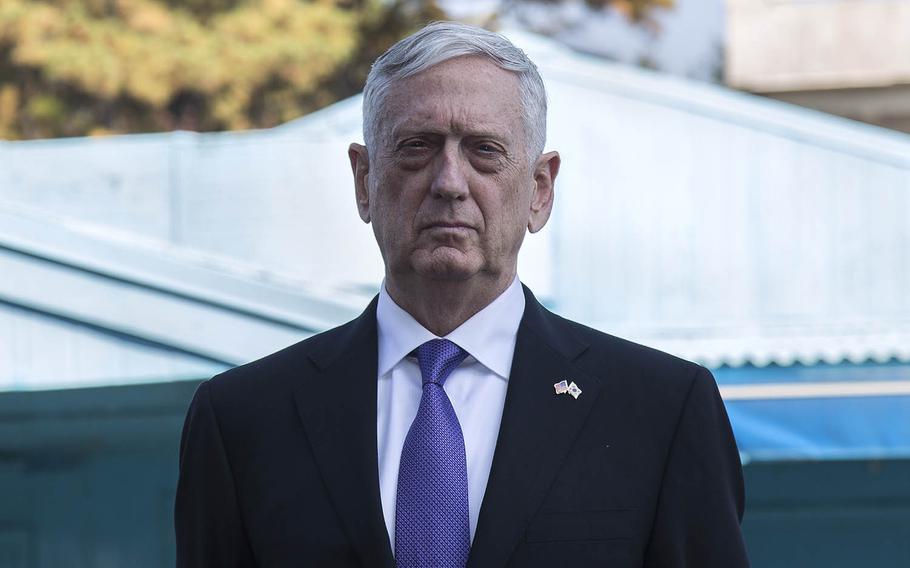 SEOUL, South Korea – Defense Secretary Jim Mattis said Saturday that the nuclear weapons threat from North Korea is accelerating and warned that an attack "will be met with a massive military response."
Mattis spoke to reporters after meeting in Seoul with his South Korean counterpart for annual talks on security and the decades-old alliance between the two countries.
The former Marine general has stressed his preference is for diplomatic efforts to resolve the crisis with North Korea, saying Friday that "our goal is not war."
But he accused the North of illegal and unnecessary nuclear and missile programs, vowing Saturday that the United States is prepared to use force to defend itself and its allies.
"Make no mistake. Any attack on the United States or our allies will be defeated, and any use of nuclear weapons by the North will be met with a massive military response that is effective and overwhelming," he told reporters after meeting with South Korean Defense Minister Song Young-moo.
Mattis also visited the Demilitarized Zone that divides the peninsula on Friday, accusing the North of threatening others with a "catastrophe" as North Korean soldiers watched his every move from the other side in the truce village of Panmunjom.
His comments came ahead of a planned visit by President Donald Trump next month. Trump has warned he will "totally destroy" North Korea if necessary.
Tensions have spiked in recent months as Pyongyang has shown rapid progress in its efforts to develop a nuclear-tipped missile that could reach the U.S. mainland.
The communist state has test-fired dozens of missiles and conducted its sixth and most powerful nuclear test on Sept. 3. North Korea has been relatively calm since it last fired a missile over Japan on Sept. 15, but this week it renewed a threat to detonate a hydrogen bomb over the Pacific Ocean.
Mattis said Saturday that the U.S. will never accept the North as a nuclear power and warned it will be outmatched by the military power of the U.S.-South Korean alliance.
Song, meanwhile, said he and Mattis agreed that limits on the payloads for South Korean missiles would be lifted. He said the allies also discussed the conditions under which the transfer of wartime operational control of South Korean forces would be transferred from the U.S. to Seoul.
The transfer was originally scheduled for 2012, then 2015, but the two sides agreed to an indefinite delay after the North Koreans conducted their third nuclear test in 2013.
Vice President Mike Pence also said Friday that the U.S. will maintain economic and diplomatic pressure on the North to abandon its banned weapons programs.
Speaking to airmen at the Minot Air Force Base, N.D., Pence promised to keep the U.S. nuclear arsenal strong.
"Under President Trump's leadership, we'll make sure that our nuclear deterrent is stronger than ever before — modern, robust, flexible, resilient, and ready to confront any and all enemies of peace with a rapid, effective and overwhelming response," Pence said, with a supersonic B-52 bomber in the background.
The base has one of the nation's two B-52 bomber units and oversees 150 of the Air Force's 450 Minuteman 3 nuclear missiles, according to The Associated Press.
gamel.kim@stripes.com Twitter: @kimgamel