Marines send RQ-21 Blackjack drones to Australia rotation for first time
by
Seth Robson
June 18, 2020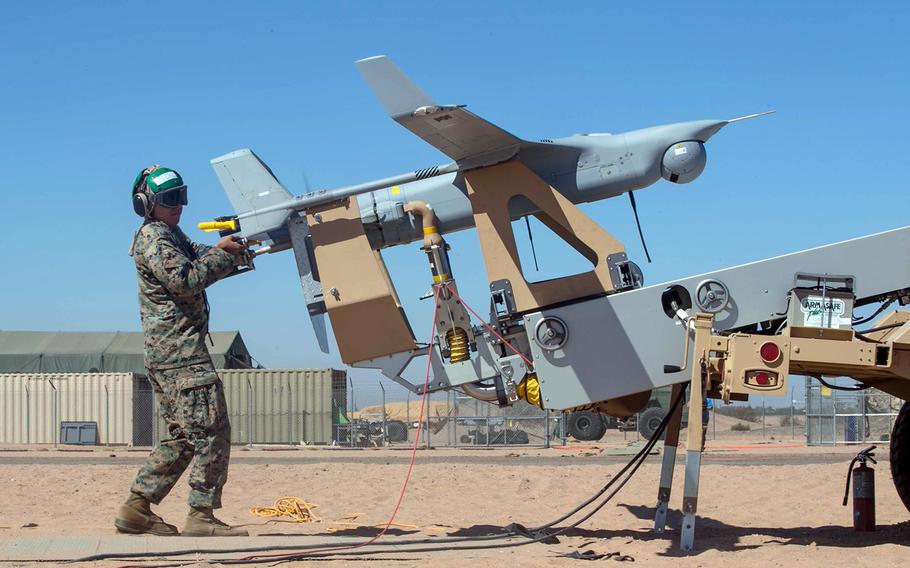 The annual Marine Corps rotation to Darwin, Australia will, for the first time, incorporate unmanned surveillance drones this year, according to U.S. and Australian officials.
RQ-21 Blackjack drones will soon arrive in Australia to support Marine Rotational Force — Darwin, rotational force commander Col. David Banning said in a telephone interview Thursday.
This year's rotation, delayed by two months due to the coronavirus pandemic, includes 1,200 Marines, fewer than half as many as headed south last year.
The force is made up of a ground combat element from Twentynine Palms, Calif., Combat Logistics Battalion 5 out of Camp Pendleton, Calif., and a command element from the III Marine Expeditionary Force on Okinawa, Banning said.
He declined to reveal exactly how many Blackjacks will support the force until the aircraft arrive in Australia.
"It's the first time for the rotational force to incorporate unmanned aircraft," he said of the RQ-21s.
The Blackjacks, supported by a detachment of Hawaii-based Marines, will monitor remote battlespace, he said, adding that his forces will practice dispersing small units across wide areas in line with recent guidance from Marine Commandant Gen. David Berger.
The Marines in Australia will exercise the drones' capability to feed information to commanders, who might use information to call for artillery or air strikes on the enemy, he said.
The Blackjack is made by Insitu, a Boeing Inc. subsidiary in Washington. A "small, tactical" aircraft, it can carry payloads of 39 pounds maximum and stay aloft more than 16 hours, depending on how it's configured. It has a line-of-sight range of 64 miles, according to Boeing's website.
Australia is preparing to acquire some of its own large drones, including the MQ-4C Triton and MQ-9 Reaper, said Royal Australian Air Force Group Capt. Stewart Dowrie, commander of Northern Command headquarters and a former liaison with Pacific Air Forces in Hawaii.
The Marines in Darwin will also have M-777 towed howitzers and a variety of trucks and Humvees this year, Banning said.
Last year, the force brought with it 10 MV-22 Osprey tiltrotors, four AH-1Z Vipers and three UH-1Y Venom helicopters, but the coronavirus meant there aren't any manned aircraft heading south this time.
Tiger attack helicopters from Australia's 1st Aviation Regiment will train with the Marines, Dowrie said.
The Marines won't be going to sea on Australia's amphibious ships HMAS Canberra and HMAS Adelaide, as they did last year, he said.
They had planned to deploy on the ships to participate in the Rim of the Pacific exercises off Hawaii, he said. On-shore portions of RIMPAC, which runs from Aug. 27-31, have been canceled this year, Indo-Pacific Command announced in April.
A second wave of Marines arrived in Darwin this week and will go into quarantine for two weeks. None of the Marines who have arrived there so far have tested positive for coronavirus, Banning said.
When they come out of isolation, the Marines will conduct small-unit training and work up to Exercise Koolendong with the Australian Defence Force in late September, he said.
robson.seth@stripes.com Twitter: @SethRobson1