Marines are bringing more air power than ever to annual training in Australia
by
Seth Robson
April 19, 2019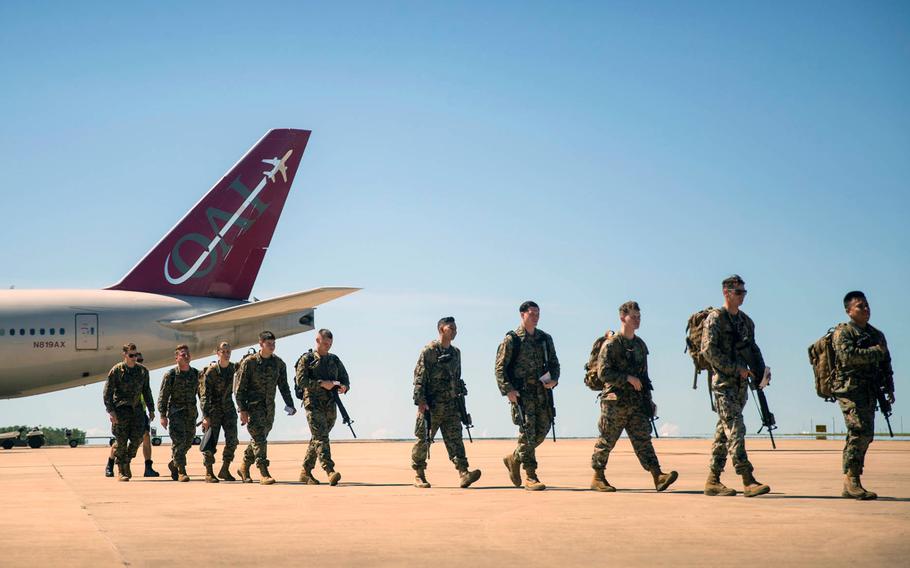 The United States is sending more air power than ever in support of this year's contingent of 1,700 Marines to Australia's Northern Territory.
Marines have begun arriving in Darwin, Australia, with the bulk of the force scheduled to arrive this month, according to a statement Friday from Marine Rotational Force–Darwin.
Aircraft deploying for the rotation include 10 MV-22 Osprey tiltrotors, four AH-1Z Vipers and three UH-1Y Venom helicopters, Marine spokesman 1st Lt. Colin Kennard said in an email.
The aircraft represent "the most capable Aviation Combat Element" sent to Darwin since the rotational deployments began in 2011, he said.
"These aircraft increase the training value for MRF-D activities and increase our ability to respond to contingencies within the Indo-Pacific region," he said.
Northern Australia is a superb flying environment during summer, wrote Euan Graham, a senior fellow at Australia's Lowy Institute, in an article published on the think tank's website in August 2017.
"In the dry season, from April to November, flying conditions are near perfect," he wrote.
The Marines' aviation combat element is composed of aircraft from Marine Medium Tiltrotor Squadron 363 and Marine Light Attack Helicopter Squadron 367, as well as Marines and equipment from Marine Wing Support Detachment 24, Marine Aircraft Logistics Squadron 24 and Marine Aircraft Control Group 18, Kennard said.
"The majority of these Marines and aircraft are based in Marine Corps Base Hawaii, Kaneohe Bay," he said. "These aircraft and the Marines that fly and maintain them will be hosted at Royal Australian Air Force Base Darwin."
To facilitate operations for the U.S. helicopters, temporary airfield matting has been installed at the air base, he said.
"This temporary airfield provides a space for these aircraft to park, refuel, land and takeoff, and was constructed by Australian soldiers and U.S. Marines," he said.
The aircraft – along with Combat Logistics Battalion 1 – will support an infantry battalion, 1st Battalion, 1st Marine Regiment, an artillery battery from 3rd Battalion, 11th Marine Regiment, as well as a platoon from 1st Combat Engineer Battalion, from various bases in California, Kennard said.
Those Marines will be hosted at Robertson Barracks, Darwin, he added.
During the rotation, a company of Marines will be hosted by the Australian Army 3rd Brigade at Lavarack Barracks in Townsville, he said.
"Training will occur at various locations throughout Australia and the region, including Kangaroo Flats Training Area, Mount Bundey Training Area, Shoalwater Bay Training Area, as well as exercises and engagements ashore and afloat throughout the Indo-Pacific region," he said.
Marines from the rotational force will also participate in Talisman Saber, a biennial exercise that involves tens of thousands of U.S. and Australian troops training Down Under for a month in summer.
The Marines will be involved in training that addresses the entire spectrum of conflict, from humanitarian assistance exercises like Crocodile Response, to intense large-scale combat operations during Exercise Koolendong, Kennard said.
The Marines will work with the Australian army's 1st, 3rd and 7th brigades, he said.
There are plans for the Marines to train ashore and afloat throughout the Indo-Pacific region, Kennard said, but he didn't disclose the nations where that might happen.
robson.seth@stripes.com Twitter: @SethRobson1