Marine says he's 'truly sorry' for drunken rampage that injured three strangers in Tokyo
by
Caitlin Doornbos
November 15, 2019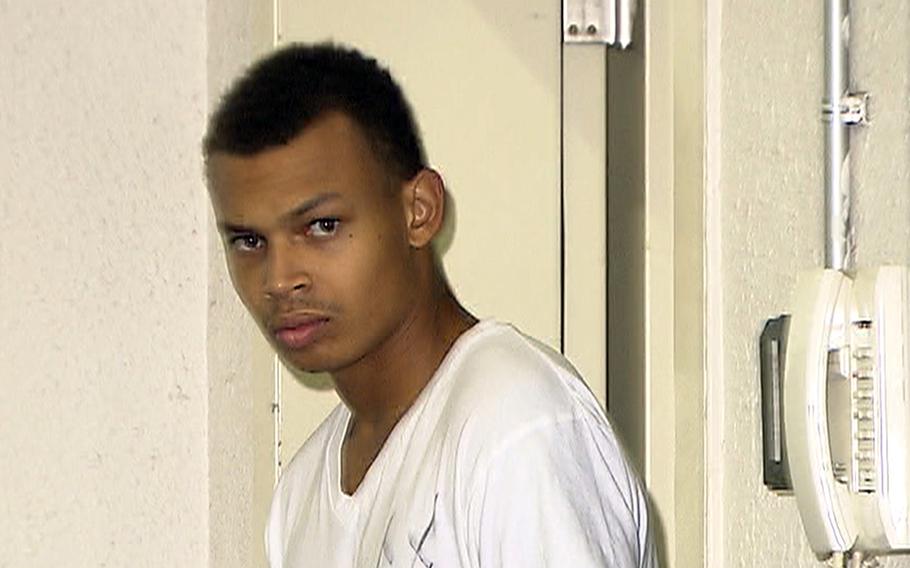 TOKYO — A 21-year-old Marine lance corporal who attacked three Japanese citizens while drunk and disoriented in Tokyo's Shinjuku ward in May testified Thursday that he takes "full responsibility" for his actions.
Kahsai Tyree Hill, 21, assigned to 3rd Battalion, 6th Marine Regiment of Camp Lejeune, N.C., admitted in court Thursday to choking a woman until she fainted and striking a taxi driver and a bystander the morning of May 25.
Hill is charged with two counts of bodily injury to the bystander and woman. He pleaded guilty in July to a bodily injury charge related to the taxi driver.
Defense attorneys in Tokyo District Court on Thursday said Hill and his family have paid his victims about $16,500 in compensation.
Hill gave his account of the attacks after a psychologist testified that the behavior was caused by "his immaturity" and "inability to control his level of intoxication." The psychologist also said Hill could suffer from a dissociative disorder, but a diagnosis would require further testing.
Dissociative disorders are characterized by "a disconnection between thoughts, identity, consciousness and memory," according to the National Alliance on Mental Illness. Symptoms include out-of-body experiences, detachment from reality and anxiety.
Hill, who said he had his first drink on his 21st birthday six months before the incident, testified that he and other Marines from Camp Fuji's security team were in Tokyo the night of May 24 to celebrate Memorial Day. He said he had approximately 15 alcoholic drinks that night — "more than I ever drank in my life."
After exploring bars in Golden Gai — a bar area in Shinjuku that's popular with tourists — Hill and his friends went to a fast-food restaurant around midnight before going to bed. Hill testified that at the restaurant, he decided to walk around outside to explore.
Then, he said he got lost.
'Terrified' Hill remembered having another drink with a stranger in the area before passing out. He woke up hours later in an alley and panicked because "the sun's coming up and I have no clue where I am," he testified.
The Marine said he felt "terrified" and confused, separated from his friends in a strange city.
"My heart was racing. I shouted for help," Hill said. "People ignored me, which made me think I was dreaming. I started to act recklessly because of that."
That's when he saw someone he would later learn was a taxi driver offering him a ride.
Hill said he did not know the man was a cab driver when he got in the front seat. That's why Hill did not pay the approximately $8 fare when the driver let him out of the car, he said.
"The man started yelling at me, something I didn't understand," Hill testified. "I felt in danger and felt I needed to protect myself."
Hill said he then hit the driver and ran away.
Hill later struck another man who stopped to help him find his hotel, but the Marine said he could not remember that incident or why he hit him.
"I've been trying for months to try to remember," Hill said. "I know something happened; I take responsibility for it."
He said he remembered the third attack, for which police recommended an attempted murder charge but prosecutors indicted him on the lesser charge of bodily injury.
In his panic, he said he thought a nearby woman was his sister and hugged her from behind. Unsteady in his drunken stupor, Hill said, he lost his balance and tightened his grip before she "fell away."
"It was the most terrified I'd ever been in my entire life," Hill said. "Everything was spinning around."
He said he later learned he had choked the woman so tight that she fainted, fracturing her chin as she hit the ground.
"People were yelling at me and I walked away crying," Hill testified.
Hill left and was later arrested. As police approached him, Hill grabbed an officer by the collar and asked him to "please help me" before passing out, he testified.
'Truly sorry' Speaking to the judge through a translator, Hill said he was "truly sorry" for the incident and will seek counseling to ensure it doesn't happen again.
"My very job is to protect people and I feel I have disrespected my own name," he said, choking up. "Violence is never the answer no matter what, and I have learned a huge lesson from this."
The taxi driver and the woman he attacked wrote letters to the court stating they do not desire criminal punishment for Hill, his lawyer said. The second man he struck did not write such a letter.
Prosecutors said the taxi driver initially called for "severe punishment" against Hill, but later changed his mind.
The judge did not decide the case Thursday, instead setting a new court date for Dec. 6.
Hill said he will face disciplinary action from the Marine Corps after the case is decided. He will be discharged, he said, potentially on bad conduct.
Stars and Stripes reporter Hana Kusumoto contributed to this report.
doornbos.caitlin@stripes.com Twitter: @CaitlinDoornbos