Marine pilot survived in sea for nearly 10 hours after deadly midair collision, smartwatch shows
by
Seth Robson
November 15, 2019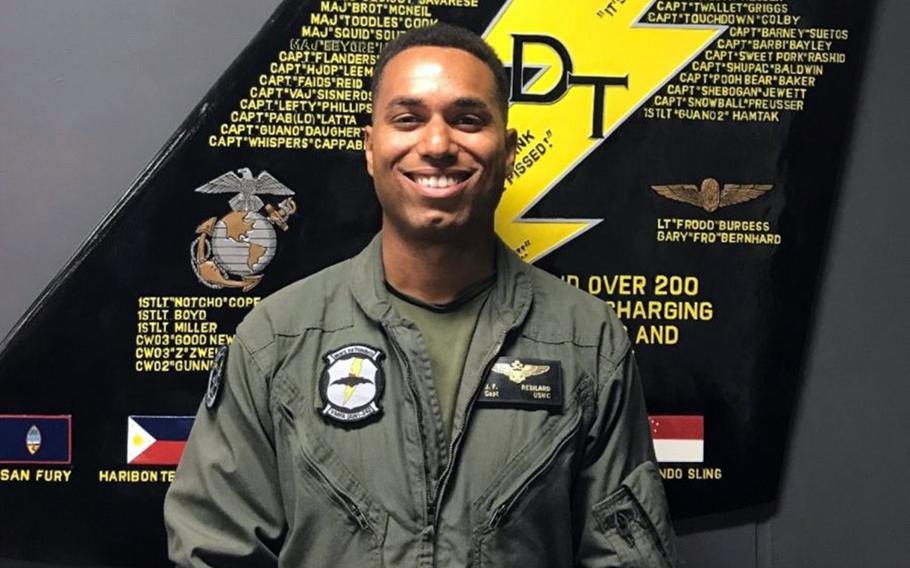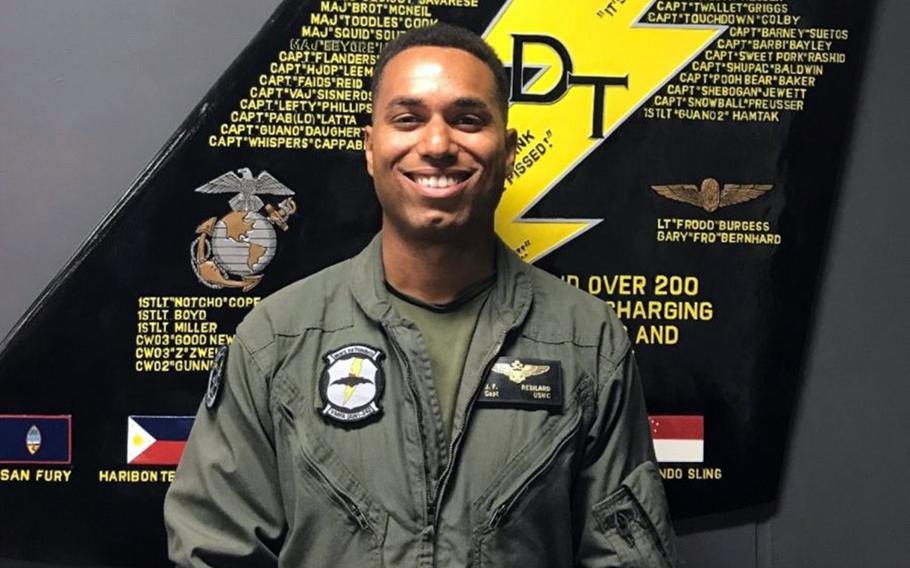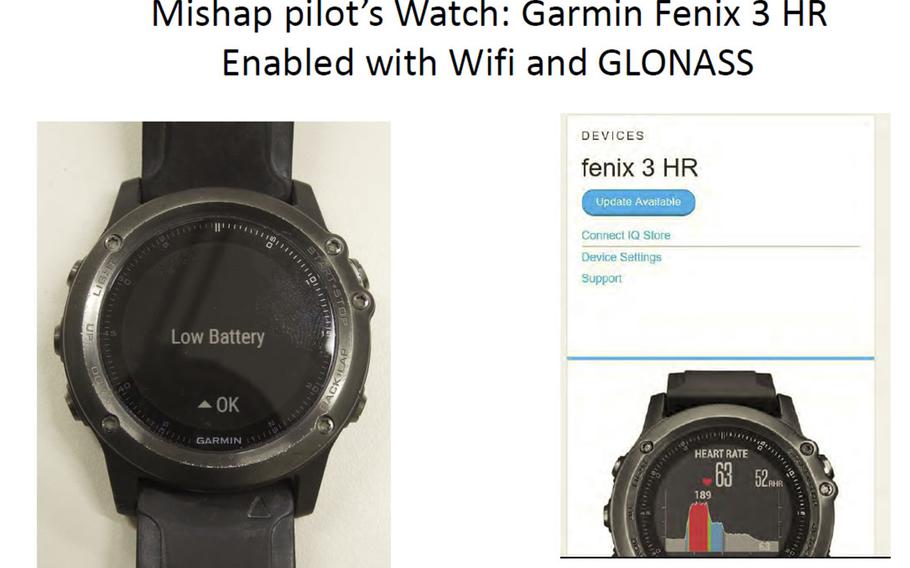 YOKOTA AIR BASE, Japan — Smartwatch data suggests a Marine Corps pilot who ejected from his F/A-18 Hornet after colliding with a KC-130J tanker last year off the coast of Japan was alive on the surface of the ocean for nearly 10 hours before he drowned.
The heartrate data is included in a command investigation report on the incident, which claimed the life of Capt. Jahmar Resilard, 28, along with five Marines in the tanker. The group flew out of Marine Corps Air Station Iwakuni near Hiroshima.
Resilard — referred to as "MP2" by investigators — was wearing a Garmin Fenix 3 smartwatch when he ejected from the fighter jet at 1:44 a.m. on Dec. 6, according to the command investigation report released Sept. 26.
"The data from the watch indicated that MP2's heart was beating at an average of 86 beats per minute until approximately 1130," the report states.
"MP2's Garmin smart watch indicates that MP2 was alive on the surface of the ocean from approximately 0145 until approximately 1130 (nine hours and 45 minutes) in 68 degree Fahrenheit water."
Resilard's body was brought on board a Japan Maritime Self-Defense Force ship, the JS Setoyuki, at 12:22 p.m., the report states.
An autopsy report showed the downed aviator had cuts and bruises, a head injury and appeared to have drowned.
Investigators noted that neither Resilard nor his weapons officer, who also ejected but was rescued from an inflatable raft, were wearing anti-exposure suits that can prolong survival in cold water.
Marine and Navy aviators are given the option of wearing the suits based on factors such as likely rescue response time, water temperature and their body fat.
None of the witnesses interviewed from the downed Hornet's unit — Marine All-Weather Fighter Attack Squadron 242 — had worn or observed others in the unit wearing anti-exposure suits, the investigators noted.
A Top Gun fighter tactics instructor graduate in the squadron, when asked about the suits in the context of the mishap, told investigators he wouldn't have worn one during a night mission over 68-degree water.
"I wouldn't wear it. They're a huge pain," the unnamed pilot said in the report.
The downed Hornet's weapons officer was recovered alive at 5:43 a.m. by a Japanese military SH-60 helicopter, four hours after ejecting, and taken to Komatsushima, Japan, the report states.
In his interview, the officer talked about struggling to survive, shivering and bailing water from a raft while awaiting rescue. He told investigators that he assumed rescuers would respond within 30 minutes, later amending his answer to 50 minutes.
The Marine Corps doesn't have search-and-rescue capability at MCAS Iwakuni, investigators noted.
In 2000, the commander of the 1st Marine Aircraft Wing determined that Japanese search-and-rescue assets provided adequate coverage for the Iwakuni-based Marine Aircraft Group 12 and removed the Marines' in-house capabilities, according to the report.
Japanese forces can launch search-and-rescue assets within 15 minutes of notification, if they are already out conducting operations, the report states. Otherwise, the response time can be more than two hours.
Four officers from Marine All-Weather Fighter Attack Squadron 242 – its commander, executive officer, operations officer and aviation safety officer — were fired as a result of the investigation. It uncovered a number of problems in the unit such as wrongful use of prescription and over-the-counter drugs by officers, including two involved in the fatal training mission.
Investigators' recommendations included that the 1st Marine Air Wing conduct annual full spectrum search-and-rescue exercises with all available host nations and joint assets. The wing should also develop a "Memorandum of Understanding" with the Japanese government to define roles and responsibilities associated with search and rescue.
The Marines should also establish their own search-and-rescue capabilities at MCAS Iwakuni, investigators said.
Maj. Brian Block, a III Marine Expeditionary Force spokesman, said in an email Thursday that the wing has been ordered to develop a "Search-and-Rescue (SAR) memorandum of understanding."
In April, the wing conducted a search-and-rescue tabletop exercise with pilots from the Air Force, Navy and Japan Self-Defense Forces, Block said, adding that there will be follow-up exercises.
robson.seth@stripes.com Twitter: @SethRobson1