Marine Corps on Okinawa nixes inbound stays at off-base hotels after coronavirus surge
by
Aya Ichihashi Dave Ornauer
July 14, 2020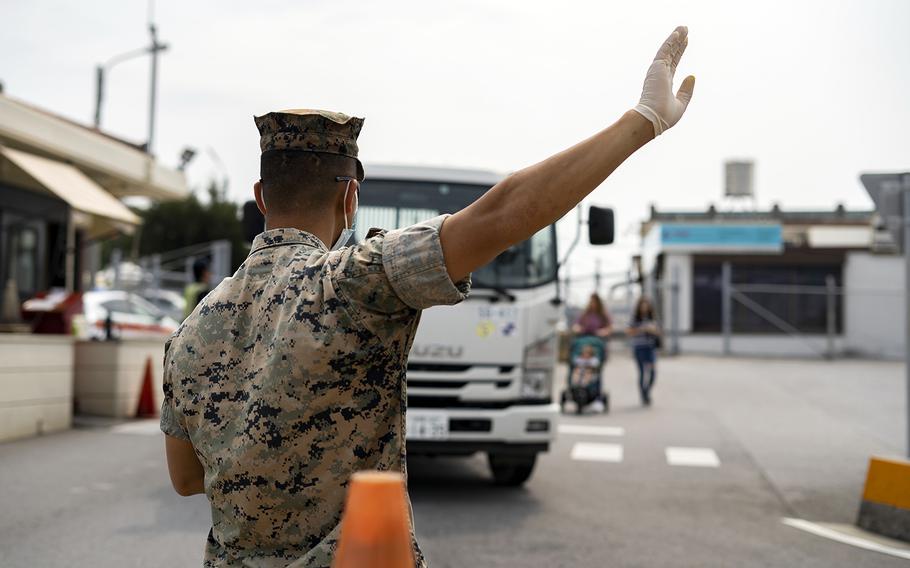 Stars and Stripes is making stories on the coronavirus pandemic available free of charge. See other free reports here. Sign up for our daily coronavirus newsletter here. Please support our journalism with a subscription.
CAMP FOSTER, Okinawa — New arrivals to Marine Corps bases in Okinawa will no longer stay in local hotels during their 14-day coronavirus quarantine but instead will be lodging on Camp Foster, the Marines announced Tuesday.
The Marine Corps on Okinawa was struck with a cluster of coronavirus cases last week that so far has created several dozen infections at three bases: Marine Corps Air Station Futenma, Camp Hansen and Camp Kinser.
Marines and their families arriving for permanent changes of station have been quarantined in recent weeks on Marine bases and at the DoubleTree by Hilton Okinawa Chatan Resort. Complaints of their presence in town have surfaced in local and national Japanese media.
The new cases are another complication in a sometimes-tense relationship between Okinawa and the U.S. military. Okinawa Gov. Denny Tamaki said it was "extremely regrettable" that so many cases had surged among U.S. personnel in just a week.
The "decision was made that all new inbound personnel will be housed on base," after representatives of Marine Corps Installation Command met with Okinawa prefectural government officials Tuesday, Marine spokesman Maj. Ken Kunze said in an email to Stars and Stripes on Tuesday.
"It's about being gracious to our hosts and making them feel comfortable," he added during a follow-up phone call that day.
Aside from two infections announced this week at Kadena Air Base, the U.S. military on the island has reported no new positive cases involving its personnel, an Okinawa prefectural health official said Tuesday.
The Kadena cases are the first there since three were reported in late March. The air base has imposed restrictions on use of some of its facilities and off-base dining and entertainment.
Also, Air Force personnel from Kadena may travel to MCAS Futenma and Camps Hansen and Kinser only on official business. They have also been urged to limit their travel to and from other Marine bases on the island. Activity and movement on those camps are restricted.
Tracing the affected individual's contacts found no exposure to anyone in the local community, according to post late Monday on the official base Facebook page. Health authorities are continuing to look for additional exposures, the post states.
At the Marines' Camp Foster, personnel waiting in base lodging to leave the island will be moved to the DoubleTree by Hilton Okinawa Chatan Resort to make way for inbound personnel, Kunze said.
At no time will the two populations be allowed to mix, he said.
"It's a decision we thought was prudent … between base officials and the Okinawa prefectural government" Kunze said. "It eases concerns, knowing [inbound personnel and their families] are coming on base and staying on base."
Also Tuesday, the health official said 130 Japanese bar and nightclub employees in Chatan village, a popular nightlife district, were tested en masse on Sunday by the prefectural government. All came back negative.
It's customary in Japan for some government officials to speak to the media on condition of anonymity.
Local authorities were concerned about a possible outbreak in Chatan due to exposure to military personnel there over Fourth of July weekend, the official said. Bars and clubs in town have been off-limits to service members since coronavirus restrictions were imposed March 27.
"Currently, we receive many phone calls from employees who work on base with some symptoms," the health official said.
Anyone with coronavirus symptoms or who had possible contact with those who test positive have testing priority, the official said.
The prefecture is working on plans to hold another mass test for Japanese base employees exhibiting symptoms, the health official said.
ornauer.dave@stripes.com Twitter: @DaveOrnauer
ichihashi.aya@stripes.com Twitter: @AyaIchihashi