Marine Corps loosens coronavirus restrictions for troops training at Camp Fuji
by
Seth Robson
June 17, 2020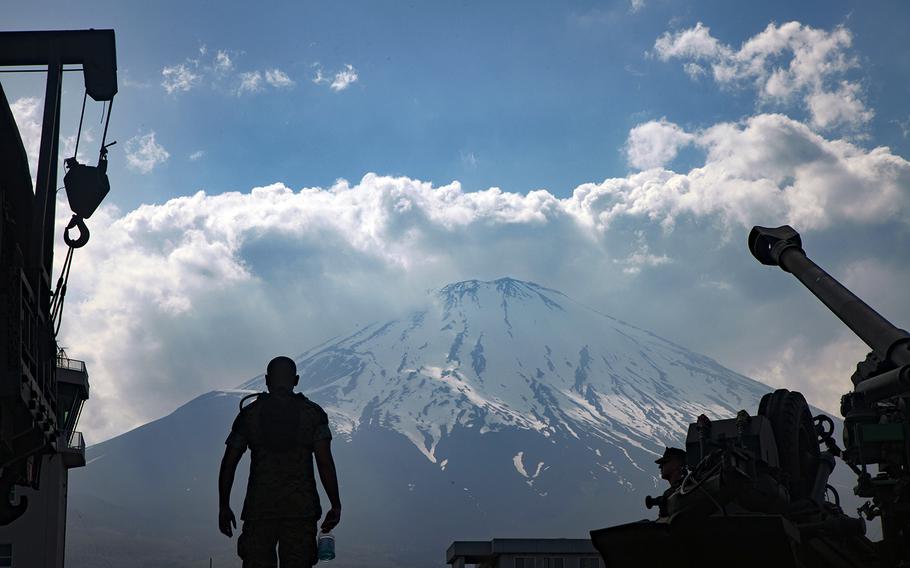 Stars and Stripes is making stories on the coronavirus pandemic available free of charge. See other free reports here. Sign up for our daily coronavirus newsletter here. Please support our journalism with a subscription.
TOKYO — The Marine Corps just gave service members at its training center in the shadow of Mount Fuji a little more freedom than most U.S. military personnel in Japan as coronavirus restrictions continue to ease.
Marines and sailors who live on a spartan facility at Combined Arms Training Center Camp Fuji are now free on their own time to roam nearly anywhere in Shizuoka and Yamanashi prefectures, according to a base Facebook post on Wednesday. They're also allowed to visit U.S. bases in Tokyo and Kanagawa prefectures.
U.S. military authorities are slowly relaxing restrictions imposed on service members in the spring to combat the virus' spread. Most troops, however, are still limited in their movements and activities.
At noon Wednesday, Camp Fuji in Shizuoka prefecture, west of Tokyo, lowered its health protection condition from "substantial" to "moderate," according to its Facebook post.
The move tracks those of a number of other U.S. bases following U.S. Forces Japan commander Lt. Gen. Kevin Schneider's decision Friday to lower the health protection condition for all U.S. forces in Japan.
Like troops at other bases in and around the Japanese capital, those at Camp Fuji are barred from going to central Tokyo and visiting off-base bars, nightclubs, lounges, massage parlors, karaoke boxes, fitness centers and pachinko spots.
But they are allowed to visit tattoo parlors and natural hot springs, which are ubiquitous in Japan but off-limits to most other American personnel due to the risk of spreading the virus.
Camp Fuji troops can also ride public transport such as buses and trains that are forbidden for those at many other bases, other than to get to and from work.
And they may visit a number of U.S. installations in nearby prefectures, including Naval Air Facility Atsugi, Yokosuka Naval Base, Camp Zama, Yokota Air Base and Tama Hills Recreation Area.
For other personnel, travel between bases is generally prohibited other than for official duty and essential services such as medical appointments.
robson.seth@stripes.com Twitter: @SethRobson1