Marine Corps confirms its first positive coronavirus case on Okinawa
by
Aya Ichihashi Matthew M. Burke
July 2, 2020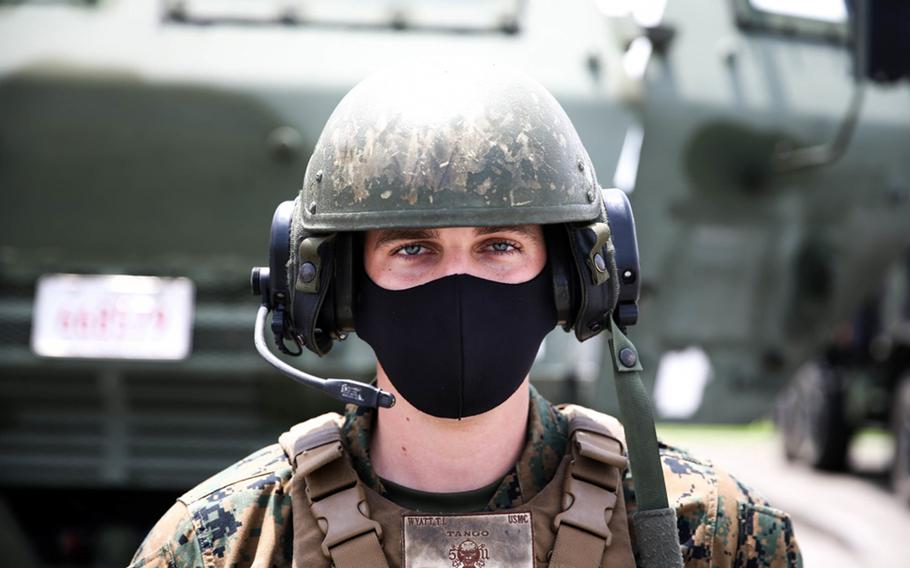 Stars and Stripes is making stories on the coronavirus pandemic available free of charge. See other free reports here. Sign up for our daily coronavirus newsletter here. Please support our journalism with a subscription.
CAMP FOSTER, Okinawa — The Marine Corps has reported its first case of coronavirus on Okinawa, a family member of a Marine who tested positive Wednesday after returning from the United States, Marine Forces Japan announced Thursday.
The case is the first on the island prefecture since April 30.
The family been quarantined since their return June 19, and Navy health professionals and Marine Corps authorities are tracing their contacts "to determine whether anyone else may have been exposed," the Marines' statement said.
The infected individual lives at Camp McTureous, a housing area in Uruma city less than two miles from Camp Courtney, the statement said.
"It is believed the individual contracted the virus from recent travel to the United States," the Marine statement said. "They have only had minimal contact with [U.S. Forces Japan] personnel and have not had any contact at all with anyone off base."
This is the fourth case associated with the U.S. military on the island since the global pandemic began. Most of the approximately 30,000 Marines stationed in Japan are based in Okinawa.
Two airmen and a visiting family member at Kadena Air Base tested positive in March. They have recovered, Air Force officials said.
Okinawa has reported 146 cases prior to Thursday's announcement, and seven deaths, with the last positive case reported April 30, according to the prefectural government's website.
The prefecture started reopening businesses May 14 after nearly a month of closures.
The U.S. military on the island followed suit, incrementally relaxing restrictions on May 20, June 4 and June 17. Some restrictions remain in place, including prohibitions on using mass transit and on patronizing bars and clubs.
The 18th Wing at Kadena Air Base on June 23 began random coronavirus testing for active-duty airmen and Defense Department civilians. Thus far, there have been no reported positive cases.
The Marines said Thursday that no decision has been made to conduct their own random testing.
Japan bars entry to travelers from the U.S. who are not covered by the status of forces agreement with the U.S. military, a spokesman for Japan's Ministry of Foreign Affairs said Thursday. Americans covered by SOFA may enter Japan only through Narita International Airport and Haneda Airport, both in the greater Tokyo area, and U.S. bases in Japan.
After arriving, they must quarantine for two weeks near the airport and may not use public transportation to get to their quarantine site, the spokesman said. He would not say how many Americans have entered the country under SOFA since the travel restrictions were imposed or how the person who tested positive in Okinawa arrived.
Government spokespeople in Japan customarily speak on condition of anonymity as a condition of their employment.
The Marine message Thursday implored personnel in Japan to continue practicing good hygiene, social distancing and wearing face masks.
"III Marine Expeditionary Force and Marine Corps Installations Pacific will continue to communicate with our force, our families, and our local communities about positive COVID-19 cases," the statement said, referring to the respiratory disease caused by the coronavirus. "We recognize our bases are part of the larger community, and we will continue to provide information relevant to identifying and preventing the spread of COVID-19."
burke.matt@stripes.com Twitter: @MatthewMBurke1
ichihashi.aya@stripes.com Twitter: @AyaIchihashi