Marine accused of punching Tokyo taxi driver faces additional charges related to other attacks
by
Hana Kusumoto
September 27, 2019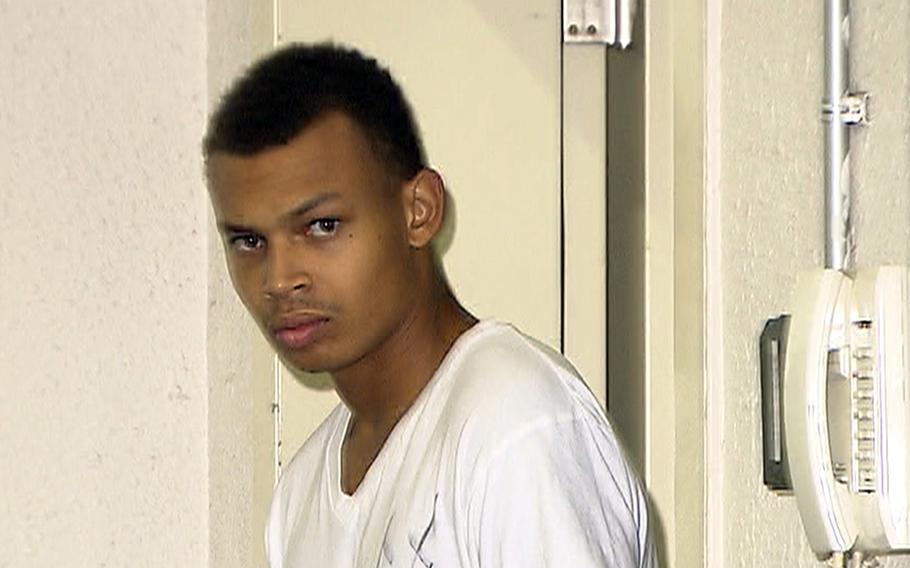 TOKYO — Prosecutors filed two more bodily injury charges Thursday against a U.S. Marine accused of attacking three people in the Japanese capital in the early hours of May 25.
Lance Cpl. Kahsai Tyree Hill, 21, assigned to 3rd Battalion, 6th Marine Regiment, had already pleaded guilty during a hearing in July to punching a 24-year-old taxi driver in the face after running away from a $7.40 fare in Tokyo's Shinjuku ward.
On Thursday, Hill — wearing blue jeans, slippers, a brown jacket and handcuffs — was led into the Tokyo District Court by a pair of guards with a rope tied around his waist.
During the hearing, the young Marine admitted punching a second Japanese man in the face, breaking his nose and giving him a head contusion that required five weeks of medical treatment.
He also admitted to choking and injuring a 19-year-old woman, whom Japanese media reports identified as a member of the Japan Self-Defense Forces, in Tokyo's Yoyogi neighborhood. The woman fainted and fell, breaking her sternum, which required three months of medical treatment, prosecutors said.
Police in July recommended an attempted murder charge for that attack; however, it was changed to bodily injury by prosecutors.
"I do take these charges to be true," Hill said after the judge asked him whether the allegations in the indictment were accurate.
The incident happened while Hill was sightseeing in Tokyo with fellow Marines. Though his regiment is based at Camp Lejeune, N.C., Hill was residing at Camp Fuji in Shizuoka prefecture, which regularly hosts stateside Marines for training exercises, according to the indictment presented in court on July 30.
Hill and his friends spent the evening of May 24 eating and drinking in Tokyo's Shinjuku ward until 11:30 p.m., when the group returned to their hotel, prosecutors said in court Tuesday.
However, Hill left the hotel to walk around Shinjuku and became lost in the early hours of the morning, prosecutors said.
He hailed a taxi but ended up at the wrong hotel, and exited without paying his fare. When the driver followed him to ask for payment, Hill punched the man and left the scene, which is when the driver called the police, according to prosecutors.
During Thursday's hearing, prosecutors said Hill then stopped the second victim to ask for directions to Shinjuku Station and his hotel.
The 22-year-old tried to search on his smartphone but could not find the hotel. Hill demanded that he take him there and then told him to hit him. When the man refused, Hill punched him in the face, prosecutors said.
Hill then entered a fast food restaurant and approached the 19-year-old JSDF official, who was waiting for her food, from behind. He put his right arm around her neck and choked her, prosecutors said.
The woman fought back, trying to move his arm and strike her attacker, but Hill released her only after a restaurant worker asked him what he was doing and removed his arm, according to prosecutors. At that stage the woman had fainted and fell onto the floor.
In statements presented as evidence Thursday, the victims urged Hill to reflect on what he had done and asked the court to punish him severely. It's unclear what penalties he faces.
The next hearing for Hill is tentatively set for 1:30 p.m. Nov. 14, according to court officials.
Stars and Stripes reporter Seth Robson contributed to this report.
kusumoto.hana@stripes.com Twitter: @HanaKusumoto