Many South Koreans bracing for further provocations from North
---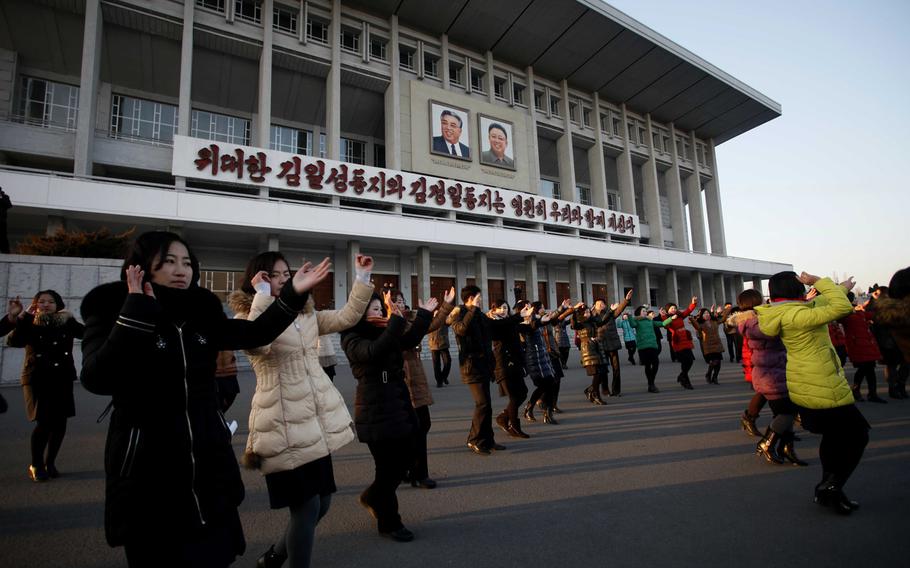 South Koreans living near the Demilitarized Zone are worried about the possibility of a North Korean attack with tensions high after Pyongyang's nuclear test last week.
There's a history of tit-for-tat escalations in past crises with North Korea, and the U.S. raised the stakes Sunday by sending a B-52, which is capable of carrying nuclear weapons, from Guam for a low overflight of Osan as a show of force.
The website of South Korea's Chosun Ilbo newspaper reported Monday that the Korean Chairman of the Joint Chiefs of Staff said North Korea is likely to undertake hit-and-run provocations in response. Gen. Lee Sun-jin's comment came at the Korean Air Force Operations Command in Osan, where he visited with U.S. Forces Korea Commander Gen. Curtis Scaparrotti to check on combined defense preparedness. They also visited the U.S. 7th Air Force Command.
The timing of the overflight — less than a week after the North's nuclear test — was likely meant to send a strong message to Pyongyang. During a 2013 crisis with North Korea, the U.S. waited a month after the North's last nuclear test before sending a nuclear-capable bomber to the peninsula.
"The speedier-than-expected deployment of a U.S. strategic asset shows the U.S. intention that it will retaliate severely if North Korea makes further provocations," South Korea's Yonhap news agency quoted a South Korean military official as saying Monday.
Seoul already has resumed loudspeaker broadcasts of propaganda and pop music across the DMZ that reportedly can be heard up to 6 miles away during the day and 16 miles at night into the North. North Korea is making its own broadcasts there, presumably to partially drown out the South Korean din.
The provocations have area residents worried.
With the South Korean military on its highest alert, some tourism operations already have closed down.
"It's a blatant lie if you say you aren't worried about the situation," Han Jung-shim, 51, a resident of Gyodong Island that is home to about 3,000 residents, told The Korea Times.
The U.N. Security Council is considering further sanctions against the North for what the reclusive country has claimed was its first test of a hydrogen bomb, which is potentially much more powerful than the plutonium or enriched uranium devices it has detonated before. Efforts to hit the impoverished country in its wallet appear likely.
The U.S., South Korea and Japan also are trying to pull China, the North's main ally, into a united front to convince Pyongyang to give up its nuclear program.
North Korea claims it has every right to develop such weapons, which it claims are only for self-defense. But they also seem aimed toward bolstering support for North Korean leader Kim Jong Un, who reportedly is still trying to consolidate power after taking over following the death of his father four years ago.
Kim, who has purged a number of top leaders, has hailed the nuclear test as a complete success, though experts say initial indications indicate that it wasn't a hydrogen bomb. It created a magnitude 5.1 earthquake, roughly the same as its last detonation.
Yoo-kyong Chang contributed to this report.
---
---
---
---