Man behind the medal: Grandson's book offers warts-and-all view of WWII hero
by
Matthew M. Burke
November 2, 2018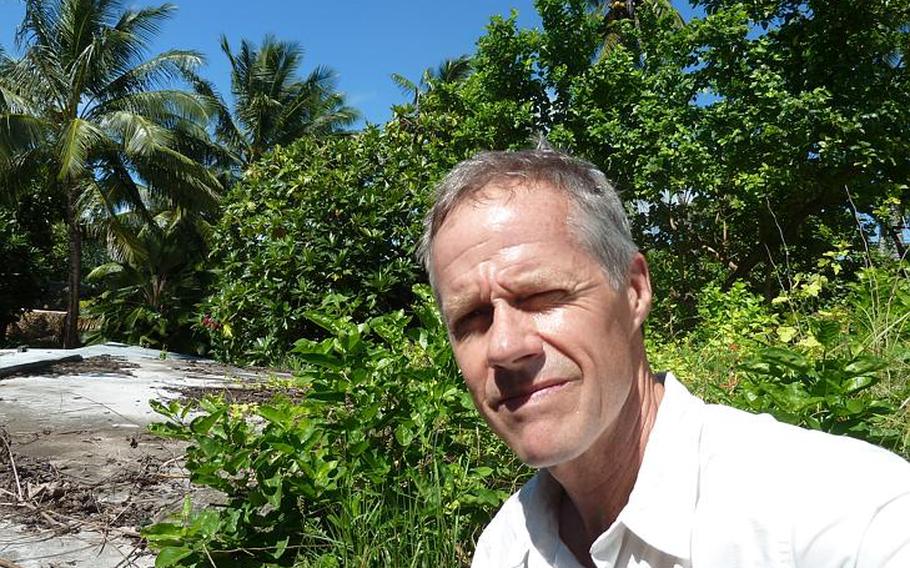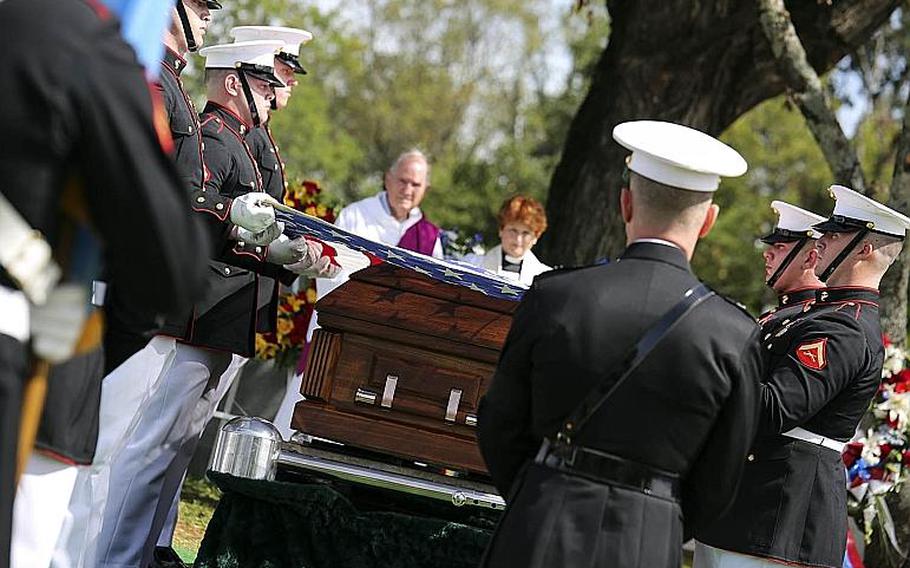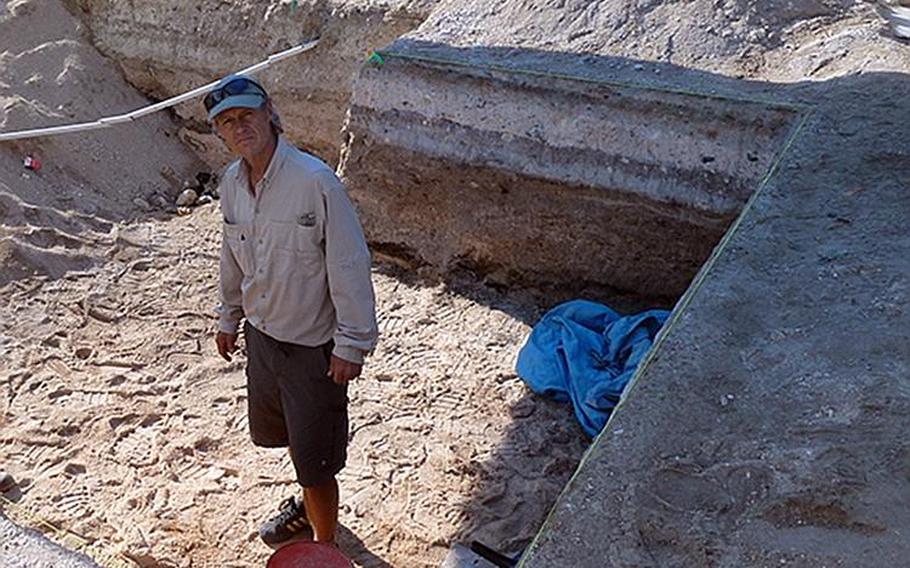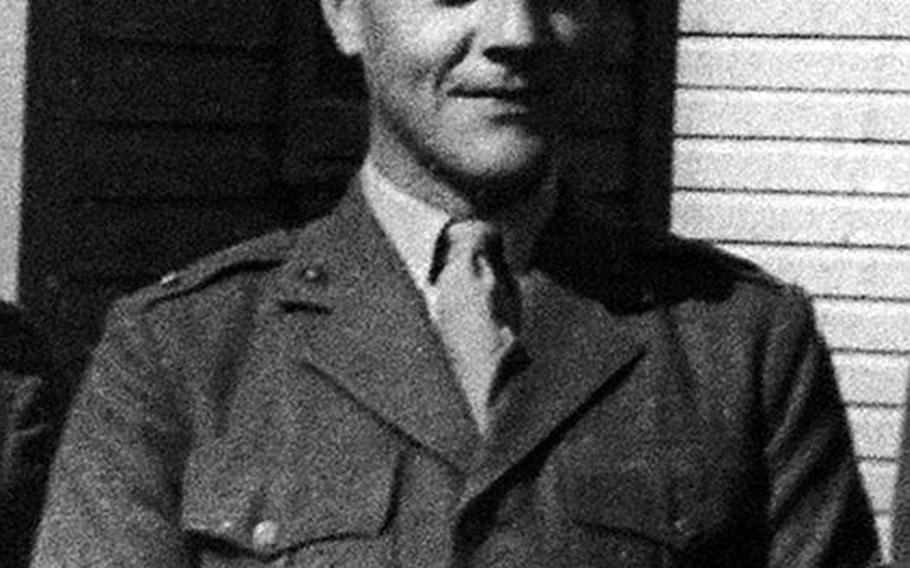 On Nov. 22, 1943, Marine 1st Lt. Alexander "Sandy" Bonnyman Jr. led a desperate assault to take a massive, sand-covered bunker holding scores of Japanese troops who had Marines pinned on the northern shore of Betio in the central Pacific atoll of Tarawa.
Bonnyman planned the assault, and his team of 21 engineers and riflemen — dubbed "Forlorn Hope" due to the hopelessness of their mission — charged the bunker and killed a machine gunner perched on top with satchel charge demo devices and flamethrowers. On the summit, they dropped explosive charges down the ventilator openings and sprayed inside the bunker with flaming diesel fuel.
More than 100 Japanese troops were flushed from the blockhouse and immediately killed. About 150 died inside the bunker.
Bonnyman, then 33, made a heroic last stand as he was mortally wounded. His remains were buried on the island and lost to time. He was posthumously awarded the Medal of Honor in 1947 by President Harry Truman.
Captivated by search efforts for remains missing on the island by the History Flight nonprofit, Bonnyman's grandson, journalist and author Clay Bonnyman Evans, first visited Betio in 2010. It was the start of a long journey to find his grandfather's remains and uncover the man behind the medal.
The quest spurred Evans to write "Bones of My Grandfather: Reclaiming a Lost Hero of World War II," published in July.
"His remains had been lost all those years — and so had his story," Evans told Stars and Stripes during a recent phone interview. "I think there is no greater honor when writing about somebody than to be as honest as you possibly can. He wasn't some sterling, perfect, Christ-like character with no flaws. The fact that he was a human being like all the rest of us and did a heroic thing, I think, is a better story."
The book is a warts-and-all portrayal of a man who has been lionized for his heroic actions and offers a firsthand account of what it is like to "find" a World War II hero, literally and figuratively.
Penance The book starts with a young Evans, who grew up outside Denver, staring at a beautiful yet haunting portrait of his grandfather by Italian artist Arturo Noci hung above the fireplace in his family's living room. It then juxtaposes the author's life with that of his grandfather.
Evans recalls the conflicting theories about the final resting place of his grandfather — that he had been buried at sea; that he was buried at The National Memorial Cemetery of the Pacific in Hawaii as an unknown; that he was still buried somewhere on the trash-covered atoll in the central Pacific.
Evans was interested in World War II as a child, but was surprisingly "incurious" about his grandfather, he wrote. While his mother, Fran Bonnyman Evans, proudly displayed her father's Medal of Honor, few relatives spoke of him. The past was just too painful.
As he came of age in the aftermath of the Vietnam War, Evans said he saw military service as a "lowly calling," and wrote "furious" anti-war poems. Deep down, he believed he didn't measure up to his grandfather.
Bonnyman had been a football star; Evans had quit his team to read science-fiction novels. Bonnyman was a good son; Evans was rebellious and felt constrained by his family.
Bonnyman was a Southern gentleman. "I was an entitled, party-hearty, spoiled kid who had little use for authority," Evans wrote in the book.
Bonnyman had been a successful businessman; Evans wanted to become a writer.
"Most importantly, Sandy Bonnyman had sacrificed his life for his country; I wouldn't even consider joining the military," Evans wrote in the book. "I knew I was no Sandy Bonnyman; I would win no medals. … I would spend a lifetime seeking out adventure, risk and challenge in a never-ending campaign to prove to the world — to myself — that I was no coward."
It wasn't until he was in his 30s that he became interested in his grandfather. He read books about the fight on Tarawa and dug Marine histories out of old trunks in his mother's basement.
In 2009, Evans was shocked to learn on Tarawa-related websites that two separate civilian researchers claimed the remains of about 500 servicemembers, including his grandfather, were still on Betio.
"My family wasn't even aware that my grandfather was still buried on Tarawa," he said.
A year later, with the support of an American Legion post and the blessings of the now-defunct Joint POW/MIA Accounting Command, he went to Betio. History Flight and its founder and director Mark Noah were also there, earnestly searching for his grandfather's remains.
"As a kind of penance for my long neglect, I embarked on a quest to exhume my grandfather's life, and, if I were lucky, perhaps even his body," Evans wrote.
Imperfect hero Bonnyman was born in Atlanta on May 2, 1910, but the family relocated to Knoxville, Tenn., when he was 6 years old.
The son of a coal-mining magnate, Bonnyman was an adventurous child who enjoyed riding his pony and fishing. Well-educated and cultured, he had traveled to Europe twice by age 12.
Once he was able to drive, he would stay out late. Barred from doing so, he would sneak out, siphon gas from other vehicles and take his Ford Model T.
He attended Princeton University, where he was captain of the football team until poor grades forced him out. He took a job with his father's mining outfit before striking out on his own.
Bonnyman had a reputation as a ladies' man. He was a hard drinker and hell-raiser, and before joining the service, he was once shot in the chest during a dispute in a gas station parking lot.
Bonnyman later married Josephine and had three daughters. He was a daredevil and a black sheep.
Evans describes his grandfather pacing with "intense agitation" upon hearing that Japan had attacked Pearl Harbor on Dec. 7, 1941. Just two months later, on Feb. 8, 1942, the successful 32-year-old copper mine operator joined the Marine Corps.
Bonnyman was an enlisted combat engineer and saw his first bit of combat at Guadalcanal, which ended in February 1943. Before leaving for the Solomon Islands, he attended Officer Candidate School and was promoted to second lieutenant Feb. 7, 1943.
The energetic executive officer of the 2nd Battalion Shore Party, 8th Marines, 2nd Marine Division, always had to be where the action was. He came ashore Betio on Nov. 20, 1943. The Marines were met by dozens of hidden steel-reinforced concrete bunkers and pillboxes, 20 gun mounts around the island's perimeter containing mountain guns, cannon and artillery, tanks, anti-aircraft and machine guns with interlocking fields of fire.
On the third day of battle, Bonnyman led a charge on Red Beach 3 to take the hulking Japanese blockhouse.
"He liked adrenaline; we would call him an adrenaline junky today," Evans said. "It put a smile on my face just as I realized over and over again and seeing, 'Oh my God, that's really who he was,' and I think that it's fair to say that's why he did what he did at Tarawa. He just was a guy who wasn't going to sit back and let other people do stuff, and I found out, he was very human."
Finding Sandy After the smoke cleared from the bloody 76-hour battle, more than 4,000 Japanese lay dead, along with more than 1,000 Marines. Trenches were dug and the dead were buried. Their identifications were recorded when possible and the trenches were marked on maps. However, with the assault on the Marshall Islands two months away, Betio was immediately mobilized. Grave markers were destroyed or removed to make way for construction. Marines from the 2nd Division departed, leaving no witnesses behind to note where the graves had been.
Bonnyman lay, lost, with 39 other Marines in a trench known as Cemetery 27, according to documents obtained by History Flight.
In "Bones of My Grandfather," Evans details Tarawa's history, the lead up to the battle, the fight and the details of his exhausting investigation into his grandfather's life.
He interviewed countless veterans of the fighting on Betio and leaned on volumes of source material and family archives to paint a vivid picture of the bloody battle and his grandfather's role in it.
He also details how Mark Noah and History Flight became involved in the search for remains on the island.
Noah's nonprofit — dedicated to preserving and honoring modern-day military aviation history and aircrew combat veterans — began search-and-recovery efforts on Betio in 2006, Noah previously told Stars and Stripes. Since then, the group has found and repatriated more than 120 Marines and other servicemembers lost on the island. It continues to partner with the Defense POW/MIA Accounting Agency, which was founded after the reorganization of JPAC.
On May 29, 2015, Evans was on Betio when History Flight unearthed the remains of his grandfather. His bones told the story of the manner his death, and coupled with witness interviews, supported his Medal of Honor citation and dispelled any questions of his valor.
Yet, in the course of writing his book, Evans found that his grandfather's image had been whitewashed, and he exhumed an imperfect man who became a perfect hero.
"It was somehow comforting to know that my grandfather also had fought with his father, dropped out of college, upended family expectations. Impulsively sought adventure, chose the wrong women and drank too much," Evans wrote.
Evans said his family had put Bonnyman "behind glass" to become an "eternally perfect Sir Galahad." It was gratifying to humanize his grandfather and see the source of some of his own traits that troubled family members.
"I want him to be remembered exactly as he was, an incredibly charismatic guy with born leadership skills who was a human being with flaws and quirks, who was exactly the right person, at the right time to get that job done," Evans said. "I feel that I've done a small service on behalf of my grandfather's reputation."