Lives of 12 Marines lost in helicopter crash recalled at Hawaii memorial
---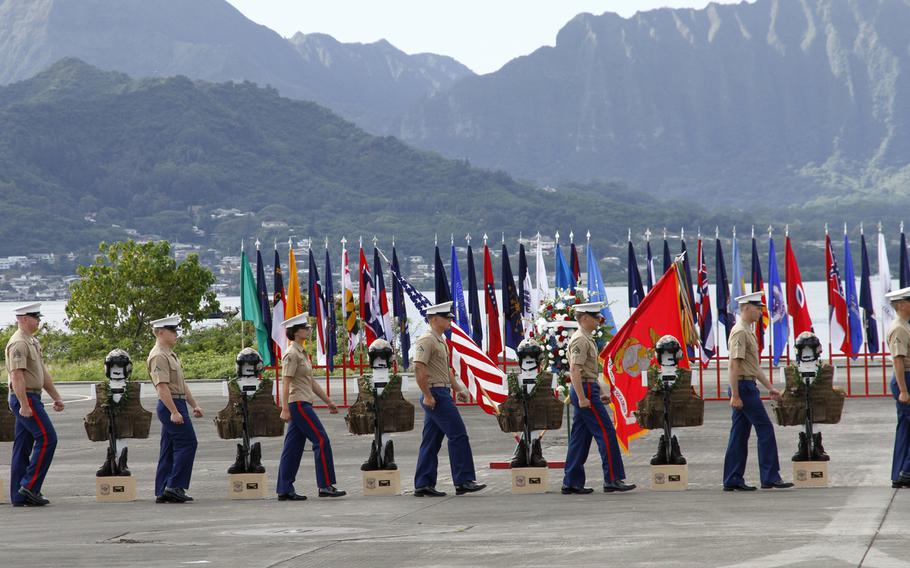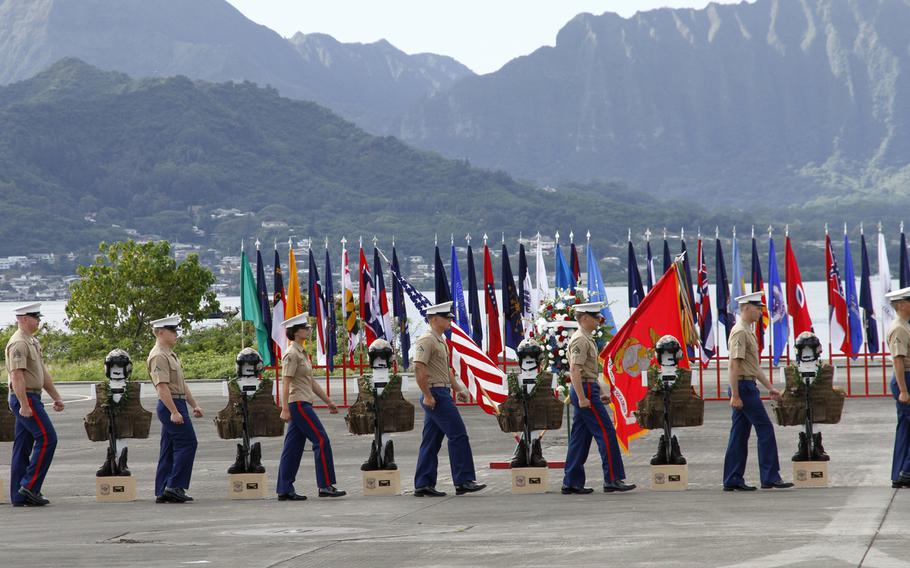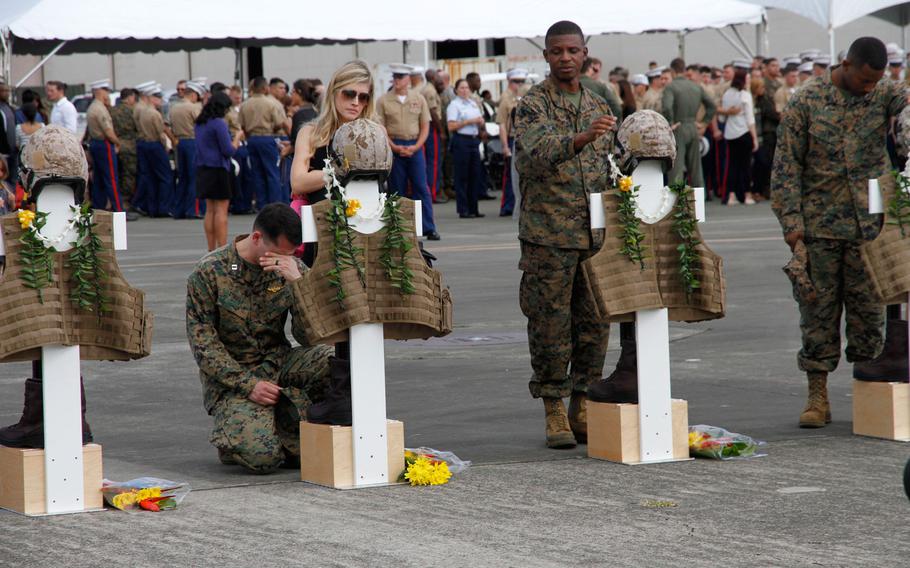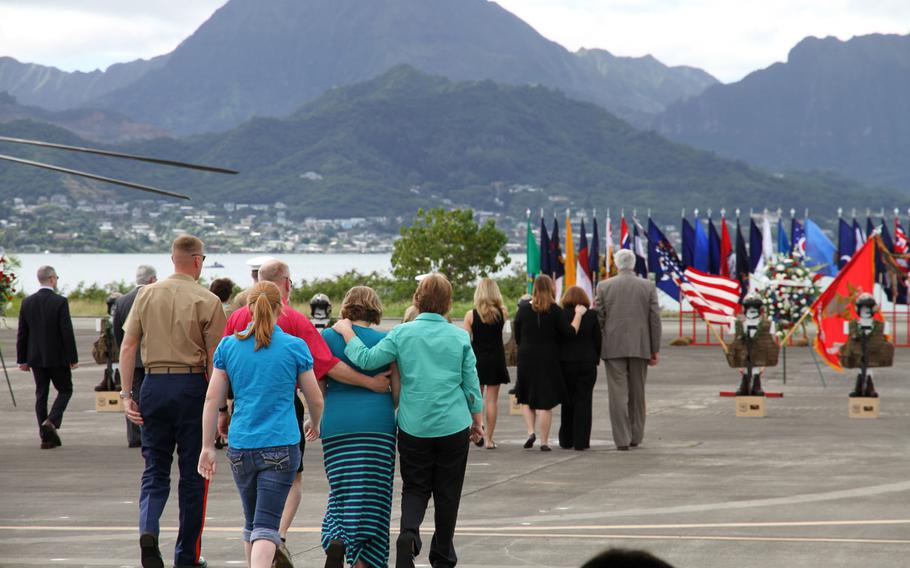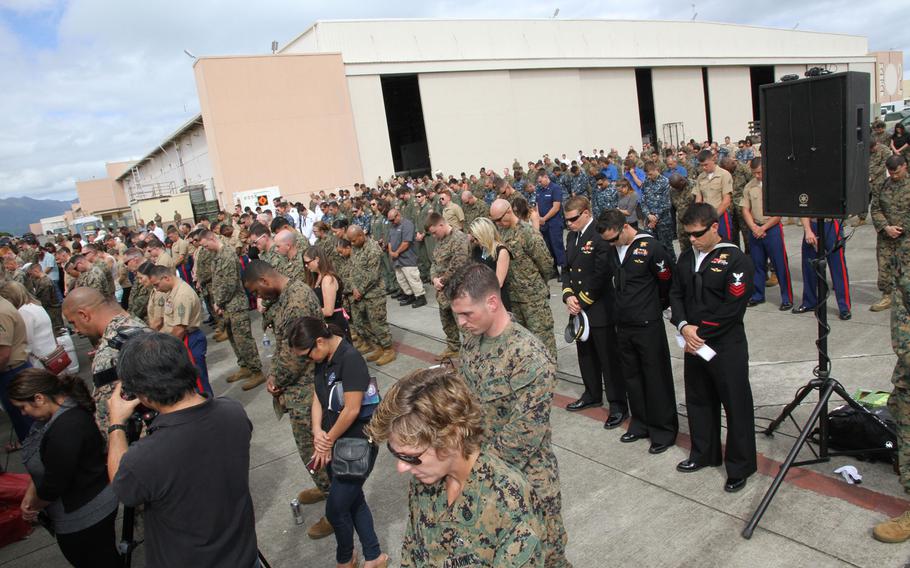 MARINE CORPS BASE HAWAII — Forty-eight Marines solemnly adorned white crosses with flight vests, helmets, goggles and Hawaiian leis Friday in tribute to the dozen men lost when two helicopters collided during training.
No trace of the men has been found in the waters off Oahu's North Shore despite an intense around-the-clock effort. The search for survivors was suspended Tuesday, and the Marines Corps officially changed their status to "deceased" Wednesday. Helicopter debris now is being salvaged from the sea floor, with the waters above declared off-limits to civilian vessels.
"As I look into the crowd, I can see that this tragedy has affected the entire community," Lt. Col. Eric D. Purcell, the squadron's commander, told several thousand people gathered for a memorial service in the base's aviation area.
Among them were families of the dead Marines and many of the soldiers, Coast Guardsmen, police, firefighters and lifeguards who helped in the search, as well as residents of the island.
Poster-sized photos of each lost Marine were lined up beside the dozen white crosses. Behind them were two CH-53E Super Stallion helicopters, the same type that crashed Jan. 14.
President Barack Obama offered his condolences in a statement Friday, saying communities from coast to coast are mourning the Marines and that the nation is grateful for their patriotism, service and sacrifice.
"The willingness of our troops to complete dangerous training to prepare for any mission our nation asks of them will not be forgotten," Obama said.
Purcell said the tragedy of losing 12 young Marines during training "was not senseless; it wasn't pointless." But understanding the mission they were doing "is going to be critical in coming to terms with their absence," he told the mourners.
"Every night, CH-53 pilots, crew chief and aerial gunners man their aircraft, don their night-vision goggles and take to the skies so that we're trained to do our mission," he said. That mission includes transporting heavy equipment, combat troops and supplies under all weather conditions, day or night.
"Though our brothers may not have fallen in combat, their sacrifice and willingness to train at any time, under any conditions, have undoubtedly contributed to our nation's defense and the deterrence of our nation's foes," he said.
Each of the 12 deceased Marines was briefly eulogized by a Marine with whom they were close.
A friend of Capt. Brian T. Kennedy, a pilot, said he had a hardcore reputation.
"Before I met Brian I was told he was a no-nonsense, no-foolin'-around, hard-to-the-bone Marine. Well, that last statement is true — he is a Marine. But I came to find out that everything else couldn't be further from the truth."
Lance Cpl. Kyle Owens recalled his friendship with Sgt. Jeffrey A. Sempler, a CH-53E crew chief, calling him a quiet man who loved to teach. He had been nicknamed "Snacks" for his habit of always having treats with him. Sempler earned a second nickname, "Creature," from his buddies "for just acting weird on the ship," Owens said.
Sempler liked to lie on the open ramp of the helicopter during flights.
"He ruled from the ramp," Owens said.
A friend of Lance Cpl. Ty L. Hart said his favorite memory of his fallen friend was the day he brought over a two-and-a-half pound London broil steak - and Hart ate the entire thing.
Sgt. Dillon J. Semolina, a crew chief, "had no doubts about the inherent danger that came with those golden wings that were pinned on his chest," said one of his friends. "I know that, and I hope that all of you know that. Sgt. Dillon Semolina left us doing what he loved, with the people he loved, for the people he loved."
Also eulogized were Maj. Shawn M. Campbell, Capt. Kevin T. Roche, Capt. Steven R. Torbert, Sgt. Adam C. Schoeller, Sgt. William J. Turner, Cpl. Matthew R. Drown, Cpl. Thomas J. Jardas and Cpl. Christopher J. Orlando.
Purcell quoted the last line of the Marines' Hymn: "If the Army and the Navy ever look on Heaven's scenes, they will find the streets are guarded by United States Marines."
Then he paused, fighting to maintain his composure. "Well, St. Peter, you've got 12 of the finest," he said.
---
---
---
---