'Like Shark Tank for the Air Force': Innovation and inventors' club opens at Yokota
by
Erica Earl
October 1, 2020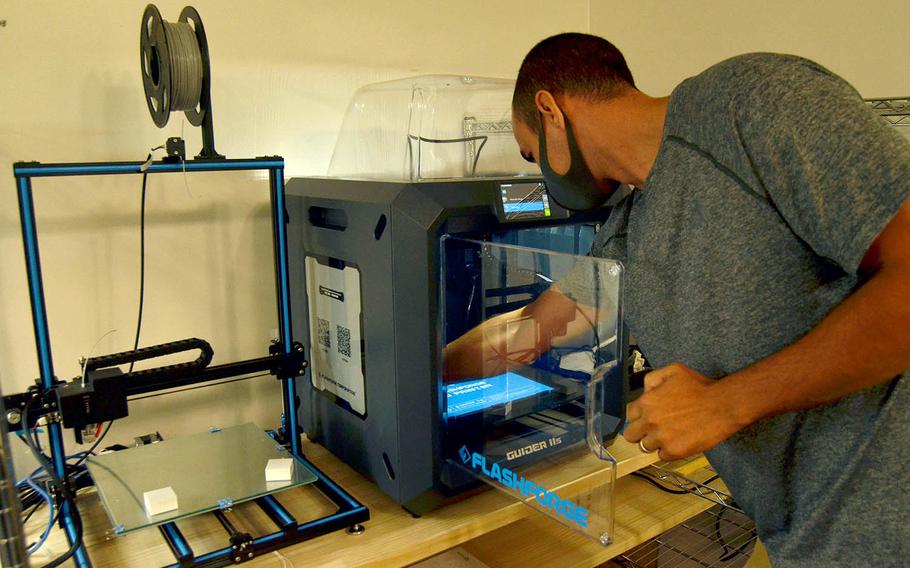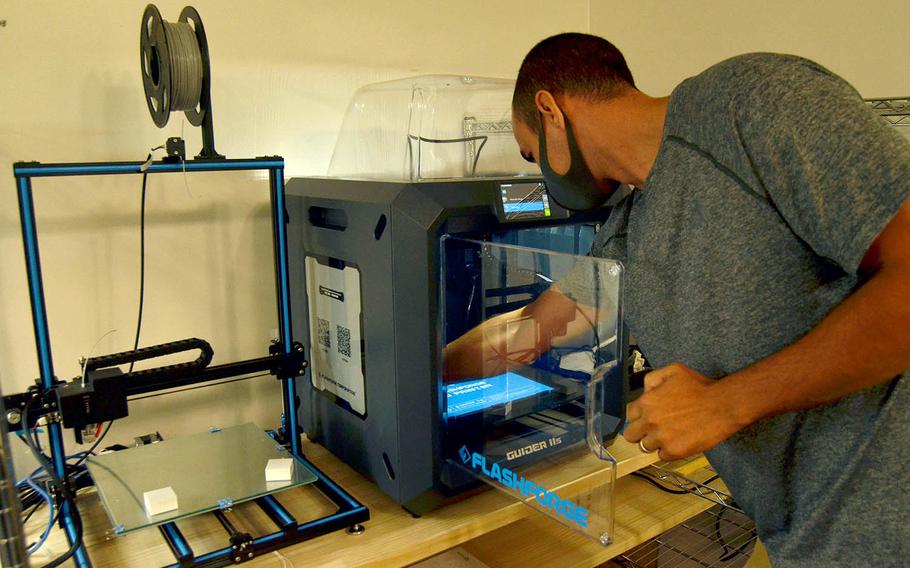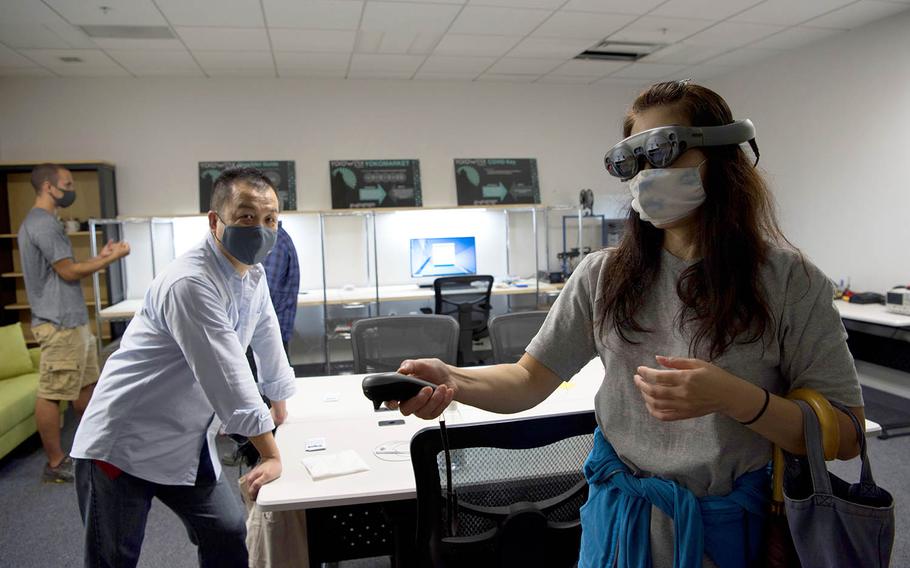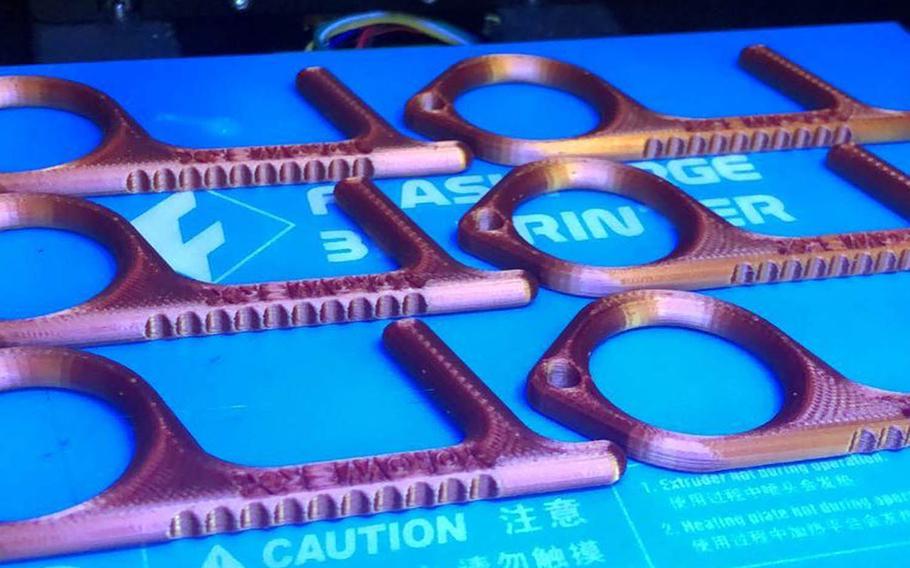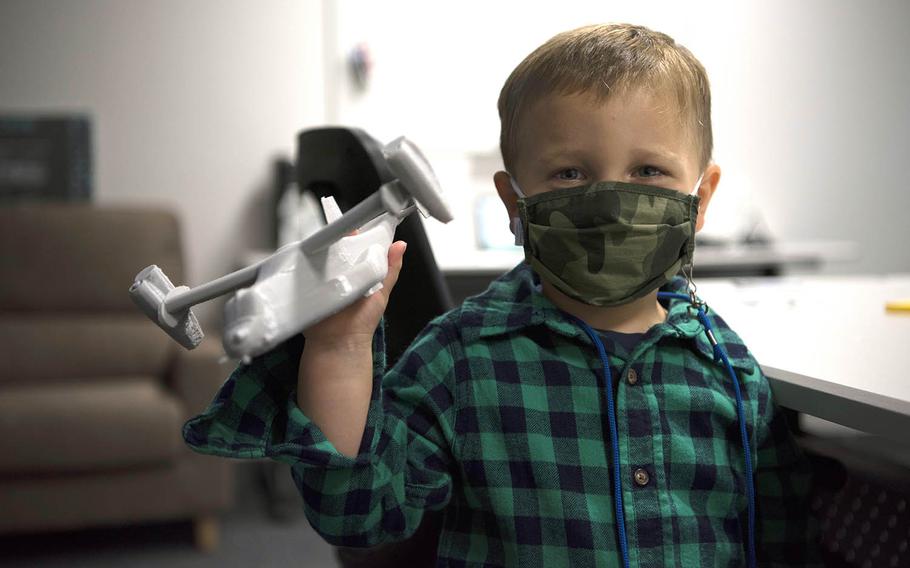 YOKOTA AIR BASE, Japan — Visitors to a makeshift lab at the home of U.S. Forces Japan in western Tokyo tested a 3D printer, augmented reality goggles and design software at the recent soft opening for the YokoWerx Dojo.
An innovators' and inventors' clubhouse of sorts, the lab is on target for a formal opening in January at Yokota, the group's founder, Air Force Staff Sgt. Gerard Arceneaux, said in an interview Sept. 16.
YokoWerx Dojo will be available to service members and Defense Department civilians to tinker and brainstorm ideas that improve the armed forces and turn "what ifs" into reality, Arceneaux said.
"The Dojo is for people with good ideas who don't quite know how to execute them," he said. "We want to welcome people with great ideas that may still be half-baked to decide how we can pool our resources to help them."
As a way of marketing YokoWerx Dojo and introducing the community to the type of problem-solving products it can spur, the volunteers designed and produced "COVID-Keys," small plastic tools that can be used to press buttons, pull open doors and cabinets, or hook onto latches to mitigate the spread of viruses by limiting the need to physically touch objects. COVID-19 is the respiratory disease caused by the coronavirus.
YokoWerx members sent 150 of the keys to service members and families on base at random, along with 30 golden keys granting access the Dojo lab's Sept. 25 soft opening to preview the equipment and resources that will be available to those interested in joining.
While the space, dubbed the Dojo Lab, in Building 400 currently doesn't have much equipment beyond a 3D printer, white board and a few computers, Arceneaux said its heart lies in the dialogue and potential for new projects.
"It's not just about using a 3D printer," he said. "It's whole mission is to encourage people to connect to find solutions." Lt. Col. Toby Evans, the 374th Airlift Wing innovation officer and a mentor for the YokoWerx Dojo, said the club, also called a "spark cell," is a branch of Air Force Works, stylized as AFWERX, a servicewide initiative created in 2017 to encourage airmen to practice creative problem solving.
Arceneaux and Evans began planning for the YokoWerx Dojo launch in February. It is run by 10 volunteers, including service members, DOD civilian employees and Japan Air Self-Defense Force personnel.
While the Dojo Lab undergoes renovations prior to its official opening in January, the club is offering an online inventor and innovator competition called YokoShowdown from Monday through Nov. 20.
YokoShowdown will be hosted on the website IdeaScale. The products, prototypes or ideas with the most votes will be fine-tuned at the Dojo Lab and pitched to senior leaders at the 374th Airlift Wing, Evans said.
"It's like Shark Tank for the Air Force," he said.
Any service member, family member or DOD civilian is invited to submit an entry, as long as the concept is geared toward improving life at Yokota, or in the Air Force as a whole.
Money for the YokoWerx Dojo and the YokoShowdown comes from Air Force Squadron Innovation Funds, set aside in 2018 to encourage units to engage in think tanks and vocalize how they would like to improve the work climate, according to the AFWERX website.
Evans said that while many people think of technology when the term "innovation" is brought up, the online contest and lab will be a hub to prototype and test ideas of all kinds.
While the lab won't be completely finished until January, Arceneaux said he can show the in-progress space to interested participants prior to the official opening. The only stipulation, he said, is that they must use the space for a specific idea that benefits that Yokota community, not a private interest project or a private business venture.
earl.erica@stripes.com Twitter:@ThisEarlGirl