Lightning Forge kicks off in Hawaii with Indiana National Guard
by
Wyatt Olson
July 12, 2018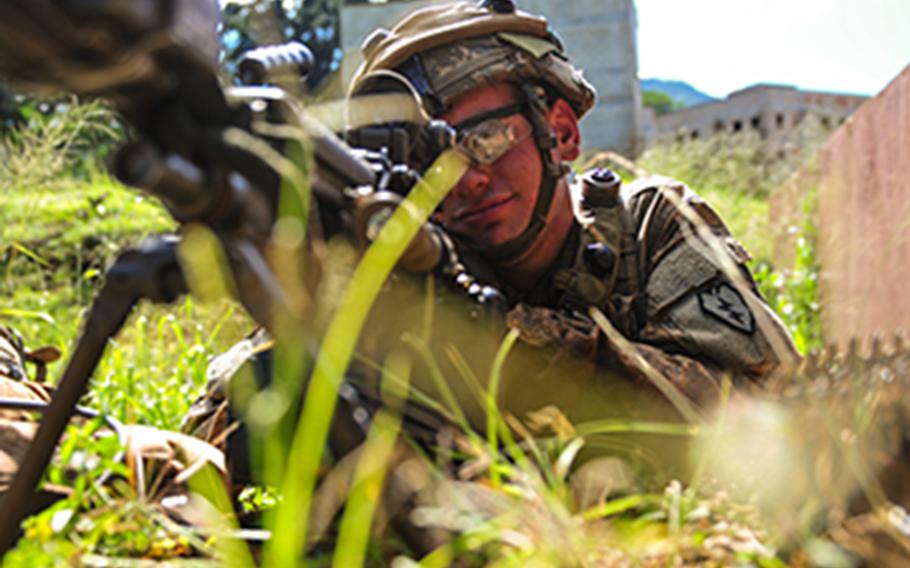 FORT SHAFTER, Hawaii — The 25th Infantry Division begins its largest brigade-level exercise on Oahu Sunday and includes, for the first time, an Indiana National Guard battalion.
Lightning Forge, which runs through July 30, is supposed to maintain the division's combat readiness.
Soldiers with the 2nd Infantry Brigade Combat Team will use blank ammunition and explosive simulators during day and night training at Dillingham Army Airfield on the North Shore, Kahuku Training Area and Schofield Barracks East Range, the Army said.
"This is our chance annually to get together and do brigade-level collective training and pull in all the enabling units that are required for us to operate in any environment," Lt. Col. Curtis Kellogg, with the division, said Wednesday.
The unit's two infantry combat brigades take turns participating in Lightning Forge, which prepares them for a fall rotation to the Joint Readiness Training Center at Fort Polk, La.
New this year is the participation of Indiana National Guard's 1st Battalion, 151st Infantry Regiment.
In 2016, the battalion was integrated with the Hawaii-based 2nd Brigade Combat Team under the Army's Associated Unit program, which links Reserve and National Guard units with active-duty ones.
"They live in Indiana, but they wear the Tropic Lightning patch," said Kellogg. "For all intents and purposes, they are part of the division – albeit they are a National Guard battalion."
About 400 Indiana guardsmen are in Hawaii for Lightning Forge, along with a separate platoon-level combined-arms live-fire drill that they'll conduct as a unit, he said.
olson.wyatt@stripes.com Twitter: @WyattWOlson
---
---
---