Koreas, US-led UNC discuss surveillance equipment as North criticizes joint Marine drills
by
Kim Gamel
November 12, 2018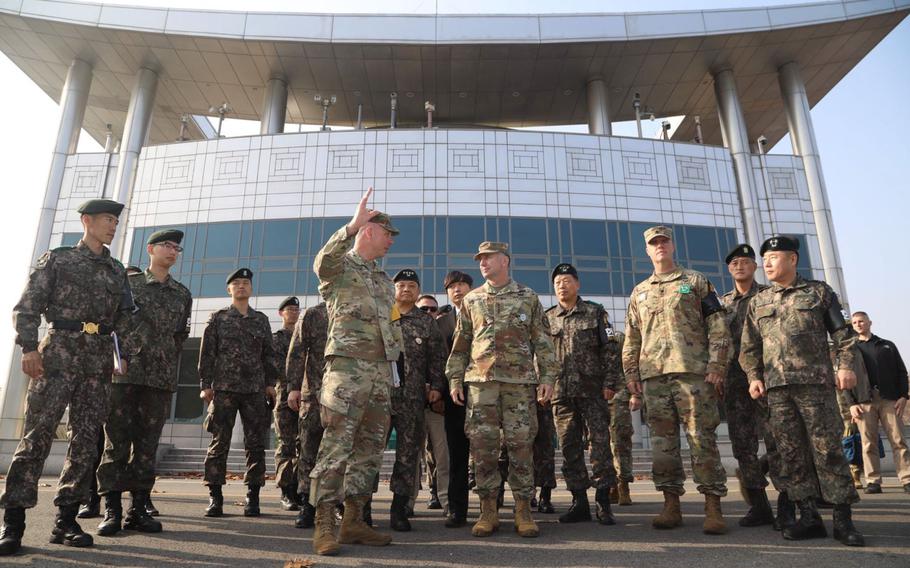 SEOUL, South Korea — The U.S.-led United Nations Command and the two Koreas discussed surveillance equipment in a jointly patrolled area Monday as the three sides pressed forward with efforts to ease military tensions despite a lack of progress in nuclear talks.
North Korea, meanwhile, criticized the resumption by Washington and Seoul of small-scale joint Marine exercises on the divided peninsula.
Military officials from the UNC, Seoul and Pyongyang held talks in the truce village of Panmunjom two days after the Koreas completed withdrawing troops and firearms from 22 front-line guard posts as part of a far-reaching military pact.
The main item on the agenda for Monday's trilateral session, which was held on the South Korean side of Panmunjom, was the operation of surveillance equipment in the area, according to South Korea's Defense Ministry.
New UNC commander Gen. Robert Abrams, who also leads U.S. Forces Korea, threw his support behind the comprehensive military agreement during a visit to the jointly patrolled area Saturday.
He also stressed that the U.S.-South Korean alliance, which was forged in the 1950-53 Korean War, "remains ironclad."
"This visit demonstrates our support to the ongoing implementation of the [Comprehensive Military Agreement] between [South and North Korea], he said in a press release.
South Korea is pushing ahead with efforts to improve relations with the North even as U.S.-led efforts to persuade the communist state to give up its nuclear weapons have stalled.
The North canceled a planned meeting with Secretary of State Mike Pompeo last week, indicating disagreements continue over how to implement a promise to denuclearize the Korean Peninsula that was highlighted during an unprecedented summit in June between North Korean leader Kim Jong Un and President Donald Trump.
North Korea also denounced the resumption of joint U.S.-South Korean Marine drills that previously had been suspended along with larger war games to facilitate the diplomatic efforts. The exercises infuriate the North, which considers them a rehearsal for an invasion.
Trump announced after the Singapore summit that the U.S. would be "stopping the war games," calling them "provocative" and "very expensive." But American and South Korean officials insist that combined training at lower levels continue.
About 500 Marines from both countries began practice maneuvers in the southeastern city of Pohang on Nov. 5 as part of what is known as the Korean Marine Exchange Program.
Rodong Sinmun, the official newspaper of North Korea's ruling Workers' Party, said Monday that the KMEP violated the bilateral military agreement that was reached on Sept. 19 and called for hostilities to end.
The joint drills are "directly against the inter-Korean military agreement that promised to eliminate practical threats of war and fundamental hostile relations from the Korean Peninsula," it said, according to the Reuters news agency. North Korea frequently denounces military drills via its state-run media.
gamel.kim@stripes.com Twitter: @kimgamel