Koreas swap threats as spring military drills begin
---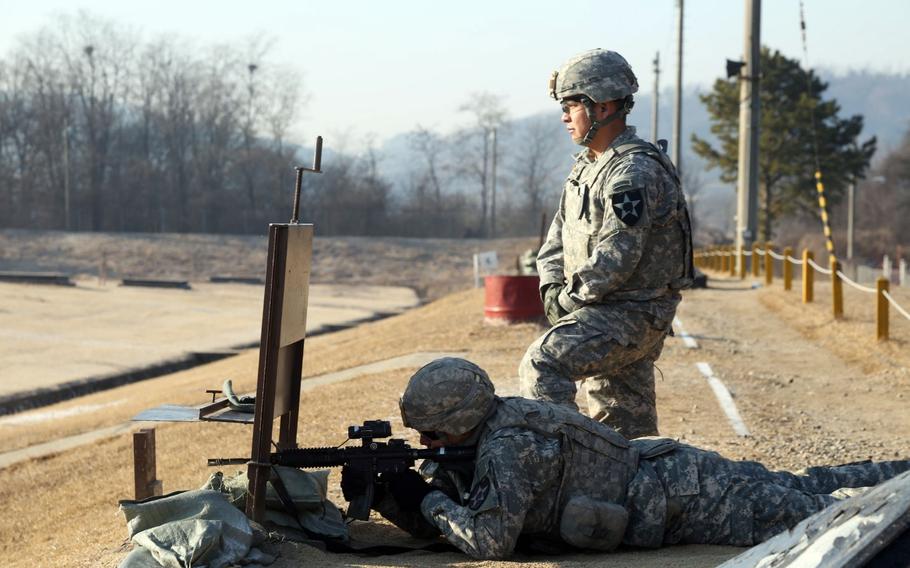 The two Koreas engaged in a war of words Monday as U.S. and South Korean forces kicked off their largest-ever war games, which Pyongyang calls a rehearsal for an attack.
The North renewed its threat to use nuclear weapons against the South and the U.S. mainland and Pacific bases and warned of a possible all-out pre-emptive strike by its army to "deal merciless deadly blows at the enemies" who "are working with bloodshot eyes to infringe upon the dignity, sovereignty and vital rights" of its people.
"If we push the buttons to annihilate the enemies even right now, all bases of provocations will be reduced to seas in flames and ashes in a moment," the North's official Korean Central News Agency quoted the powerful National Defense Commission as saying.
South Korea, which has taken a harder line against since the North, conducted its fourth nuclear test Jan. 6 and followed a month later with a multistage rocket launch, quickly responded to the threats and is expected to announce its own sanctions Tuesday.
"If they launch provocations in defiance, (South Korea) will respond resolutely and mercilessly," Ministry of National Defense spokesman Moon Sang-gyun said.
While there are questions whether Pyongyang has the capability yet to produce a nuclear weapon small enough to fit into a warhead, it does have the world's largest army, with the majority of its forces stationed near the Demilitarized Zone. U.S. officials have said that if conflict were to break out, it likely would be similar in ferocity and complexity to World War II.
The North also is believed to have significant stocks of chemical and biological weapons and has been blamed for a variety of cyber-attacks. It has carried out deadly provocations during past crises on the peninsula, sinking a South Korean naval vessel, shelling a civilian island and setting landmines in the DMZ that seriously injured two South Korean troops.
The annual spring exercises by U.S. and South Korean forces are a regular irritant to the North. The size of this year's drills — about 300,000 South Korean and 17,000 U.S. troops — and the timing just after the U.N. Security Council passed the toughest sanctions against the North in two decades spark concerns that Pyongyang may carry out some kind of attack.
North Korean leader Kim Jong Un is reportedly still trying to consolidate power more than four years after taking over following the death of his father and cannot be seen as showing any weakness with the first congress by the ruling Workers' Party in three decades looming in April.
In addition, the reclusive country is likely feeling more cornered than in the past, with its closest ally, China, agreeing to the sanctions, which are clearly aimed at the North's weak economy.
---
---
---
---