Koreas declare 'new era of peace' — but offer no specifics
by
Kim Gamel
April 27, 2018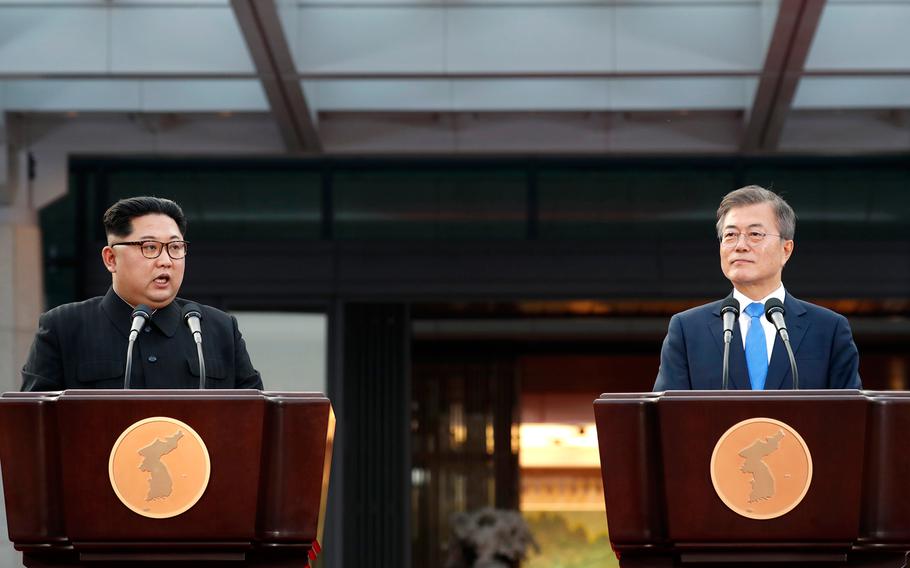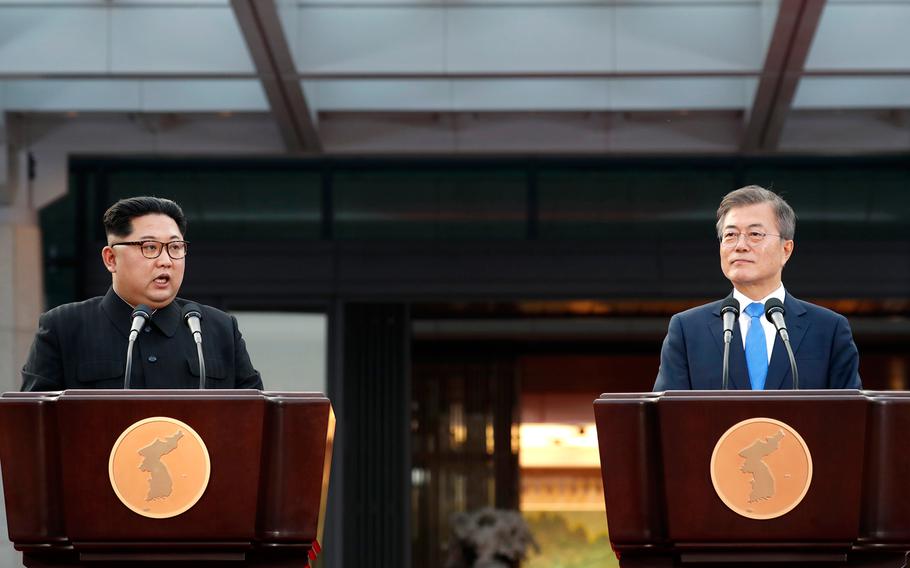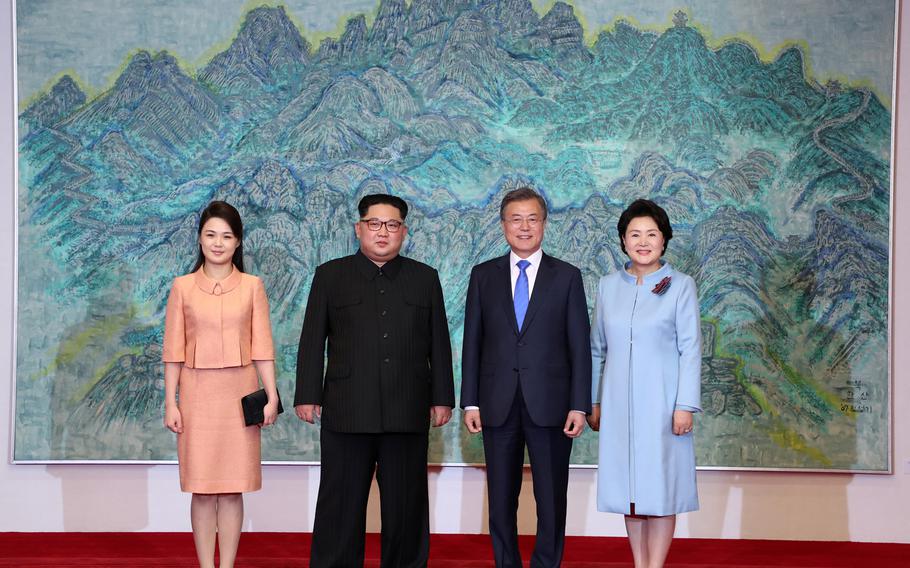 GOYANG, South Korea — North Korean leader Kim Jong Un and South Korean President Moon Jae-in declared "a new era of peace" and vowed to rid the peninsula of nuclear weapons Friday after a historic summit.
But the leaders fell short of agreeing to specific steps toward denuclearization, setting the stage for more difficult negotiations and raising the stakes for the first-ever U.S.-North Korean summit, which is expected to be held in coming weeks.
President Donald Trump enthusiastically welcomed the results in a pair of tweets.
"Good things are happening, but only time will tell!" he said. "KOREAN WAR TO END! The United States, and all of its GREAT people, should be very proud of what is now taking place in Korea!"
He didn't elaborate but appeared to be referring to an agreement by the two Koreas to "actively cooperate to establish a permanent and solid peace regime" to replace the armistice that ended their 1950-53 war.
The final declaration signed by Kim and Moon was vague on most points, but many North Korea watchers said the meeting was a positive first step toward resolving the crisis over the communist state's nuclear weapons.
"The two leaders solemnly declared before 80 million Korean people and the whole world that there will be no more war on the Korean Peninsula and thus a new era of peace has begun," the statement said.
It added that the two sides "agreed to carry out disarmament in a phased manner, as military tension is alleviated and substantial progress is made in military confidence-building."
"South and North Korea confirmed the common goal of realizing, through complete denuclearization, a nuclear-free Korean Peninsula," the statement said.
They also agreed to hold high-level military talks next month, to cease all hostile acts against each other in "land, sea and air," and to turn the heavily fortified Demilitarized Zone that divides the peninsula into a "peace zone in a genuine sense."
The carefully choreographed inter-Korean summit capped a whirlwind of extraordinary diplomacy that has eased tensions after months of saber-rattling and threats between the North and the United States that raised fears of a nuclear war.
While Kim and Moon failed to reach a breakthrough on the nuclear issue, they made progress in efforts to improve relations between the countries.
In one of the most concrete results, the two Koreas also agreed to resume on Aug. 15 reunions for families that were torn apart by the war.
Moon, a 65-year-old former human rights lawyer, and the 34-year-old Kim also appeared to foster a warm relationship, even holding a 30-minute private chat full of smiles on a nearby footbridge.
The director of the China-based think tank, the Carnegie-Tsinghua Center, said the final agreement "did little to pave the way for denuclearization" as it contained no tangible or verifiable commitments from the North.
"This puts greater onus for such commitments to be made by a Trump-Kim meeting or potential quadrilateral meeting with two Koreas, US, and China," Paul Haenle said in a statement.
Historic handshakeThe day began when Kim, wearing a black, Mao-style suit and surrounded by an entourage, walked down the stairs of a North Korean building to meet Moon, stepping across the concrete slab marking the line that officially divides the peninsula.
Kim — the third leader in a family dynasty that has ruled North Korea since it was founded in 1948 – said he felt a wave of emotion as he walked the short distance.
"I feel like I'm firing a flare at the starting line of … writing a new history in North-South relations, peace and prosperity," he said in opening remarks before formal talks began. "Let's get everything off our minds here and get good results."
Standing between the blue conference buildings that straddle the border, Kim took Moon's hand and led him briefly across to the North before the men walked on a red carpet into South Korea — making Kim the first North Korean leader to do so since the war ended.
It was also only the second time the reclusive leader is known to have left his country since he took power in 2011 after his father died of a heart attack. The first was a recent train trip to Beijing to meet with President Xi Jinping, reaffirming China's influence over its fellow communist state.
Two fifth-grade students from Taesong-dong Elementary School — the only South Korean school within the DMZ — welcomed the leaders, who inspected an honor guard before entering the so-called Peace House to begin the formal meeting.
After morning talks ended, Kim was ushered into a waiting black Mercedes that carried him back to North Korea for a lunch break, with 12 bodyguards wearing suits running alongside the vehicle.
The leaders met again for an afternoon full of symbolism. They shoveled soil from mountains in both countries on a pine tree planted on the border.
Moon and Kim then strolled together to a footbridge, where they engaged in a 30-minute private chat with only the sound of birds and bugs on a live video feed.
The meeting culminated with a lavish banquet, which was attended by the leaders' wives and included Swiss dishes inspired by the fact that the North Korean leader was educated in Switzerland.
North Korea also brought "naengmyeon," or cold buckwheat noodles — a beloved dish in both countries.
Ambitious agendaSouth Korea had an ambitious agenda for the third inter-Korean summit and the first in more than a decade. Moon's liberal predecessors the late Kim Dae-jung and Roh Moo-hyun met with Kim's father in 2000 and 2007, respectively.
But expectations for a breakthrough were low, as skeptics noted that agreements reached with Kim's father in previous decades had collapsed due to distrust and cheating on terms.
Experts also have raised doubts about Kim's motives for his about-face after more than a year of rising tensions and nuclear activity.
The diplomatic surge began when the third-generation leader agreed to join the Winter Olympics that were held in the South after declaring his nuclear force had been completed.
Trump has said he believes his "maximum pressure" campaign of economic sanctions and diplomatic isolation forced Kim to the table. Others believe Kim feels confident his deterrent capabilities are strong enough that he can be negotiate to be accepted as a nuclear power.
The world is watching for signs that Kim is willing to give up his nuclear weapons after the North demonstrated rapid progress by test-firing three intercontinental ballistic missiles and conducting its sixth and most powerful nuclear test last year.
Kim has announced a moratorium on ICBM tests and said the North will close its northeastern nuclear testing site.
But critics noted that Kim could resume missile tests at any time. A group of Chinese scientists also has said it believes the mountain covering the nuclear testing site has collapsed.
Trump has insisted the overtures from the North are concessions and has softened his tone in a sharp reversal after he mocked Kim as "little rocket man" and threatened to "totally destroy North Korea" if forced to defend the U.S. and its allies last year.
The U.S. and South Korean militaries, meanwhile, suspended joint war games Friday in a nod to the North, which considers the military exercises a rehearsal for an invasion.
That followed an agreement to postpone the start of the annual drills as Moon lobbied the North to join the Winter Olympics, putting the diplomatic process in motion.
A summit with Trump also would be a major gain for Kim, as a meeting with a sitting U.S. president has been a longtime goal for the regime. No date or venue has been announced, but Trump has said it will be in May or early June.
The U.S. has some 28,500 servicemembers stationed in South Korea.
Stars and Stripes reporter Yoo Kyong Chang contributed to this report.
gamel.kim@stripes.comTwitter: @kimgamel