Korean War vet honored for 75 years of service to Boy Scouts
by
Seth Robson
September 26, 2018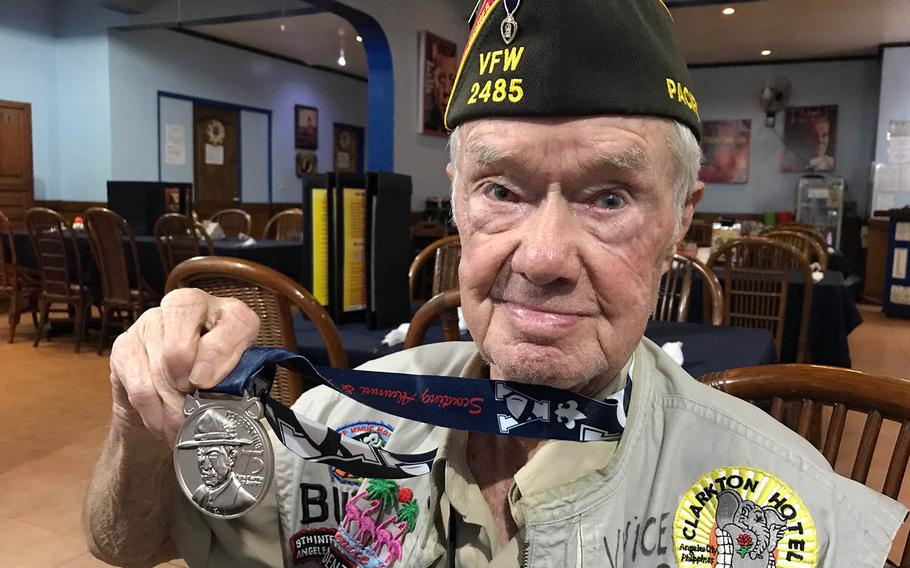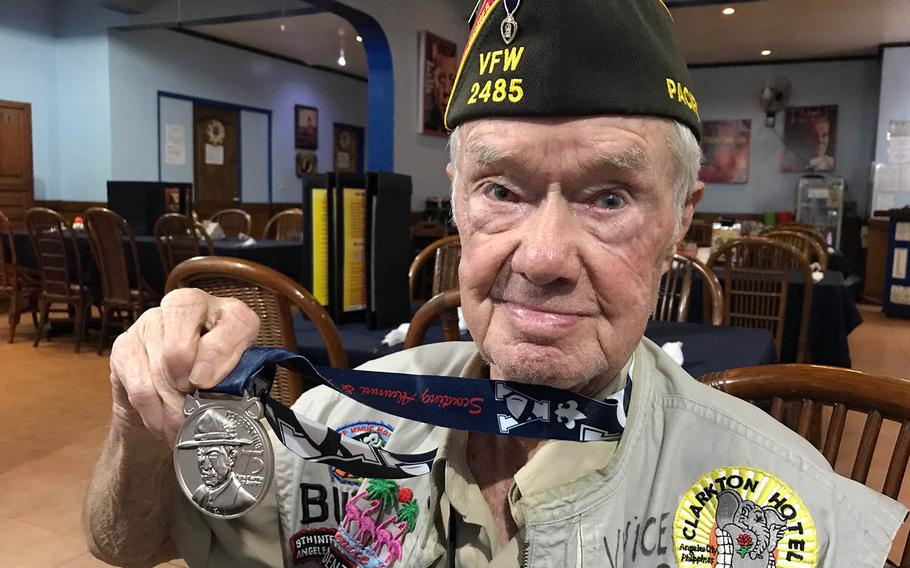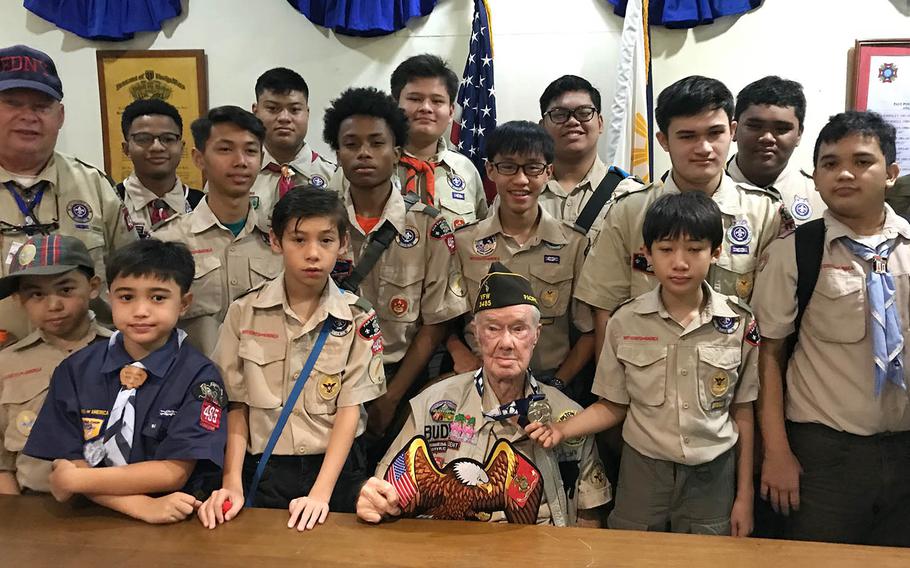 CLARK AIR BASE, Philippines — It's been 75 years since Willis "Buddy" Clark Jr. joined the Boy Scouts of America, but the former Marine is still roughing it with kids young enough to be his great grandsons.
On Saturday, the 87-year-old Korean War veteran was given a medal celebrating his three quarters of a century with the Scouts by Veterans of Foreign Wars Post 2485 in Angeles City, Philippines.
Since he moved to the Philippines from California a few years ago, the father of five has had a big impact on VFW-sponsored Troop 485, which is mostly composed of children of U.S. veterans and local moms living near what was America's largest overseas military base before U.S. forces left in 1991.
"Most Scouts stop when they turn Eagle," said David Luay, 15, a member of the Angeles City troop. "It's kind of cool to see Mr. Buddy be here with us. If Mr. Buddy can stay in Scouts that long, so can we."
Another Scout, Denis Metherell, 15, said he's impressed by Clark's strength.
"He can walk a long way," he said. "One time he looked like he was having trouble getting up and I tried to help him, but he didn't want help."
The old Marine still jumps into the pool to teach swimming and recently climbed the 1,787-foot Mount Samat on the Bataan Peninsula with the boys.
Ask about the small scar on his neck and Clark — who said he became a Boy Scout at age 12 and a Marine while still in high school — will tell you about his days as a machine-gunner during the Korean War.
Clark recalled being atop a mountain in 3 feet of snow during the Battle of Chosin Reservoir, in which 30,000 United Nations troops fought for 17 days to survive an onslaught by 120,000 Chinese.
"A sergeant said, 'Do you want to live forever? Fight.' I felt like I was in a John Wayne movie. How do I get out of this thing?"
The weather was so bad that orange flags marking the Marines' position got buried in snow, Clark said. A Marine beside him was strafed by a U.S. plane that mistook him for the enemy.
Clark said he was struck by shrapnel from a Chinese grenade and wounded so bad that other Marines put him in a body bag and loaded him into a helicopter.
"I'm not afraid to die, but I've got things I want to do," he said he prayed during the flight.
Clark said it was only after he managed to poke a finger out of the bag that someone realized he was alive.
"I was drowning in my own blood but I managed to get my finger out and move it," he recalled. "The priest said, 'We've got a live one here' and I went to surgery."
Clark said the tracheotomy that saved his life left him mute for three years, but these days he talks a lot and even belts out tunes on his harmonica from time to time.
When he's not helping the Boy Scouts, Clark is active at a local church where he's a chaplain and looking forward to a visit from his daughter, a former USO show performer who plans to play piano for the congregation, he said.
Modern-day Scouts might spend more time playing with cellphones than hammering in tent pegs but they've earned the old timer's respect.
"This is the finest troop that I've ever been involved with," Clark said of the Angeles City youngsters.
robson.seth@stripes.com Twitter: @SethRobson1