Korean War-era grenade found at Camp Carroll
by
Ashley Rowland
May 6, 2011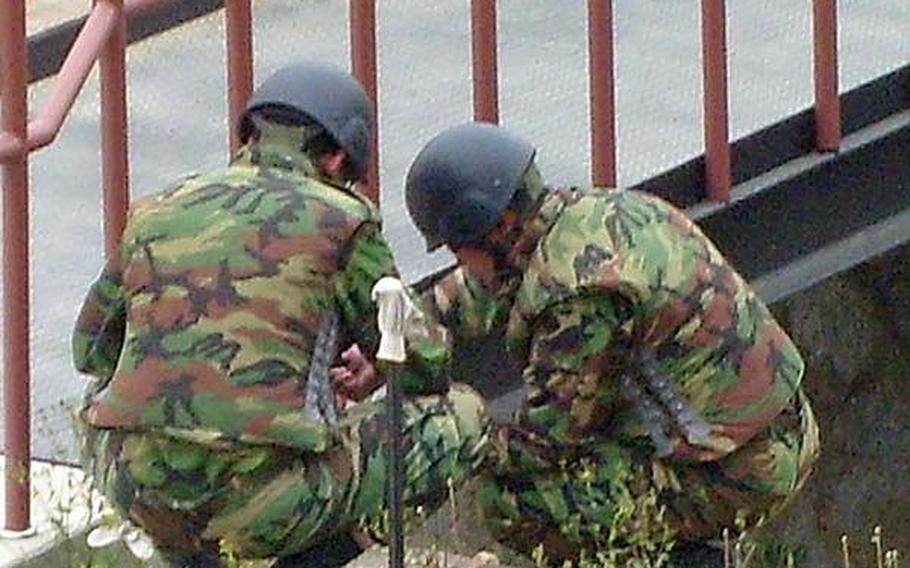 SEOUL — Construction workers at Camp Carroll found a live Korean War-era U.S. grenade Friday morning, the second piece of old ordnance uncovered in Korea in the last three weeks, military officials said.
U.S. Army Garrison-Daegu spokesman Phil Molter said workers found the pineapple-style grenade around 10:30 a.m. as they were digging at a warehouse construction site. Technicians from the 6th Ordnance Battalion confirmed it was a grenade, and a South Korean explosive ordnance team from an army ammunition site at Youngcheon, southeast of Daegu, removed it from Camp Carroll.
A spokesman for the Ministry of National Defense said the EOD team would detonate the grenade sometime next week.
"No one was ever worried about it" causing problems, Molter said.
Camp Carroll is located on the edge of the "Pusan Perimeter" area that saw heavy fighting during the war.
On April 14, a mortar was found behind the U.S. Forces Korea headquarters at Yongsan Garrison in Seoul. It is also believed to be a remnant from the Korean War, garrison spokeswoman Jane Lee said.
Construction workers found it while dredging a sewage canal that runs behind the White House, which houses USFK officials including commander Gen. Walter Sharp. The building was evacuated, Lee said.
An EOD team took the mortar, which was in "extremely poor condition," to Warrior Base for detonation, according to Capt. Scott Mignot, commander of the 718th Ordnance Company.
He said in an e-mail that in the past two years EOD technicians have responded to about four similar incidents at U.S. garrisons across the peninsula, including two at Yongsan.
Dan Thompson, Installation Management Command-Korea spokesman, said unexploded ordnance, or UXO, is found infrequently on bases, but community members should report any suspicious items to the military police immediately. EOD experts are on-call to investigate and remove UXO.
"Unexploded ordnance is one of the unfortunate legacies of armed conflict the world over, and Korea is no different," he said.
Stars and Stripes translator Yoo Kyong Chang contributed to this story.