Korean War anniversary draws special visitors to DMZ
by
Jon Rabiroff
June 24, 2010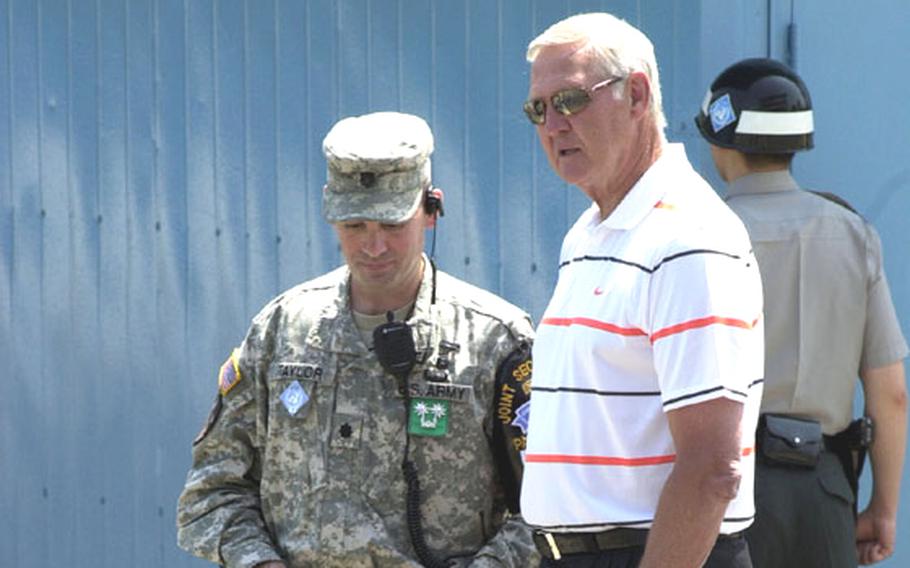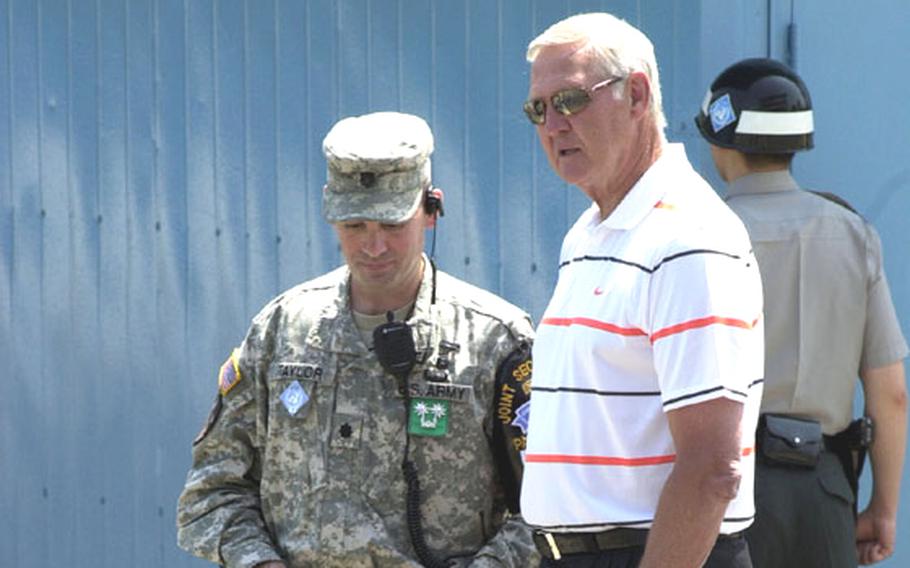 DEMILITARIZED ZONE, Korea — Basketball legend Jerry West was 12 years old when he learned that his brother, David, had been killed in the Korean War.
"That was one of the most sobering days of my life," he said Thursday, standing in the Joint Security Area of the DMZ as busloads of veterans from the 1950-53 war toured the site.
"I think when you lose someone in your family, you don't realize I think until years later what purpose it served," he said.
The result of his brother's sacrifice, along with that of tens of thousands of others who fought with United Nations forces against communist North Korean and Chinese forces, hit home for West during his visit to South Korea in connection with Friday's 60th anniversary of the start of the war.
"Seoul is an amazing city," said the former Los Angeles Lakers star during his visit this week. "To see where they've come thanks to coalition troops and their own troops — and everything they've endured — is really gratifying. When you see the results of democracy, I think you can see that the lives that were sacrificed [were] to save other people.
"I've been lucky enough to travel all over the world, and to have an opportunity to come here and see this is probably the highlight of my life," said West, who was voted one of the National Basketball Association's 50 greatest players of all time, and whose silhouette is depicted in the NBA's logo.
In contrast, West gestured in the direction of the North Korean soldiers across the Military Demarcation Line.
"To see [the North Koreans] so close, and if you take a step across there, your life would be in danger. … It just doesn't seem possible," he said.
Korean War veterans from a variety of countries visiting the DMZ Thursday included two U.S. veterans who received the Medal of Honor. All were in South Korea for the war's anniversary and had varying reasons for wanting to be here.
"The people back home just never recognized the Korean War as being that important," said Hiroshi Miyamura, who was a U.S. Army corporal during the war and was awarded the Medal of Honor. "I'm here to at least acknowledge that they participated. That's the least I can do — and to help the Korean people realize that had it not been for the U.S. and the United Nations, they wouldn't be the country they are today."
Miyamura, a machine gun squad leader during the war, received the military's highest honor for valor for killing more than 50 of the enemy and for suffering severe wounds as he covered the withdrawal of his company on April 24, 1951.
Rodolfo Perez Hernandez, was the other Medal of Honor recipient in the gathering Thursday. The former Army corporal received his medal for helping fellow soldiers withdraw from a ferocious attack in May 1951 by holding off onrushing enemy soldiers with rifle fire until he fell unconscious after enduring grenade, bayonet and bullet wounds.
"From the fox holes I dug years ago, they built hotels," he observed.
Veterans also were reminded Thursday that despite South Korea's amazing rise from the rubble into one of the world's economic powers, the threat of a resumption of hostilities still lingers over the peninsula.
As is their custom, North Korean soldiers used binoculars from their side of the Military Demarcation Line to keep a close eye on the visitors moving through the DMZ. They were wearing helmets instead of their customary hats, an apparent sign of an elevated level of alert given the tough talk between the two Koreas over accusations that the North was responsible for the March 26 sinking of the South's warship Cheonan and the deaths of 46 of its crew.
In an odd moment, members of a tour group on the North Korean side of the Joint Security Area started waving at their counterparts on the southern side, prompting waves back and then a stern warning from a U.N. Military Armistice Commission security escort: "No waving."
Speaking of the continuing tensions, Miyamura said he doesn't pay any attention to North Korea "because they are a lot of talk. They're not capable of doing what they did 60 years ago."
Veteran Arthur Adinolfi agreed, but added, "If there is another war, with the equipment we have, no one would win."
West said it's "awful" that families have been split apart for six decades by the standoff and friction between the two Koreas.
"Hopefully, someday, we'll see an end to this, and everyone will prosper like South Korea has," he said.
---
---
---
---