Analysis
Korea rape sentences: Each case has 'unique set of circumstances'
by
Ashley Rowland Jon Rabiroff Yoo Kyong Chang
November 3, 2011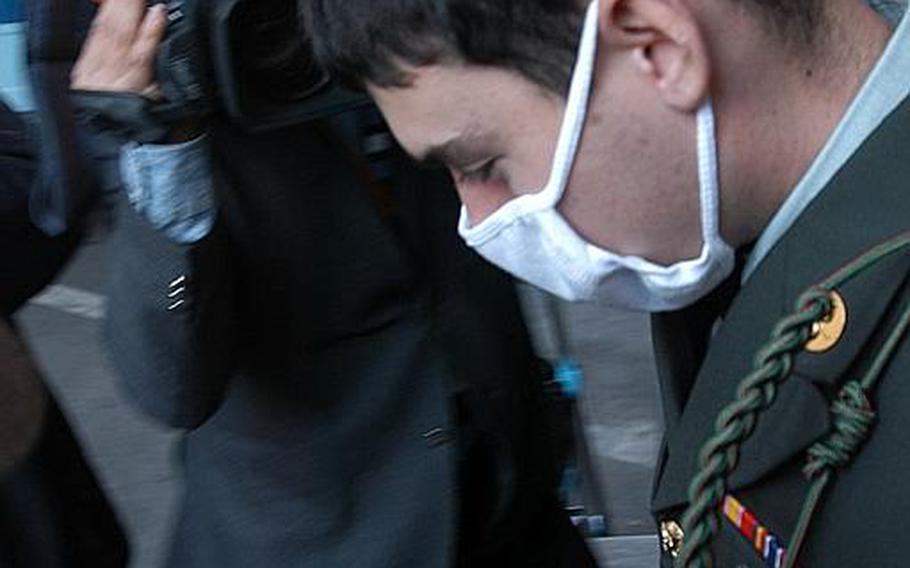 UIJEONGBU, South Korea — From a distance, it appears a travesty of justice has occurred.
In hearings held just 12 days apart in the same courtroom, the same three-judge Uijeongbu District Court panel sentenced a Korean man in his 20s to 3.5 years in prison for the rape of a U.S. soldier in her late teens, and sentenced a U.S. soldier in his 20s to 10 years in prison for the rape of a Korean girl in her late teens.
The disparity in prison terms prompted a flurry of emails and Internet message board posts suggesting that the soldier-rapist was unfairly punished for his crimes and that the Korean man who raped the female servicemember was given a relatively light sentence because the Korean judges were biased toward their countrymen or against the U.S. military.
But a closer look at the situation reveals that while some believe publicity surrounding the soldier's rape of the Korean teenager might have played a role in the disparity, there were a number of other factors that could explain why one rapist was sentenced to almost three times as much prison time.
The actions of the two defendants, differences in the Korean court system, social mores and the ever-evolving relationship between South Korea and the American military were also in play when the sentences were handed down, according to experts on Korea and others familiar with the cases.
For their part, U.S. military officials are not taking issue with the judges' decisions.
"Eighth Army worked very closely with the Korean authorities in both cases," said spokesman Andrew Mutter. "Each case has its unique set of circumstances, and the Korean legal system must look at each one on its own merit.
"U.S. officials do not intend to inquire into the difference in sentences," he said.
Longtime Seoul-based journalist Mike Breen, author of "The Koreans," said that while pre-trial publicity might have been a factor behind the 10-year sentence given the U.S. soldier, "I would steer people away from thinking this is a product of any anti-Americanism of the courts. I don't think that is what is manifesting itself here."
Given the level of violence used by the soldier during his attack on the Korean teen, Breen said, "Americans should not be looking at this as a case where they treated him harshly. They should be grateful he will be off the streets for 10 years."
Cases of rapeIt was Oct. 21 when a 25-year-old South Korean convenience store clerk was sentenced to 3.5 years in prison for the July 10 rape of an 18-year-old Camp Casey soldier at a Uijeongbu night club.
The defendant was only identified by authorities by his last name of Ju because of privacy concerns – a common practice in all but the most heinous of crimes here.
Authorities said Ju danced with the soldier and then followed her as she went to the restroom. He then raped her in a stairwell. Police said they arrested Ju after identifying him from photos taken at the nightclub by another U.S. soldier.
Chief Judge Park In-sik said the aggressive nature of the rape and the victim's pain were considered in deciding Ju's sentence.
But, he said, "We also took into consideration the fact that Ju is a first-time offender, and committed his crime unintentionally after drinking and regrets his wrongdoings," he said.
Breen said one of the quirks in Korean law is that judges will consider the argument that a defendant was not responsible for his actions because of his level of intoxication.
"Rapists in Korea are treated with a surprising level of lenience when the drunkenness factor is taken in account," he said.
However, on Tuesday when Pvt. Kevin Lee Flippin, 21, was sentenced to 10 years in prison for the Sept. 24 rape of a 17-year-old Korean girl, Park said the defendant's state of intoxication would not be considered because of the severity of the crime.
"This is a very atrocious act ... (that) should be punished very severely," the judge said, adding that he thought the attack was sadistic and perverted.
On the opening day of his trial last month, Flippin admitted raping and robbing the girl in a dormitory-style apartment and hotel building near Camp Casey in Dongducheon.
A closed-circuit video introduced as evidence in the case showed Flippin trying to open several doors before entering the victim's unlocked room. Once inside, according to court testimony, he repeatedly raped and sodomized the victim over the course of four hours.
During that time, he also punched and slapped the victim in the face, stole a small amount of money from her wallet, dragged her across the room, threatened her with a knife and pair of scissors, and burned her breast with a lighter, among other things, according to court records and testimony.
After sobering up, Flippin begged for forgiveness before leaving the victim's room, according to testimony.
"I was wrong, I know. It's not an excuse," Flippin said during the trial. He was a member of the 2nd Infantry Division's 6th Battalion, 37th Field Artillery Regiment.
In addition to his 10-year sentence, the judge directed that Flippin receive 80 hours of "sexual behavior modification treatment." The court also decided that Flippin's name would be public record for the term of his imprisonment.
In the wake of Flippin's arrest, there were anti-American protests, and protest groups and Korean media outlets called for revisions to the U.S.-South Korea status of forces agreement to allow local authorities greater access to and control over American servicemembers charged with crimes.
In addition, before the Flippin case went to trial, U.S. military and government officials in Korea issued public apologies for the attack, and U.S. Forces Korea commander Gen. James Thurman reinstituted a curfew for all American servicemembers on the peninsula that remains in effect.
The sentence was the most severe handed down for a U.S. servicemember in South Korea in nearly 20 years, prompting some to suggest Flippin was unfairly punished because of the attention his case received in South Korea and the fact that he was an American soldier.
Lee Sangyup, a Uijeongbu District Court judge and information officer, said the differences in the two sentences were a reflection of the details of the crimes.
"In (Flippin's) case, his crime was done for about four hours, but the Korean man did it less than one hour," Lee said. "Also, (Flippin) raped the victim several times. The Korean man raped the victim once for a moment. (Flippin) used a pen, a lighter, a knife and a pair of scissors. The Korean man used nothing."
Equal justice?So are U.S. servicemembers treated differently, or more harshly, in South Korean courts?
The answer depends on whom you ask.
Yeom Gun-woong, a professor in the Police Administration Department of the Hanmin Academy in Choongnam, said he believes public opinion and nationalism were factors in the two recent rape cases.
"We respond sensitively if we hear foreigners commit crimes on Koreans because we have a victim mentality," he said. "We need to change people's perceptions," Yeom said. "USFK is doing good work … but people don't see that."
A Uijeongbu District Court source familiar with the two rape cases insisted that judges make their decisions here without regard to "the defendants' nationality, age or gender, because each case is different and every crime involves a variety of elements."
However, a New York attorney working in Seoul said the fact that Flippin was an American played a crucial role in his receiving what is an "exceptional" sentence in South Korea.
"It's kind of a political statement, and I think the judge probably was influenced (by politics)," said Sean Hayes, who represents mostly non-Koreans.
Foreigners typically receive longer sentences than South Koreans for violent crimes, he said, and the Flippin case was seen as especially outrageous because of the woman's age, the fact that the attack lasted for several hours, and because she sustained injuries not seen in a typical rape.
But there were other factors at play, such as South Korea's "fervor over sex crimes," he said. The South Korean press followed the case closely, and, especially with national elections approaching in 2012, any issues involving the U.S. — including servicemember misbehavior — are being turned into political issues, he said.
"The media is looking strongly at these cases because politicians have spoken out," he said.
In an interview with Stars and Stripes Thursday, senior USFK legal officials said that U.S. troops accused of crimes are treated fairly in the South Korean court system, and it's reasonable that two people convicted in separate rape cases could face disparate sentences.
The differing facts in a case and the effect of the crime on its victim are taken into consideration during sentencing, one official said, requesting anonymity. While all rapes are harmful, he said, "there are certain ones that are more egregious than others," and the sentencing may reflect that.
A sampling of recent cases involving U.S. soldiers who raped Korean women shows that:
*In 2007, an Army sergeant based at Camp Carroll was sentenced to three years in prison for chasing down, beating and raping a 19-year-old South Korean woman.
*In 2009, an Army sergeant was sentenced to three years in Korean prison for beating and raping a woman in a Dongducheon alley.
*Earlier this year, an Army private was sentenced to seven years in prison for breaking into a Camp Casey-area home, beating an elderly Korean couple with a piece of lumber and trying to rape the 63-year-old woman.
Before handing down the sentence in that case, Park told the defendant through a translator that he would be treated the same as any Korean defendant, and not any harsher because he was a foreigner.
"This kind of crime is very serious in Korea," the judge said. "(I know) this kind of crime is also very serious in your country."
Breen said the U.S. military has gotten "very good at responding" to these kinds of incidents "in a way that addresses Korean sensibilities, which involves a lot more public apologies rather than explanations … and taking collective responsibility."
Not everyone believes the apologies — or at least the timing of them — are a good idea.
Daniel Pinkston, an analyst with the International Crisis Group in Seoul, said U.S. officials are so concerned about rape cases becoming political issues that they may be infringing on the legal rights of the accused by offering up apologies before cases even get to court.
"That sends a signal that there's no question about his guilt," Pinkston said. "If in fact senior U.S. government officials are making these types of statements before conviction, then that's a mistake because everyone's constitutional rights should be upheld."
chang.yookyong@pstripes.osd.mil
---
---
---
---