Korea OPCON transfer should 'move forward,' Scaparrotti says
by
Jon Rabiroff rabiroff.jon@stripes.com
July 31, 2013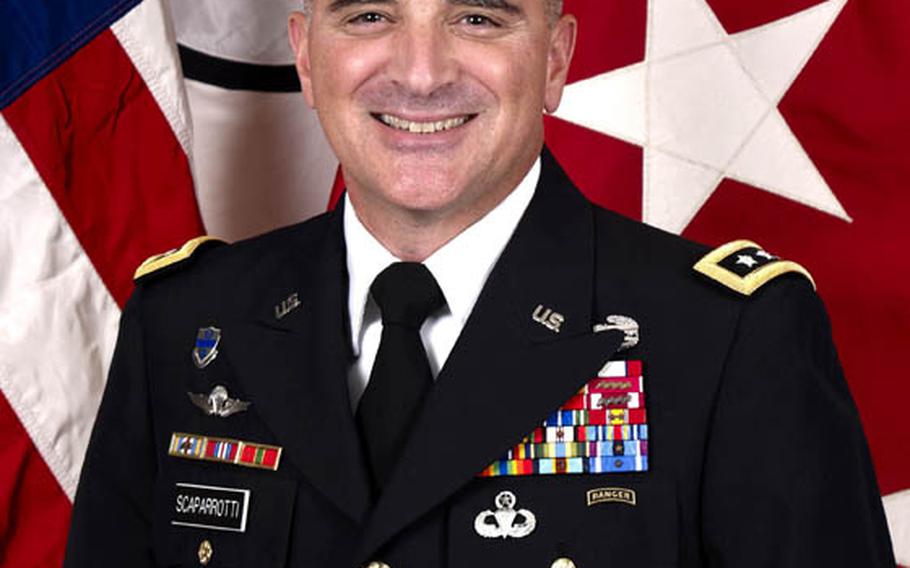 SEOUL — Plans to transfer wartime control of allied troops here to South Korea in 2015 and consolidate American forces on the peninsula south of Seoul in 2016 should continue to be a priority, the likely incoming commander of U.S. Forces Korea testified Tuesday, despite recent hints delays could be in the offing.
Lt. Gen. Curtis Scaparrotti told the Senate Armed Services Committee that the so-called OPCON transfer is "a good plan … and I think we should move forward with it."
As for the ongoing plans to consolidate virtually all of the 28,500 American servicemembers in South Korea to regional hubs of bases south of Seoul the following year, Scaparrotti said, "We've made agreements with our (South Korean) allies and those moves are tied to that.
"But, I would say, too, that those moves help us posture our forces better," he said.
Scaparrotti – who serves as director of the Joint Staff at the Pentagon – has been nominated by President Barack Obama to receive his fourth star and command U.S. forces in South Korea. His comments came during a confirmation hearing before the committee, which will decide if he will succeed Gen. James D. Thurman in the months ahead.
The OPCON transfer has been the subject of continuing debate in Washington and Seoul for years given the ongoing threat posed by North Korea and differing opinions about whether the South's military is up to the task of leading the fight if hostilities ever resume on the peninsula.
The transfer of responsibility was initially supposed to happen in 2007, but was postponed until 2012. In 2010, that target date was pushed forward again, to 2015, in the wake of criticism of the South's response to North Korea's sinking of one of its warships earlier that year that left 46 sailors dead.
A year ago, a Pentagon-commissioned study suggested the U.S. military take a number of steps to cover for perceived shortcomings in the South's ability to defend itself, including delaying the 2015 OPCON transfer until South Korea's military is better prepared for the job.
In recent weeks, Korean media outlets reported that Seoul had asked Washington to once again postpone the move due to ongoing concerns about North Korea's nuclear weapons program. This week a South government source was quoted as saying U.S. officials were receptive to the proposal.
While voicing support for the 2015 timetable, Scaparrotti told the Senate Armed Services Committee that the South will have to meet a variety of benchmarks before any OPCON transfer can go through.
"It is important to note that the transition is conditions-driven," he said.
The transfer of command and the related 2016 plan to move most U.S. troops now stationed in and north of Seoul to bases south of the South Korean capital are both designed — symbolically and practically — to give the South's military a more high-profile role in the defense of its country after 60 years of American control.
While saying he could not comment on whether the consolidation of U.S. troops in South Korea should be postponed or canceled due to cost concerns, Scaparrotti suggested the 2016 plan "would be good for the readiness of the force as well."
Staff writer Ashley Rowland contributed to this report.