Kim Jong Un following family formula for N. Korea leadership
---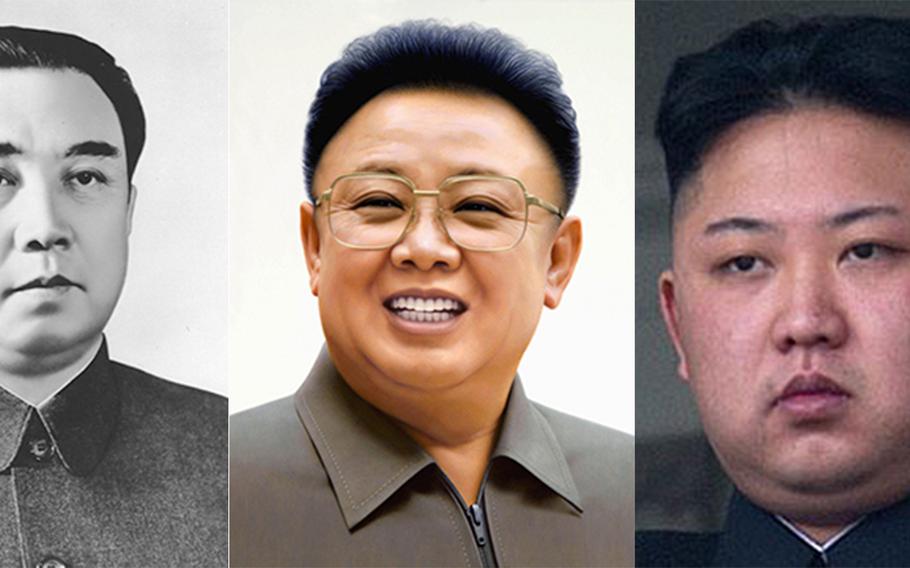 SEOUL, South Korea — His grandfather was a revolutionary hero who founded North Korea. His father was a military man who oversaw the country's first two nuclear tests.
North Korean leader Kim Jong Un had big shoes to fill when he inherited power in late 2011 with little training and no military credentials. So far, he has largely stuck to the formula that has kept the world's first communist family dynasty in power for nearly 70 years.
Kim has pursued advances in his father's nuclear weapons program while modeling his leadership on his revered grandfather Kim Il Sung, even sporting a similar hairdo and speaking style. He also is convening the first ruling Workers' Party Congress since 1980 when Kim Il Sung was in charge.
But experts say the young leader — he is believed to be 33 — has gained confidence and likely sees the massive political gathering as a chance to firmly establish himself at the helm. State-controlled North Korean media have even given him the moniker: "the Great Sun of the 21st Century."
Kim Il Sung was a revolutionary hero when he became North Korea's first leader in 1948 after years fighting for independence from colonial ruler Japan. He rose to power under the patronage of the Soviet Union and managed to combine Stalinist ideology with a personality cult that has continued to this day.
His rule was brutal, but he maintained a stamp of legitimacy by passing decisions through the formal party apparatus. He developed the political ideology called Juche, which is generally understood as self-reliance.
The main goal of the "Great Leader," as he is revered in North Korea, was to unify the peninsula under his rule. He persuaded the Soviets and Chinese to help him invade the U.S.-backed South in 1950, prompting a three-year war that ended in an armistice, leaving the two sides technically at war to this day.
Kim died in 1994 as the country was about to plunge into a devastating famine. He was 82.
His son, Kim Jong Il, was more reclusive when he assumed power after being groomed for the leadership for some two decades. He was in his early 50s and eventually gained the titles of commander of the Korean People's Army and head of the ruling Workers' Party while his father was revered as North Korea's "eternal president."
He promoted the songun policy of "military first" and devoted much of the country's scarce resources to the troops. Under his rule, North Korea built the world's fifth-largest military even as its people suffered.
Kim Jong Il, who was dubbed the "Dear Leader," staged North Korea's first underground nuclear tests in 2006 and 2009. It was under his leadership that President George W. Bush declared North Korea part of an "axis of evil," along with Iran and Saddam Hussein's Iraq.
Kim Jong Il, who almost never spoke in public, was widely mocked internationally for his bouffant hairdo, platform shoes and khaki jumpsuits. But he did engage in negotiations with the U.S. and South Korea and participated in two summits between the two Koreas, although the thaw in relations ended when a conservative government took over in Seoul.
He died of heart problems in 2011, leaving the country to his relatively inexperienced third and youngest son.
Kim Jong Un appears to be trying to emulate his grandfather, perhaps hoping that will bestow him with more authority and make up for his lack of military credentials. But analysts say the third-generation leader has failed to capture the adulation of the nation that Kim Il Sung enjoyed. His behavior also has dashed hopes that his years outside the country, including university in Switzerland, could mean a change of direction for the country.
Kim has pursued a so-called byungjin policy, which essentially means a dual focus on developing the economy and maintaining a nuclear weapons program that the country claims is for self-defense despite its threats to turn South Korea and the U.S. into "seas of fire."
North Korea has staged two more nuclear tests under his rule, one in 2013 and another in January, as well as several missile tests despite harsh new U.N. sanctions aimed at curbing its nuclear ambitions.
Kim also has adopted a more public persona. He resurrected his grandfather's tradition of giving a speech on New Year's, which had been relegated to a written version under his father. He also has made unprecedented appearances with his wife, and he has been photographed attending rocket launches and examining what the country called a miniaturized nuclear bomb.
The new commander of U.S. Forces Korea, Gen. Vincent Brooks, recently suggested that Kim is more dangerous than his father, saying he "has led to a more aggressive and unpredictable North Korea."
Ken Gause, an expert on North Korea's leadership, said it was too early to tell which of the Kims was the most dangerous. He said Kim Jong Un has staged fewer actual attacks than his father — who apparently ordered the torpedoing of a South Korean naval vessel and the shelling of a civilian island — despite a recent increase in bellicose rhetoric and weapons tests.
"I would agree that he is potentially more dangerous because he is a more unknown factor than his father, but at the same time we have seen a certain pragmatism in his decision-making," Gause said in a phone interview.
Twitter: @kimgamel
---
---
---
---