gallery
Kadena's 18th Wing trains for potential Indo-Pacific natural disasters
by
Matthew M. Burke
March 28, 2019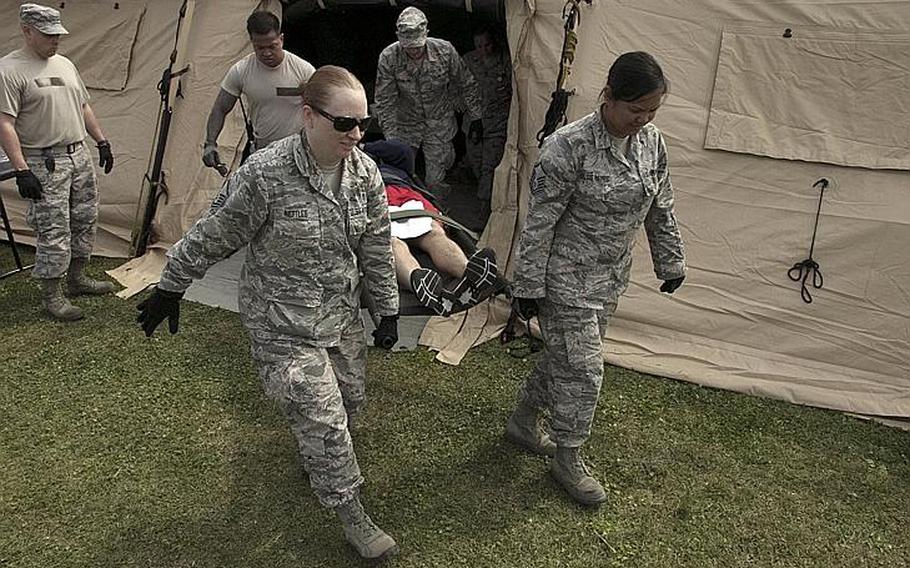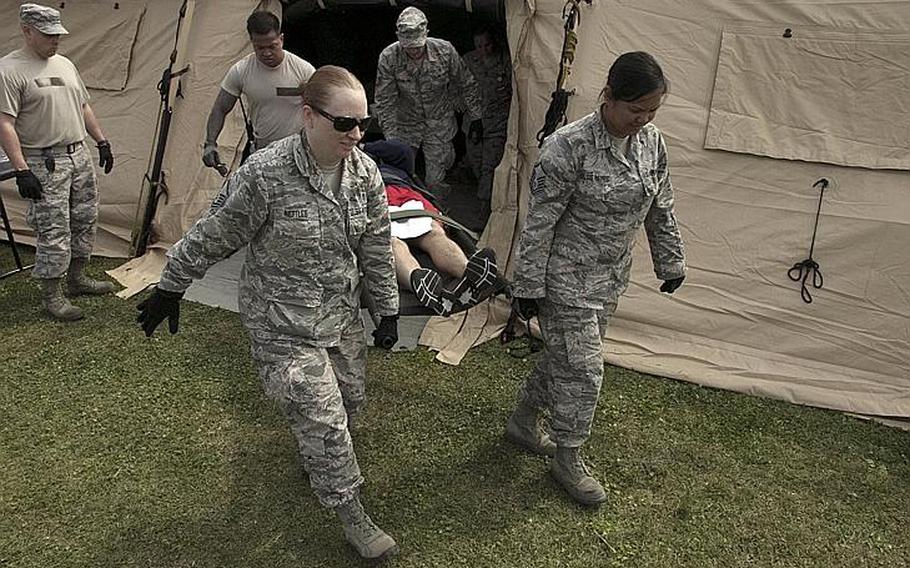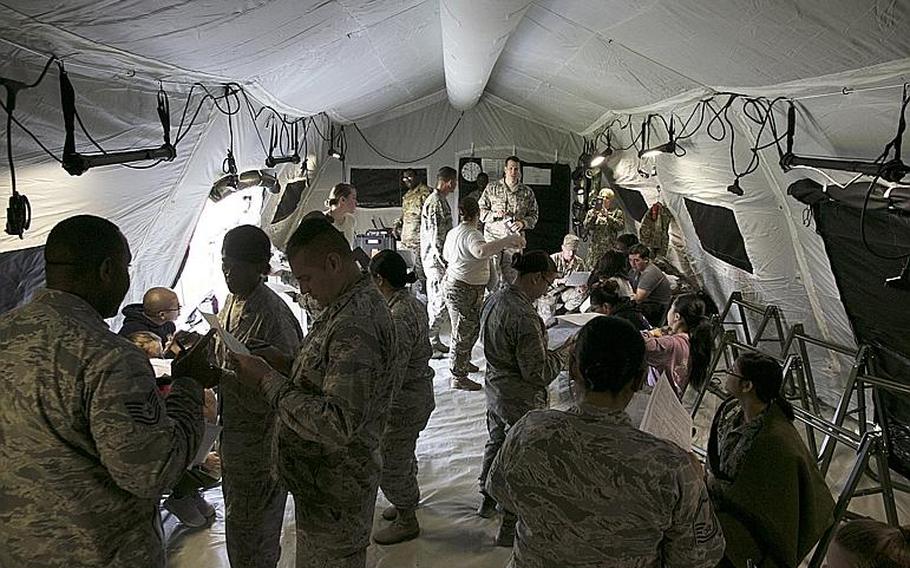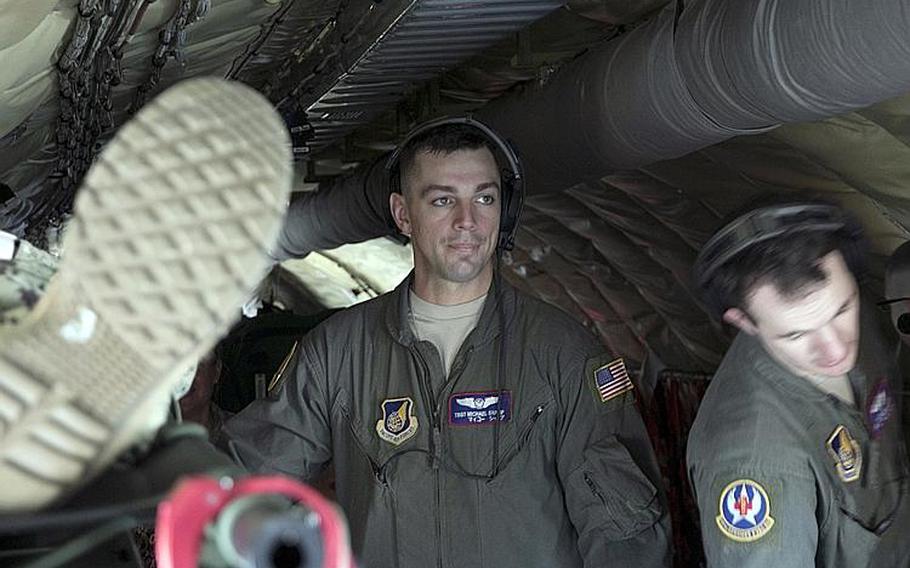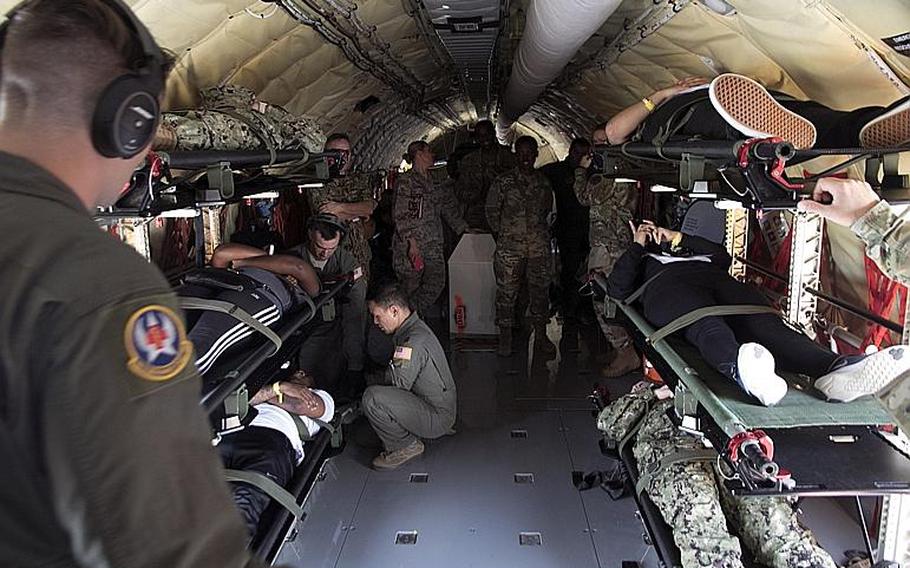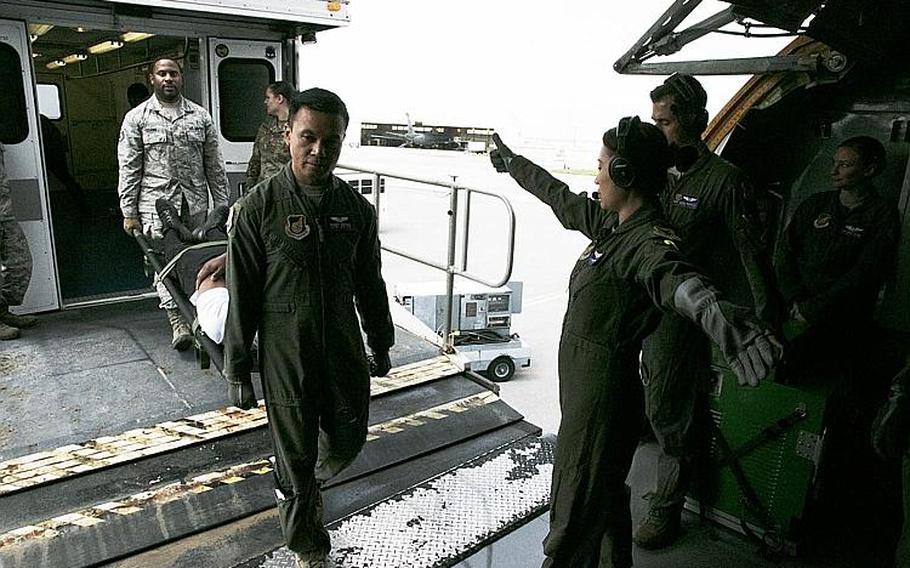 KADENA AIR BASE, Japan — Disaster may strike at any second in the Indo-Pacific, where typhoons and earthquakes are regular events, which is why the medical units of the 18th Wing must always be ready.
This week, the 18th Medical Group and 18th Aeromedical Evacuation Squadron took part in a rare mass-casualty training exercise in conjunction with the U.S. Naval Hospital in Okinawa.
Over two days of training, airmen processed and evacuated simulated stable patients to a tented staging area so the naval hospital could focus on the critically injured.
"This is the first time we've set these tents up and it's letting our folks see their equipment," said exercise organizer Maj. John Delehanty, 38, of Belfast, Maine. He is the medical readiness flight commander for the 18th Medical Support Squadron.
"What we're doing here is giving them a chance to use it in preparation for a natural disaster-type event so that if that were to happen and we needed to set this up, the first time they're doing it isn't the day we need it," he said. "That is the big driver here."
The exercise began Tuesday with many patients from a simulated natural disaster coming into the naval hospital. As they were treated, the stable patients were moved to open up beds for the critically injured.
That is where the 18th Medical Group and 18th Aeromedical Evacuation Squadron came in.
Stable patients were bussed to medical tents called an En-Route Patient Staging System set up by medical group airmen near Kadena's sprawling flight line.
Each ventilated tent holds 10 beds, but modules can be added to accommodate up to 200 beds, Delehanty said. They can go anywhere they are needed.
The staging system is equipped with communication and computer systems, medical equipment and basic supplies like intravenous fluids, medications and bandages.
The first four patients to arrive were deemed critically injured. One had a simulated sucking chest wound. There was also a severed jugular vein, severe burns and a crushing wound.
They were in-processed by nurse Capt. Michael Strong and medical technician Tech Sgt. Damian Sharpe. The simulated patients' medical paperwork was scrutinized and vital signs were taken.
Medical personnel checked to make sure the patients had all the medications they needed and that no further interventions were necessary. Then a handoff report was filled out for the 18th Aeromedical Evacuation Squadron, which would evacuate the injured from Okinawa.
The staging area came alive with a flurry of activity as more and more patients arrived. Airmen rushed back and forth between the communications equipment, a computer system and the patients, troubleshooting issues as they arose.
Two individuals had the same identifying numbers on their paperwork. Medical group personnel called the hospital to sort out the misunderstanding.
"This prepares us if we go down range or if there was an emergency here on island," said emergency medical technician Tech Sgt. Kylle Hannan of the 18th Medical Operations Squadron. "It tests our capabilities of what we're able to do to help our patients. We're taking care of them with limited supplies or even people."
After the patients' paperwork was filled out, they were given an identifying hospital bracelet. Vital signs were once again checked.
The medical group airmen carried their stretchers one by one back onto the buses and a high-deck vehicle that waited outside. The patients' paperwork was strapped into their litters with them.
The simulated casualties were taken to the flight line and handed off to the 18th Aeromedical Evacuation Squadron, which loaded them on racks aboard a waiting KC-135 Stratotanker.
"It gives us a sense of what we're capable of doing and also bringing that team together to be able to see where our strengths lie and then … location – like where would we set this up," Hannan said.
Delehanty said moving patients in a disaster scenario is critical.
"This gives us a place to hold the patients, especially once they've been cleared to fly and we're just waiting for the planes to come in to move them, so it frees us up to provide more care to more people while also moving these folks out," he said.
Organizers hope the exercise will become an annual event.