Kadena airman facing court-martial in stabbing death
by
Travis J. Tritten
November 21, 2011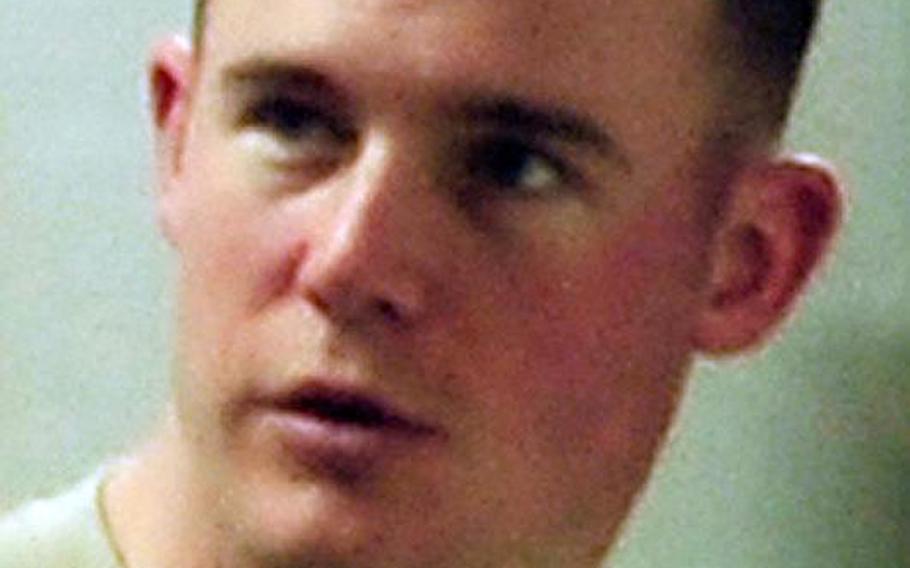 CAMP FOSTER, Okinawa – A Kadena airman will face court-martial on murder charges following the February stabbing death of a member of his squadron and could be sentenced to death, according to an Air Force 18th Wing announcement Monday.
Staff Sgt. Nicholas Cron, of the 733rd Air Mobility Squadron at Kadena Air Base, is charged with premeditated murder, conspiracy to commit murder and obstruction of justice in the killing of Tech. Sgt. Curtis Eccleston in an off-base apartment Feb. 6, the Air Force said.
The Air Force referred the charges to court-martial following an investigative hearing in September. The case was referred as a capital case, according to the 18th Wing press release, meaning the military judge or court-martial panel "could consider all potential punishments authorized under the Uniform Code of Military Justice, including a death sentence, life with or without eligibility for parole and other punishments."
No date had been set for the court-martial as of Monday, according to the service.
The victim's wife, 32-year-old Barbara Keiko Eccleston, was charged by Okinawa prosecutors in the slaying in February. She was living in Japan as a Brazilian national and faces charges under Japanese law.
Her case may be heard before the end of the year in an Okinawa criminal court, according to Japanese authorities.
Curtis Eccleston, 30, was found in a pool of blood in an apartment he shared with his wife in the Mihama district near Camp Lester, according to Japanese police. An autopsy by Japanese authorities determined the airman bled to death from a cut on his neck.
His wife was arrested by Japanese police on a murder warrant 10 days after the body was discovered. Police said she conspired with another person to murder her husband.
"The defendant, with intent to kill, stabbed and slashed the neck of the victim with a folding knife," a spokesman for the prosecutor's office said in March.
Cron was taken into custody on Feb. 13 by military authorities and kept in pretrial confinement at Camp Hansen.
Japanese police said information he provided led them to a backpack and two knives discarded in a river south of Naha that are believed to be connected to the murder.
---
---
---