Japanese mayor apologizes to US forces for sex comment
By
Seth Robson robson.seth@stripes.com
May 27, 2013
---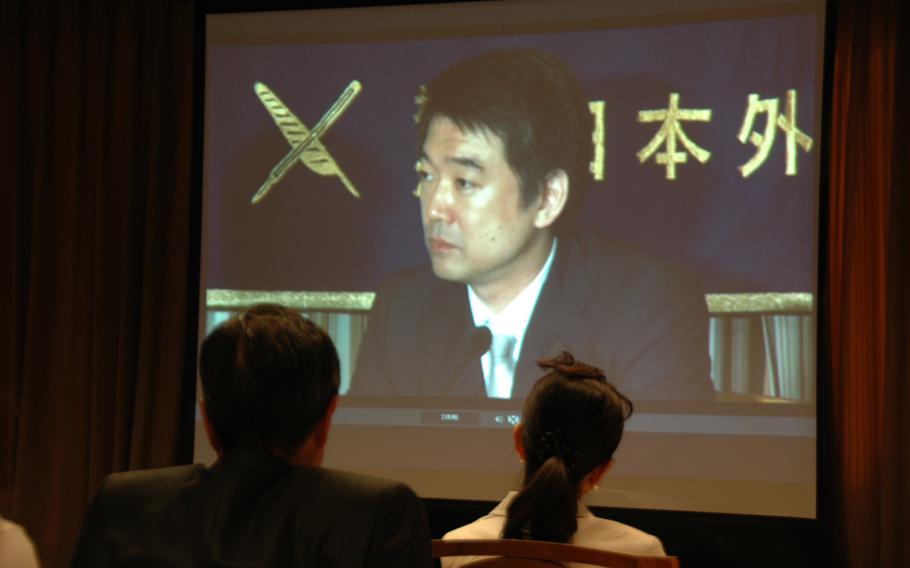 TOKYO, Japan – The mayor of the Japanese city of Osaka has apologized for suggesting U.S. servicemembers based on Okinawa utilize Japan's adult entertainment industry to control their "sexual energies."
Osaka Mayor Toru Hashimoto sparked controversy earlier this month after revealing that he had told the U.S. commander of Marine Corps Air Station Futenma that servicemembers should make use of Japan's legalized sex industry.
On Monday, Hashimoto, who also co-leads the Japan Restoration Party in the Japanese national parliament, told a packed news conference in Tokyo that he was sorry.
"I understand that my remark could be construed as an insult to the U.S. Forces and to the American people and therefore was inappropriate," he said. "I retract my inappropriate remarks to the U.S. Army and the American people and sincerely apologize."
U.S. Marine public affairs officials on Okinawa could not be reached for comment Monday, which was a U.S. holiday.
Hashimoto said he never suggested that U.S. troops use prostitutes, which is illegal in Japan – only that they use the "legally accepted adult entertainment industry."
He didn't elaborate on what he meant by that but Japan's many hostess clubs, where men pay to drink and talk with attractive young women, are well known.
"My real intention was to prevent a mere handful of U.S. soldiers from committing crimes and strengthen the Japan-U.S. alliance and the relations of trust between the two nations," Hashimoto said.
He said he made the suggestion out of a "strong sense of crisis" related to Okinawa, where there have been a series of crimes committed by U.S. troops, including sex crimes, that have stoked anti-military sentiment in Japan and triggered a series of liberty restrictions.
"Every time a crime has occurred, the U.S. Forces have advocated maintaining and tightening official discipline and have promised to the Japanese people that they would take measures to stop such crimes from occurring again," Hashimoto said. "Nevertheless, these crimes have not stopped. The same pattern has been repeating."
The anger of the Okinawan people has reached a boiling point, he said.
"I have a strong wish to request that the U.S.A. face the present situation of Okinawa's suffering from crimes committed by U.S. soldiers and take necessary measures to alleviate the problem," he said.
The U.S. military has been under pressure at home to combat sexual assault in the military in the wake of a series of high-profile cases and a recent Pentagon report that there were an estimated 26,000 assaults in the military last year.
President Barack Obama has said the issue is one of national security.
Hashimoto noted that Obama had "shown a good deal of concern over… frequent reports of military misconduct and has instructed the commanders to thoroughly tighten their official discipline, as measures taken so far have had no immediate effect."
Hashimoto went on to talk about the use of prostitutes, or "comfort women," by the Japanese Imperial Army during World War II, saying the "was an inexcusable act that violated the dignity and human rights of the women."
"Japan must reflect upon its past offenses with humility and express a heartfelt apology and regret to those women," he said.
However, he said more research is needed to determine whether or not Japan's government was involved in forcing women into prostitution during World War II. Many battlefield brothels were run by private brokers during the war, he said.
He noted that women were sexually violated by soldiers from the U.S., Britain, France, Germany and the former Soviet Union and South Korea during World War II, the Korean War and the Vietnam War.
"Violation of the dignity of women by soldiers not only existed in the past but also has yet to be eradicated in today's world," he said.
---
---
---
---