Japanese man arrested in laser-pointing incident near US Air Force base in western Tokyo
by
Seth Robson Hana Kusumoto
May 22, 2019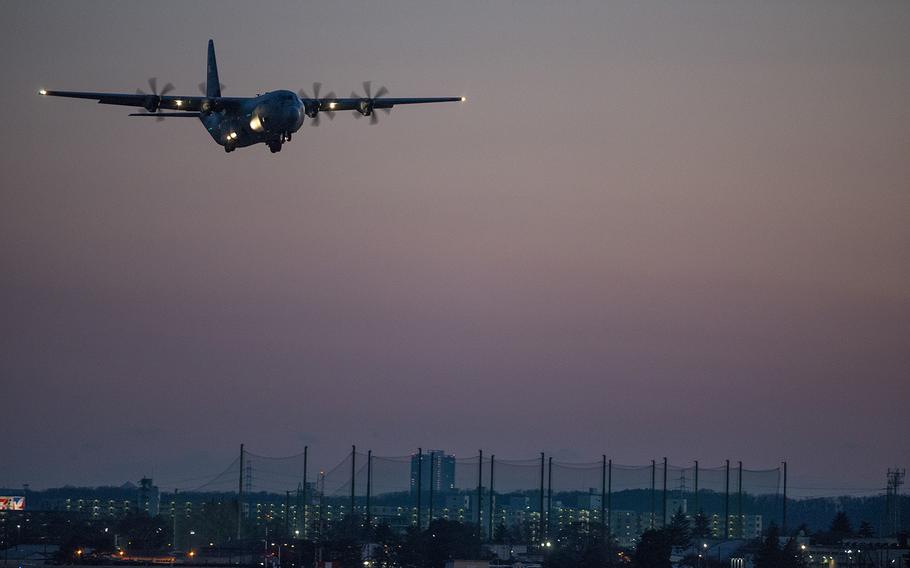 YOKOTA AIR BASE, Japan — A 60-year-old Japanese man was arrested Tuesday on suspicion of pointing a laser at a U.S. Air Force plane in western Tokyo, according to local police.
Yoshinori Shigekawa, of Akiruno, is suspected of beaming a green laser at a cargo aircraft from a shopping mall's multistory parking garage in Fussa, on Feb. 11, a Tokyo Metropolitan Police spokeswoman said Wednesday.
The laser interfered with visual safety checks by the Yokota-based plane's crew, including its pilot, causing training to be called off, she said.
Lasers were pointed at two Air Force C-130J Super Hercules planes for less than 10 seconds in February, U.S. Forces Japan spokeswoman Air Force Maj. Genieve White wrote in an email Wednesday.
"Lasing an aircraft is hazardous and irresponsible since the laser can impair the vision of pilots, potentially affecting their ability to fly the aircraft safely," she said.
"This is incredibly dangerous for both the aircrews and for people on the ground. We take these incidents seriously as the safety of both our aircrews and the community is a top priority."
When a lasing incident occurs, the Air Force reports it to local police and shares as much information as possible to aid their investigation, White said.
"Locally, Yokota Air Base leadership has been working with North Kanto Defense Bureau in order to increase public awareness about how dangerous this activity can be for both aircrews and people on the ground," she said. "There have been approximately 11 lasing incidents involving 374th Airlift Wing aircraft since July 2018."
The Japan Maritime Self-Defense Force reported 80 cases in which lights were beamed at Self-Defense Force and U.S. military aircraft between 2013 and December 2015.
The last six months of 2015 saw five incidents in which lasers targeted Marine Corps aircraft on Okinawa. A 56-year-old local man was arrested, charged and fined.
In November 2016, a Kanagawa prefecture man was arrested on accusations that he pointed a green laser at a low-flying patrol plane based at Naval Air Facility Atsugi.
At least 40 lasing incidents have been reported near Yokota targeting U.S. military planes since March 2018 and police believe Shigekawa was involved with at least 10 of them, Kyodo News reported.
"It's more dangerous to conduct dangerous flights" than to shine the lasers, Shigekawa said in a video shown Wednesday by Tokyo-based TBS television news.
The man told a television reporter that he didn't think it was illegal to shine lasers at planes. TBS reported that police had confiscated five laser pointers from his home.
robson.seth@stripes.com Twitter: @SethRobson1