Japanese jet scrambles increased sharply in FY 2018 in response to China
by
Aya Ichihashi Matthew M. Burke
April 30, 2019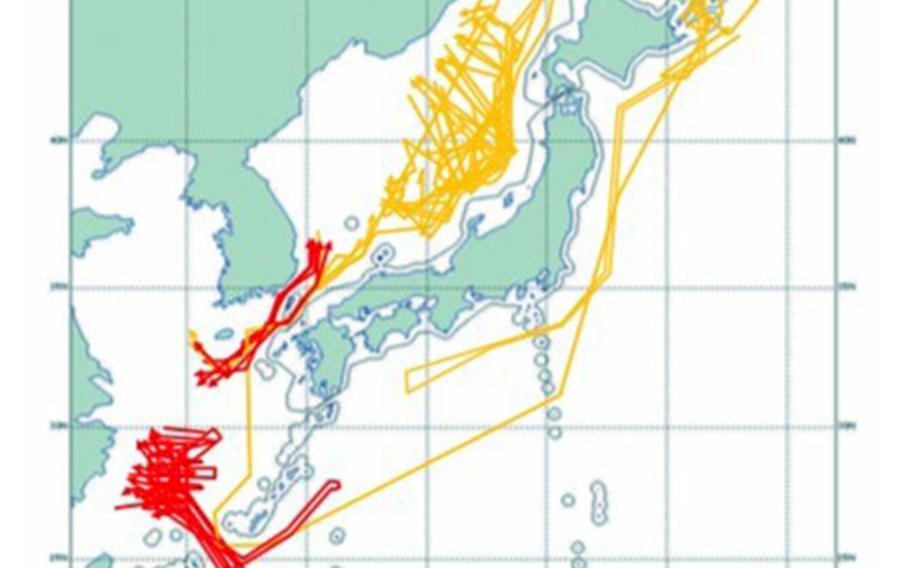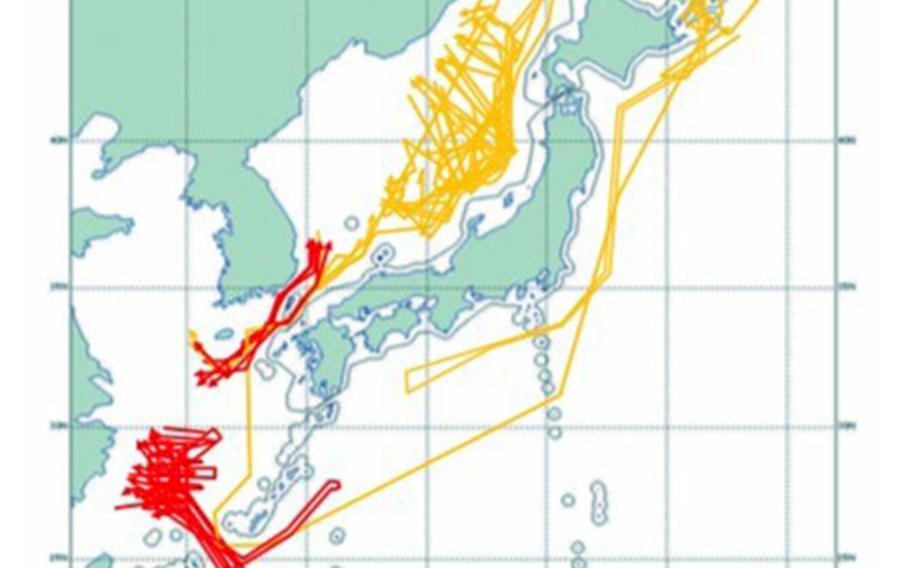 CAMP FOSTER, Okinawa — The number of jets Japan scrambled to intercept Chinese aircraft approaching its airspace rose sharply in fiscal year 2018, according to the nation's Ministry of Defense.
Japan Air Self-Defense Force fighter jets were scrambled 638 times between April 1, 2018, and March 31 in response to approaching Chinese drones, fighters, bombers and surveillance planes, according to statistics released in April by the ministry.
That number represented an increase of 27.6%, nearly a third more flights than the previous fiscal year, but a decline of 25 percent from fiscal year 2016.
The ministry's Joint Staff could not be reached for comment Tuesday due to the Japanese Golden Week holiday. In the past, it has attributed increases to the modernization of Chinese air power.
"They are intensifying intelligence gathering, reconnaissance and expanding their sphere of training activities," a Joint Staff spokesman said in 2017. "From the perspective of our national security, it is necessary for us to keep a watchful eye."
All incidents of foreign military aircraft entering or coming close to Japanese airspace have increased steadily in recent years.
In fiscal 2018, the defense ministry counted 999 incidents, a 321% increase over the number of incursions in fiscal 2009 and the second-highest total since Japan in 1958 started scrambling aircraft to meet foreign trespassers.
Thus far, the peak year for all Japanese sorties occurred in fiscal 2016. That year Japan reported 1,168 incursions. A sortie is a single mission by a single plane.
Most often, Japanese pilots encounter Chinese fighter jets, but the type of aircraft may vary.
For example, on March 30, four Chinese H-6 bombers, one Tu-154 reconnaissance plane and two possible fighter jets entered Japanese territorial airspace, flying between Okinawa's main island and Miyako Island.
Responses to Russian incursions, mostly by surveillance aircraft, accounted for 34 percent of the total sorties in fiscal 2018.
Japanese pilots last year flew 343 sorties directed toward Russian aircraft, a 12% drop from the previous year, the ministry said. Japanese pilots flew 390 sorties in 2017.
Russian aircraft generally fly farther north, where Russia administers islands near Hokkaido that are also claimed by Japan.
Only 2% of Japanese scrambles in fiscal 2018 were in response to aircraft that did not belong to China or Russia.
burke.matt@stripes.com ichihashi.aya@stripes.com