Japanese defense minister voices alarm over US forces' coronavirus control
by
Hana Kusumoto Seth Robson
July 15, 2020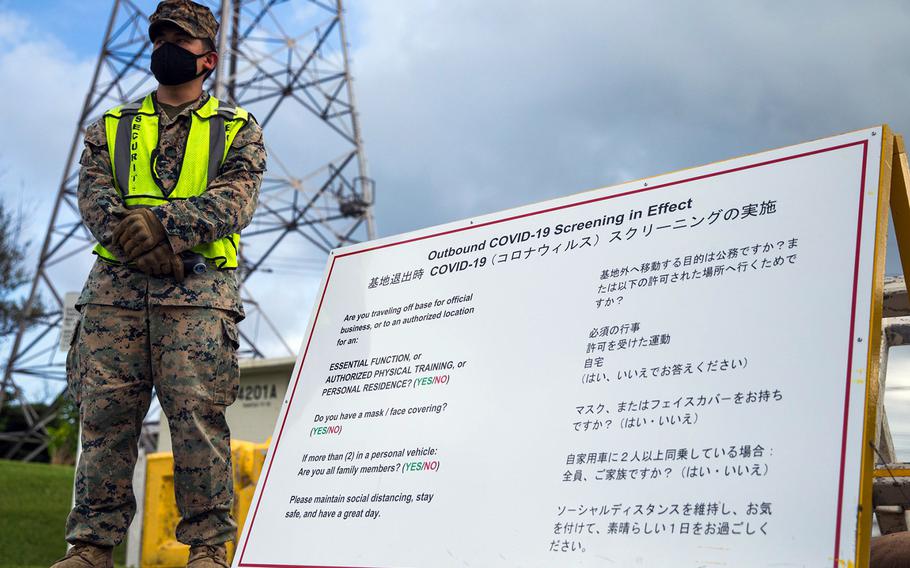 Stars and Stripes is making stories on the coronavirus pandemic available free of charge. See other free reports here. Sign up for our daily coronavirus newsletter here. Please support our journalism with a subscription.
TOKYO — The commander of U.S. Forces Japan on Wednesday admonished his personnel to adhere to public health restrictions a day after the country's defense minister cited "a number of problems" with military personnel arriving during the coronavirus pandemic.
Lt. Gen. Kevin Schneider's comments — delivered via a video message posted to Twitter that tagged Okinawa Gov. Denny Tamaki — came the same day that 36 new cases were reported at the Marine Corps' Camp Hansen on the southern island prefecture.
An Okinawa prefectural health official confirmed the Hansen cases to Stars and Stripes by phone Wednesday. They are the latest in clusters exceeding 100 infections that erupted a week ago at Camp Hansen and Marine Corps Air Station Futenma.
At a news conference Tuesday, which was recorded and posted on the ministry's website, Japanese Defense Minister Taro Kono singled out a U.S. military family that traveled Monday on a domestic flight to Marine Corps Air Station Iwakuni, in western Japan, after arriving at Haneda Airport in metro Tokyo. The family, Kono said, gave false information about their travel plans and later came up positive for the coronavirus.
Kono also cited the U.S. practice, soon to be curtailed, of housing military personnel newly arrived on Okinawa in an off-base hotel during their 14-day mandated quarantine.
Schneider, in his video message, called the coronavirus a challenge that will be around for the foreseeable future.
He and USFJ's senior enlisted leader, Chief Master Sgt. Rich Winegardner Jr., urged U.S. personnel in Japan to obey rules aimed at curbing the virus' spread.
"We are relying on all of you, whether you are a service member, a dependent, government civilian, contractor or anyone who lives or works on our bases," Schneider said. "We must each continue making good decisions and reducing our risk of exposure … our response as a community to this challenge has direct consequences on our Japanese partners."
Winegardner, in the same video, added: "No leader wants to see restrictions increase again but we might have to if the situation requires it."
Americans generally are denied entry to Japan due to the pandemic. U.S. service members, Defense Department civilian employees, contractors and their families are the exception; however, they must quarantine upon arrival and refrain from using public transportation to the quarantine site.
The U.S. personnel who traveled to MCAS Iwakuni — a service member, a woman and a young girl — were tested for coronavirus when they arrived Sunday at Haneda, according to a report Tuesday in the Asahi newspaper.
They told airport authorities that they would drive to the air station but instead took a commercial flight to Iwakuni Kintaikyo Airport on Monday morning, Kono said.
The three family members' test results all came back positive Monday afternoon after they arrived in Iwakuni, he said.
"It is an extremely serious situation and we have urged the U.S. side to take discipline strictly and to take thorough preventative measures so this will never happen again," Kono said. "I spoke with the U.S. side and they said they will take strict disciplinary action."
Yamaguchi prefecture and Iwakuni city wrote to Marine Corps officials urging them to follow the rules, according to an official at Yamaguchi Prefectural Office.
Japanese officials informed MCAS Iwakuni about the positive test result on Monday, base spokesman Marine 1st Lt. Phillip Parker said in an email Wednesday.
Once they arrived, the individuals who tested positive were quarantined on base and "have not left their residence since going inside," Parker said. "The risk of exposure to new contacts is low."
He said MCAS Iwakuni is working with local health authorities on contact tracing on and off base.
"The circumstances of this incident are still under investigation. MCAS Iwakuni is reinforcing with our community the policies they must abide by when returning to Japan from the U.S. via commercial flights," he said. "Failure to abide by these policies increases the risk to our host nation and local population and may result in disciplinary action."
Meanwhile, MCAS Iwakuni on Wednesday afternoon announced another coronavirus case among its personnel.
"The individual arrived to Japan via Kansai Airport and was transported to MCAS Iwakuni in a personal vehicle, where, upon arrival, immediately entered restriction of movement at their residence," a statement said.
On Okinawa, officials from the Defense Ministry, the Ministry of Foreign Affairs, Okinawa Prefectural Government and Chatan town inspected an off-base hotel where incoming U.S. personnel are quarantined, Kono said.
No issues were found, and Marines are on watch at the hotel exits, he said.
The hotel is used only to quarantine newly arrived personnel; none of the U.S. personnel staying there have been in contact with anyone infected by the coronavirus, Kono said.
U.S. military officials have said new arrivals will be quarantined at Kadena Air Base starting next week, he added.
Marine Corps Installations Pacific on Tuesday said it would move its new arrivals out of hotels in town to lodging on Camp Foster to serve their quarantine. Only outbound personnel would be permitted to stay in town, according to spokesman Maj. Ken Kunze.
The Marine Corps on Okinawa was struck with a cluster of coronavirus cases last week that surged over the weekend and prompted lockdowns at MCAS Futenma and Camp Hansen. One case at Camp Kinser was also reported to Okinawa health authorities.
Stars and Stripes reporter Aya Ichihashi contributed to this report.
robson.seth@stripes.com Twitter: @SethRobson1
kusumoto.hana@stripes.com Twitter: @HanaKusumoto