Japan to announce Osprey safety finding soon
By
sumidac@pstripes.osd.mil Chiyomi Sumida Travis J. Tritten
August 22, 2012
---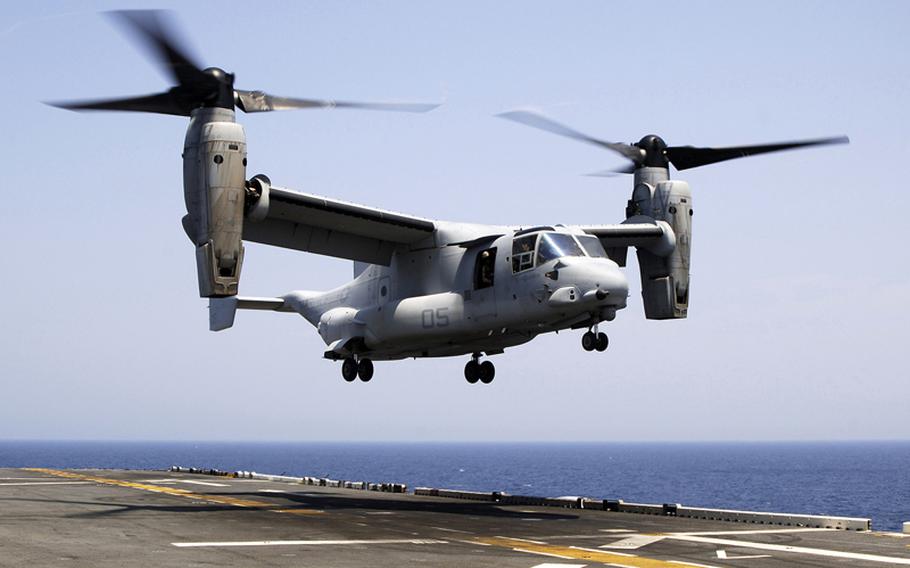 CAMP FOSTER, Okinawa — Japan said Wednesday it might announce its findings on the safety of the Marine Corps' Osprey aircraft within days, a move that likely will determine the fate of U.S. plans to begin air operations by the helicopter-plane hybrid here this fall.
The announcement is expected Friday or no later than early next week and will wrap up Japan's investigation into the Osprey safety record, including an April crash in Africa that killed two Marines, a Ministry of Defense spokesman told Stars and Stripes.
The United States has said it will not fly the MV-22 over Okinawa and mainland Japan until its ally is satisfied the aircraft is safe. Last week, Pentagon officials briefed a visiting team of Japanese investigators on the fatal incident in Morocco, which the military blamed on human error.
The Marine Corps said the pilot and co-pilot made aerial maneuvers that created a strong tailwind and caused the aircraft to nosedive into the ground, killing two crew chiefs. The military investigation found no mechanical or safety feature failures that could have caused the incident.
Safety concerns in Japan have dogged Marine Corps plans to replace its aging Sea Knight dual-rotor helicopters at Futenma air station on Okinawa with the Osprey beginning in October as part of a global overhaul of its fleet. The Ospreys are capable of longer flights than the Vietnam-era Sea Knights and would routinely commute between Okinawa bases and U.S. bases across the Japanese mainland, according to plans released by the Marine Corps.
Even if the Japanese government finds the Osprey to be safe, the deployment is still likely to face strong public opposition across Japan.
The sentiment is strongest on Okinawa, where residents have long feared U.S. military aircraft accidents around the Marine Corps' Futenma air station and other U.S. bases.
Opponents across the island are preparing for a large opposition rally on Sept. 9 that organizers claim could draw up to 50,000 people.
On Wednesday, a 69-year-old Japanese Osprey protester, accompanied by residents with banners and signs, completed a weeklong hunger strike outside the fence of the Marine Corps headquarters on Okinawa. Tomoyuki Kobashigawa said Tuesday he was inspired to protest by a 1959 crash of an Air Force jet into an Okinawa neighborhood and elementary school that killed 17 and injured 121.
In 2004, a Marine helicopter from Futenma crashed into a college campus near the air station causing some injuries, smoke, fire and confusion but no deaths.
---
---
---
---