Japan takes lead on Malabar exercise with US and India for first time
by
Christian Lopez
September 25, 2019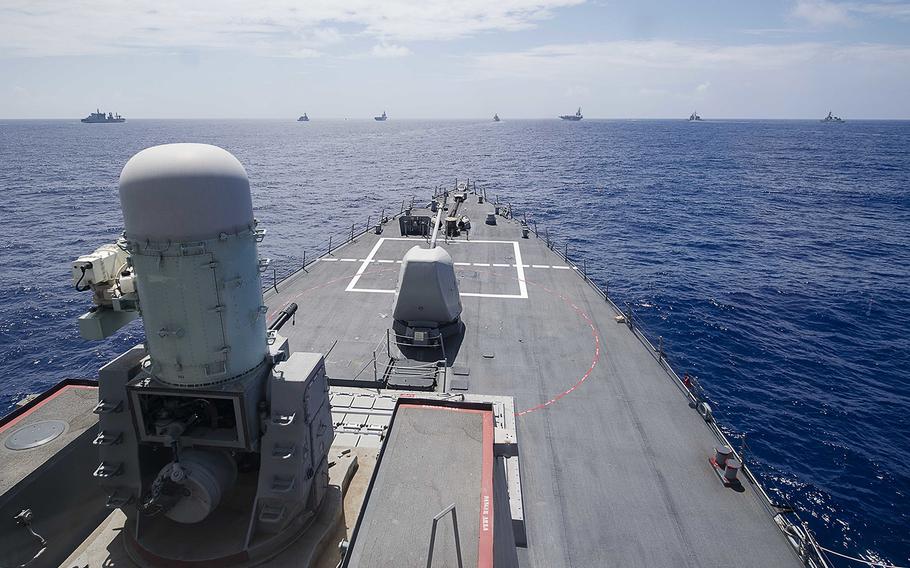 YOKOSUKA NAVAL BASE, Japan — Naval exercises involving warships and aircraft from the United States, Japan and India got underway off the coast of Sasebo, Japan, on Wednesday.
Exercise Malabar is an annual 10-day exercise aimed at addressing shared threats and improving relations between the participating countries.
This year, the Japan Maritime Self-Defense Force for the first time will be leading Malabar through a series of on-shore and at-sea training events, according to a statement issued Wednesday by the U.S. 7th Fleet.
"Thanks to the hard work of staffs and leaders in the Indian and U.S. navies, we now enjoy this excellent relationship between our three countries," JMSDF Rear Adm. Masafumi Nishiwaki said in the statement. "This exercise is an opportunity to fully integrate our teams and refine our support for each other, so we can have greater confidence in our combined capabilities."
Malabar focuses on high-end warfighting skills, maritime patrol and reconnaissance operations, surface and antisubmarine warfare, helicopter operations and more, according the statement.
The U.S. Navy sent the guided-missile destroyer USS McCampbell from Yokosuka, the amphibious transport dock USS Green Bay from Sasebo and an unnamed Los Angeles-class nuclear fast attack submarine from Submarine Group 7.
Japan sent the JMSDF helicopter carrier JS Kaga, destroyer Samidare and cruiser Chokai. The Indian Navy sent its stealth frigate INS Sahyadari, antisubmarine warfare corvette INS Kiltan and Posedion-8I long-range maritime patrol aircraft.
Malabar began in 1992 with the U.S. and India. Japan became a permanent partner in 2015.
lopez.christian@stripes.com Twitter: @CLopez_Stripes