Japan sets water quality safety guidelines for banned pollutants found near US bases
by
Aya Ichihashi Matthew M. Burke
February 27, 2020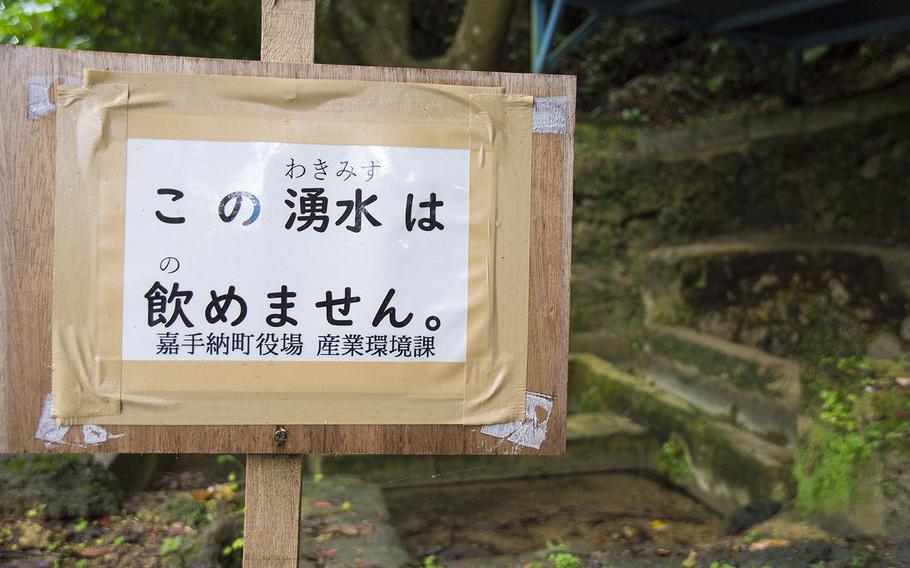 CAMP FOSTER, Okinawa — Japan plans to join other nations in officially setting its own water quality safety guidelines for banned pollutants that have been found around U.S. military bases near Tokyo and on Okinawa.
The country's Ministry of Health, Labour and Welfare announced Feb. 19 a combined safety threshold of 0.05 micrograms per liter for synthetic, fully fluorinated organic acids commonly known as PFOS and PFOA, a ministry spokesman said last week. They are typically found in cleaning products, firefighting foam, aircraft grease, water-repellant materials and fluorine chemicals, and have been known to cause tumors, increases in body and organ weight and death in animals.
Japan previously had no guidelines on how much of the acids are safe in its drinking water and relied upon the United States' threshold of 0.07 micrograms per liter as a baseline.
The quality assurance controls go into effect April 1.
"By setting a number, it will help the [prefectural] water bureaus plan and take necessary action to ensure water quality," the ministry spokesman told Stars and Stripes Tuesday. It's customary for some government officials in Japan to speak on condition of anonymity.
The ministry's water quality board began discussing guidelines at a meeting in July, the spokesman said. The board collected information about the acids and studied the guidelines in other countries in coming to its decision.
It decided to set its threshold lower than the United States because a certain amount of the acids is ingested through other sources, like food.
"I think the number … is pretty reasonable," said Okinawa Prefectural Enterprise Bureau spokesman Kenji Kojima. The bureau oversees the island's water supply and its quality.
"We will make sure that our water meets the nation's quality standard measurement and we will keep monitoring it," he said.
No punitive steps will be taken should drinking water levels exceed the new guideline, the ministry spokesman said.
Last month, U.S. Secretary of Defense Mark Esper and Japanese Defense Minister Taro Kono discussed how " the U.S. and Japan can cooperate in responding to issues such as PFOS and PFOA and to comprehensively advance the discussions," according to a defense ministry news release summarizing the meeting.
Tokyo officials detected the chemicals in two wells near Yokota Air Base during a survey from December 2018 to January 2019, according to the Tokyo Metropolitan Government's Bureau of Social Welfare and Public Health. They were detected at levels about 19 times above the safe standard set by a U.S. drinking water health advisory, the Asahi newspaper reported Jan. 6.
An official with the Tokyo Metropolitan Government last week said no evidence was found to directly link the pollutants with a source on the U.S. air base.
The Chatan Water Purification Center on Okinawa, which supplies water to the local population as well as Camp Kinser, Marine Corps Air Station Futenma and parts of Kadena Air Base and Camp Foster, reported highs of 0.043 micrograms per liter of the acids last year and 0.063 in 2018, an enterprise bureau statement said.
Some Okinawa officials blamed the base for the contamination, but U.S. Forces Japan spokesman Marine Capt. Michael Hopkins last year said the pollution could have come from alternative sources.
burke.matt@stripes.com Twitter: @MatthewMBurke1
ichihashi.aya@stripes.com Twitter: @AyaIchihashi