Japan seeks to route flights through US-controlled airspace in western Tokyo
by
Hana Kusumoto Seth Robson
November 8, 2018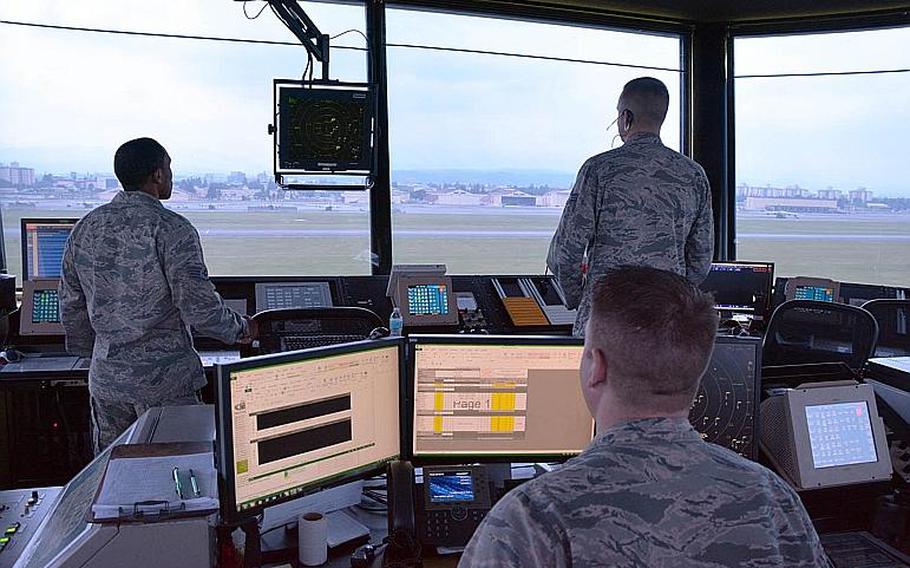 YOKOTA AIR BASE, Japan — American and Japanese authorities are negotiating who gets to control aircraft passing over western Tokyo amid efforts to boost the number of international flights into the capital ahead of the 2020 Olympics.
Yokota's 374th Operational Support Squadron controls air traffic over Tokyo's western suburbs and parts of Saitama, Tochigi, Gunma, Kanagawa, Shizuoka, Niigata, Nagano and Yamanashi prefectures.
However, Japanese officials want to route civilian jumbo jets through that airspace to increase the capacity of Haneda International Airport — which, along with Narita International Airport, is one of the two major gateways for foreign visitors to Tokyo.
Hoping to get the new flightpath up and running in time for the Olympics, the officials hope to confirm an agreement on the issue as early as this month at a meeting of the Japan-U.S. Joint Committee, where the allies consult over operation of the status of forces agreement governing American military forces in the country, the Yomiuri newspaper reported this week.
"In southerly wind, arriving from the metropolitan area side [of Haneda] and departing from the ocean side is most efficient," Japan's Ministry of Land, Infrastructure, Transport and Tourism website states.
An official with the ministry's air-traffic control section declined to comment on the negotiations over the route Wednesday but said Tokyo air traffic had increased drastically in the past 10 years. In 2008, part of the airspace controlled from the base was returned to Japan, he said.
The proposed new flight path would mainly be used by international flights in late afternoon. About 14 flights would pass through the airspace each hour, he said.
"Flights using the new route will only be flying in the airspace for just a few minutes," he said.
U.S. Forces Japan spokeswoman Air Force Maj. Genieve White said in an email Wednesday that USFJ had previously agreed to expand access for civilian air traffic through Yokota airspace leading up to and during the Olympics.
"Over the last several months, we have presented numerous technical proposals that would achieve the Japanese government's goal for expanding the number of Haneda flight routes on a more permanent basis," she said.
The proposals would ensure the continued safety of civil and military aviation in the area while preserving U.S. military readiness in support of commitments to the U.S.-Japan alliance but, to date, they had been rejected, White said.
"U.S. forces in Japan bear a heavy burden every day, training to achieve the level of readiness necessary to defend Japan and its people," she said.
USFJ is committed to working with the Japanese government to address issues and reach a mutually satisfactory outcome, she said.
"Given the increasingly severe regional security environment, this readiness is absolutely vital," White said. "We are working closely with the Japanese government to make sure that any changes in the control of Yokota airspace do not negatively impact this high level of readiness that both our nations depend on. To do otherwise would be irresponsible."
robson.seth@stripes.com Twitter: @SethRobson1