Japan's prime minister: Futenma move on track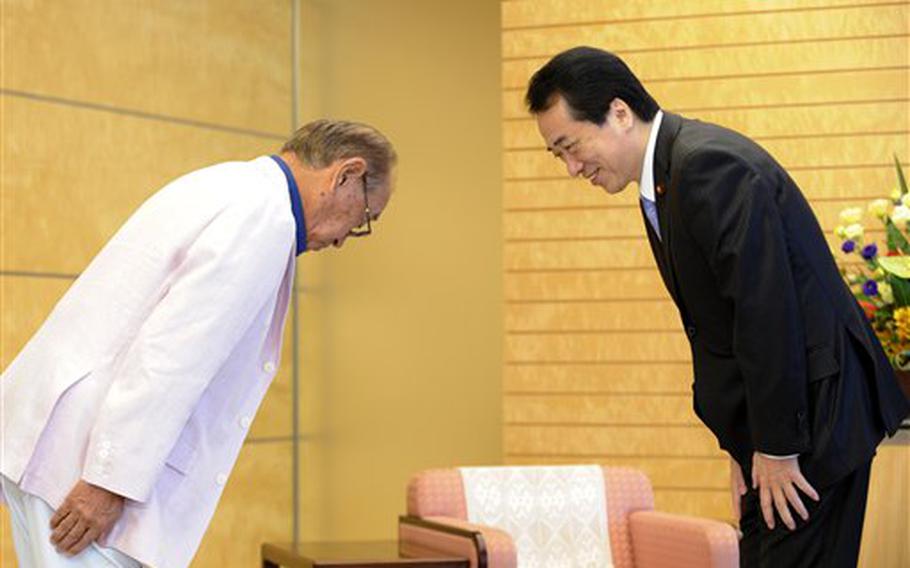 TOKYO — Japanese Prime Minister Naoto Kan, during his first meeting with the governor of Okinawa, confirmed Tuesday that the relocation of Marine Corps Air Station Futenma on Okinawa will continue as planned, Kyodo News reported.
Gov. Hirokazu Nakaima said it will be "very difficult" to go along with a plan to move the air station's assets to Camp Schwab and not off the island, observers of the meeting said, according to Kyodo.
The move of Futenma aircraft units to a new airfield to be constructed at Schwab, on the island's rural northeast coast, is part of a 2006 U.S.-Japan agreement.
Kan said he hopes to win the understanding of Okinawans despite considerable opposition to the relocation of the aircraft base to Camp Schwab.
Kan's meeting with Nakaima was another sign he's unlikely to bend to pressure from opponents of the Futenma relocation and will not follow the path of his predecessor, former Prime Minister Yukio Hatoyama, who vowed to move all Marine Corps air operations off Okinawa but resigned June 2 after admitting the 2006 plan could not be altered.
According to the Nikkei news service, Kan told Diet members Tuesday that his government will try to turn a fresh page with frustrated Okinawans by using "sincere communication" to explain why it must uphold the agreement with the United States to move Futenma from urban Ginowan to Schwab in Nago.
Additionally during Kan's Tuesday meeting with Nakaima, the Okinawa governor pressed for assistance in helping to decrease accidents and crimes by U.S. servicemembers on Okinawa — a request that also was delivered to U.S. military officials on the island earlier this month.
On Friday, the Marine Corps banned servicemembers from drinking in bars and clubs after midnight in an effort to cut down on such off-base incidents.
---
---
---
---