Japan's new prime minister expected to support 2006 agreement on Futenma
by
David Allen
June 4, 2010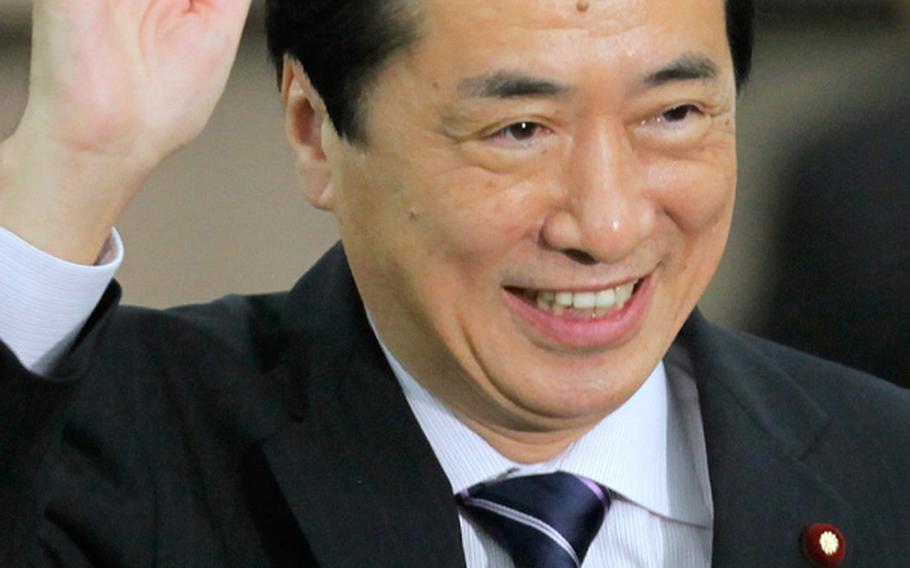 GINOWAN, Okinawa — Japan's Finance Minister Naota Kan on Friday became the country's fifth prime minister in four years.
He is expected to support an agreement reached May 28 to go forward with a 2006 plan to close Marine Corps Air Station Futenma, located in urban Ginowan, and move the Marine air units to a new facility on Camp Schwab.
Following Kan's election as president of the Democratic Party of Japan just after noon Friday, the entire Diet chose him as prime minister a few hours later. Kan was expected to present himself to Emperor Akihito on Friday evening.
Kan, 63, who also served as deputy prime minister, replaces Yukio Hatoyama, who announced his resignation Wednesday after failing to keep a campaign promise he made last summer to move Marine air units off Okinawa.
After eight months of reviewing a 2006 agreement with the U.S. that calls for moving the Marines to a new air facility on Okinawa's northeast shore, Hatoyama said regional security issues made it essential to keep the base on the island.
When he announced his candidacy Wednesday, Kan emphasized the importance of the U.S.-Japan alliance, calling it ''the linchpin for Japan's foreign policy."
"I hope to develop a better relationship with the United States and the rest of Asia," he told party members prior to Friday's vote.
Kan is said to be a more practical politician and had distanced himself from the Futenma issue because he believed the new government, which swept into power eight months ago ending 50 years of nearly unbroken rule by the conservative Liberal Democratic Party, should abide by the agreement the LDP made.
"Mr. Kan will honor the bilateral agreement," Kazuya Sakamoto, professor of international politics at University of Osaka, said Friday. Otherwise, his government will also end up short-lived."
He said Kan saw Hatoyama's poor handling of the Futenma issue and a political funding scandal as his chance to reclaim the presidency of the party. Kan, one of the founders of the DPJ, was its first president, serving from April 1998 to September 1999. He had two additional terms as president, one from September 2000 to September 2002, as well as from December 2002 to May 2004.
"Kan had therefore distanced himself," Sakamoto said. "He certainly took a very prudent stance … he will honor the agreement made by his predecessor, while assuring Okinawa the government's continued effort to further reduce the burden (of hosting U.S. bases)."
The new government's first hurdle will be the Upper House elections in July, where a solid stance on the Futenma issue is considered vital to reversing the party's disastrous approval ratings, which fell from 70 percent when it took power in September to less than 20 percent in several major media polls taken last week.
Leading up to his election Friday as DPJ chief, Kan said although he believed it was important to go forward with the Futenma relocation plan, he would make a "big and sustained" effort to seek ways to reduce the U.S. base presence on Okinawa. The island hosts about half of the 47,000 U.S. troops in Japan and 75 percent of the land area used solely by the U.S. military in the country.
About one-fifth of Okinawa is covered by U.S. bases.
Defense Secretary Robert Gates agrees the two countries must work together to alleviate Okinawa's "burden."
"I think we have to be sensitive to some of the concerns that have been expressed by the Japanese, in terms of training, and noise and some of those things," Gates told reporters in Singapore Thursday during a security conference, according to Kyodo News.
He maintained it was vital to move forward with the 2006 Futenma relocation plan, stressing the deterrence factor the Marines present in the region, especially in light of the sinking of a South Korean warship in March.
"The sinking of the South Korean ship by the North simply underscores for everybody that there are security challenges in Northeast Asia," Gates said, according to Kyodo.
---
---
---
---