Japan's new government vows to move forward with plans to relocate Marines on Okinawa
by
Chiyomi Sumida
September 8, 2011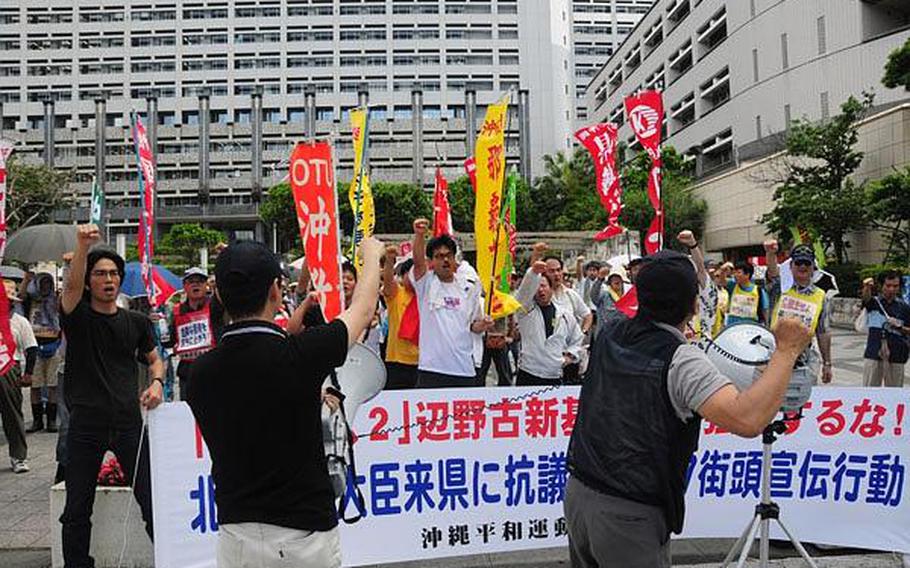 CAMP FOSTER, Okinawa — Japan's new leaders say they will redouble efforts to move forward with plans to move U.S. Marine Corps air operations at Futenma to Camp Schwab on Okinawa.
Foreign Minister Koichiro Genba, who took office this month along with his country's new prime minister, Yoshihiko Noda, said the government would commit all available resources to the Futenma move.
"We will soon set up Council of Ministers for Futenma Relocation," Genba said during a news conference Tuesday, adding that the members should include lawmakers from previous administrations.
The U.S. and Japanese governments have been trying to move Futenma since 1996, but they have run into strong opposition from Okinawans, their government leaders and environmental activists. In June, Washington and Tokyo agreed to delay the initial 2014 deadline to complete the move by building a mile-long, V-shaped runway at Camp Schwab on land reclaimed from the Pacific Ocean.
Genba and U.S. Secretary of State Hillary Rodham Clinton agreed during a phone conversation Wednesday that the two countries would continue the Futenma relocation efforts in line with a 2010 accord, Japan's Ministry of Foreign Affairs said Thursday.
"U.S.-Japan alliance is the axis of Japan's foreign policy and the public goods for the peace and stability of Asia Pacific region," Genba told Clinton, according to the ministry.
The two are to meet later this month when Genba visits New York to attend the U.N. General Assembly.
It is unknown when the governments will come up with a new timeline for the Futenma project. Recessions in both countries have cast uncertainty over the plan, which is part of a multi-billion dollar realignment of U.S. forces in Japan and a corresponding build-up on Guam.
However, Japanese language newspapers reported last week that the Defense Ministry plans to submit an environmental impact assessment report for the construction of facilities in Nago, where the air station is to be moved, to Okinawa Gov. Hirokazu Nakaima by December.
The reports added that the government also plans to file an application with the governor, probably by June next year, to reclaim land at Camp Schwab.
The governor's permission is required for the reclamation to go ahead, but Nakaima remains opposed to the relocation plan.
"Vast military presence has hindered Okinawa's economic development and the situation has not changed since 40 years ago," Nakaima said during the press conference Wednesday.
To break the deadlock, the Japanese government may offer Okinawa economic incentives or enact a law to override the governor's authorization power. However, such a high-handed approach might risk the stability of the government, experts said.
Since Okinawa was returned to Japan from U.S. military control in 1972, Tokyo has spent billions of dollars to promote the island prefecture's economic development. Authorization for economic assistance to Okinawa, which must be renewed each decade, is due to expire in March 2012.
Okinawan leaders want the Japanese government to pay $3.75 billion in annual subsidies as a lump sum, which would give Okinawa more discretion in how it spends the money.
Officials from U.S. Forces Japan and the U.S. Embassy in Tokyo declined to be interviewed this week about the Futenma move.